Abstract
Although the El Niño/Southern Oscillation phenomenon is the most prominent mode of climate variability1 and affects weather and climate in large parts of the world, its effects on Europe and the high-latitude stratosphere are controversial2,3,4,5. Using historical observations and reconstruction techniques, we analyse the anomalous state of the troposphere and stratosphere in the Northern Hemisphere from 1940 to 1942 that occurred during a strong and long-lasting El Niño event. Exceptionally low surface temperatures in Europe and the north Pacific Ocean coincided with high temperatures in Alaska. In the lower stratosphere, our reconstructions show high temperatures over northern Eurasia and the north Pacific Ocean, and a weak polar vortex. In addition, there is observational evidence for frequent stratospheric warmings and high column ozone at Arctic and mid-latitude sites. We compare our historical data for the period 1940–42 with more recent data and a 650-year climate model simulation. We conclude that the observed anomalies constitute a recurring extreme state of the global troposphere–stratosphere system in northern winter that is related to strong El Niño events.
Relevant articles
Open Access articles citing this article.
Hideharu Akiyoshi

,

Masanao Kadowaki

…

Toshiharu Nagatomo

Scientific Reports Open Access 06 January 2023

Communications Earth & Environment Open Access 23 June 2022

Vijay Sreeparvathy

&

V. V. Srinivas

Scientific Reports Open Access 13 June 2022
Access options
Subscribe to this journal
Receive 51 print issues and online access
$199.00 per year
only $3.90 per issue
Rent or buy this article
Get just this article for as long as you need it
$39.95
Prices may be subject to local taxes which are calculated during checkout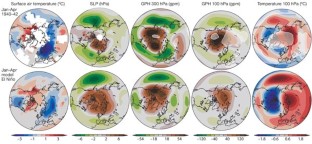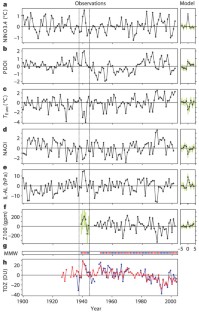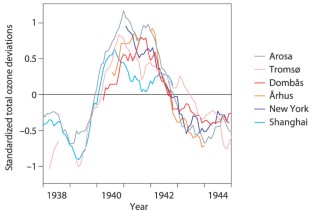 References
Diaz, H. & Markgraf, V. (eds) El Niño and the Southern Oscillation: Multiscale Variability and Global and Regional Impacts (Cambridge Univ. Press, Cambridge, UK, 2000)

Fraedrich, K. & Müller, K. Climate anomalies in Europe associated with ENSO extremes. Int. J. Climatol. 12, 25–31 (1992)

Pozo-Vázquez, D., Esteban-Parra, M. J., Rodrigo, F. S. & Castro-Diez, Y. The association between ENSO and winter atmospheric circulation and temperature in the North Atlantic region. J. Clim. 14, 3408–3420 (2001)

Graetbatch, R. J., Lu, J. & Peterson, K. A. Nonstationary impact of ENSO on Euro-Atlantic winter climate. Geophys. Res. Lett. 31, doi:10.1029/2003GL018542 (2004)

van Loon, H. & Labitzke, K. The Southern Oscillation. Part V: The anomalies in the lower stratosphere of the Northern Hemisphere in winter and a comparison with the Quasi-Biennial Oscillation. Mon. Weath. Rev. 115, 357–369 (1987)

Labitzke, K. G. & van Loon, H. The Stratosphere. Phenomena, History, and Relevance (Springer, Berlin, 1999)

Staehelin, J. et al. Total ozone series of Arosa (Switzerland). Homogenization and data comparison. J. Geophys. Res. 103, 5827–5841 (1998)

Svendby, T. M. Reanalysis of total ozone measurements at Dombås and Oslo, Norway, from 1940 to 1949. J. Geophys. Res. 108, doi:10.1029/2003JD003963 (2003)

Brönnimann, S., Cain, J. C., Staehelin, J. & Farmer, S. F. G. Total ozone observations prior to the IGY. II: Data and quality. Q. J. R. Meteorol. Soc. 129, 2819–2843 (2003)

Brönnimann, S. A historical upper-air data set for the 1939–1944 period. Int. J. Climatol. 23, 769–791 (2003)

Brönnimann, S. & Luterbacher, J. Reconstructing Northern Hemisphere upper-level fields during World War II. Clim. Dyn. 22, 499–510 (2004)

Brönnimann, S., Luterbacher, J., Staehelin, J. & Svendby, T. M. An extreme anomaly in stratospheric ozone over Europe in 1940–1942. Geophys. Res. Lett. 31, doi: 10.1029/2004GL019611 (2004)

Goldsmith, P., Tuck, A. F., Foot, J. S., Simmons, E. L. & Newson, R. L. Nitrogen oxides, nuclear weapon testing, Concorde and stratospheric ozone. Nature 244, 545–551 (1973)

Angione, R. J. & Roosen, R. G. Baseline ozone results from 1923 to 1955. J. Clim. Appl. Meteorol. 22, 1377–1383 (1983)

Alexander, M. A. et al. The atmospheric bridge: Influence of ENSO teleconnnections on air-sea interaction over the global oceans. J. Clim. 15, 2205–2231 (2002)

Trenberth, K. E. et al. Progress during TOGA in understanding and modeling global teleconnections associated with tropical sea surface temperatures. J. Geophys. Res. 103, 14291–14324 (1998)

Chavez, F. P., Ryan, J., Lluch-Cota, S. E. & Ñiquen C., M. From anchovies to sardines and back: Multidecadal change in the Pacific Ocean. Science 299, 217–221 (2003)

Trenberth, K. E. & Hurrell, J. W. Decadal atmosphere-ocean variations in the Pacific. Clim. Dyn. 9, 303–319 (1994)

Ambaum, M. H. P. & Hoskins, B. J. The NAO troposphere-stratosphere connection. J. Clim. 15, 1969–1978 (2002)

Hurrell, J., Kushnir, Y., Ottersen, G. & Visbeck, M. (eds) The North Atlantic Oscillation. Climatic Significance and Environmental Impact (AGU, Washington DC, 2003)

Staehelin, J., Harris, N. R. P., Appenzeller, C. & Eberhard, J. Ozone trends: A review. Rev. Geophys. 39, 231–290 (2001)

Merkel, U. & Latif, M. A high resolution AGCM study of the El Niño impact on the North Atlantic/European sector. Geophys. Res. Lett. 29, doi:10.1029/2001GL013726 (2002)

Newman, P. A., Nash, E. R. & Rosenfield, J. What controls the temperature of the arctic stratosphere during the spring? J. Geophys. Res. 106, 19999–20010 (2001)

Randel, W. J., Wu, F. & Stolarski, R. Changes in column ozone correlated with the stratospheric EP flux. J. Meteorol. Soc. Jpn 80, 849–862 (2002)

Limpasuvan, V., Thompson, D. W. J. & Hartmann, D. L. The life cycle of the Northern Hemisphere stratospheric sudden warmings. J. Clim. 17, 2584–2597 (2004)

Kaplan, A. et al. Analyses of global sea surface temperature 1856–1991. J. Geophys. Res. 103, 18567–18589 (1998)

Jones, P. D. & Moberg, A. Hemispheric and large-scale surface air temperature variations: An extensive revision and update to 2001. J. Clim. 16, 206–223 (2003)

Mantua, N. J., Hare, S. R., Zhang, Y., Wallace, J. M. & Francis, R. C. A Pacific decadal climate oscillation with impacts on salmon. Bull. Am. Meteorol. Soc. 78, 1069–1079 (1997)

Trenberth, K. E. & Paolino, D. A. The Northern Hemisphere sea level pressure data set: Trends, errors, and discontinuities. Mon. Weath. Rev. 108, 855–872 (1980)

Kistler, R. et al. The NCEP-NCAR 50-year reanalysis: Monthly means CD-ROM and documentation. Bull. Am. Meteorol. Soc. 82, 247–268 (2001)

Labitzke, K. G. & Naujokat, B. The lower Arctic stratosphere in winter since 1952. SPARC Newsl. 15, 11–14 (2000)
Acknowledgements
S.B. was funded by the Swiss National Science Foundation, the Holderbank Foundation and the Janggen-Poehn Foundation. J.L. was funded by the Swiss National Science Foundation (NCCR climate). Surface temperature and NCEP/NCAR reanalysis data were provided by Climatic Research Unit, (Norwich, UK) and the NOAA-CIRES Climate Diagnostics Center (Boulder, USA), respectively. SLP and CCSM-2.0 data were provided by NCAR/UCAR (Boulder, USA). We thank P. Della-Marta for English corrections.
Ethics declarations
Competing interests
The authors declare that they have no competing financial interests.
Supplementary information
El Niño index NINO3.4 and several monthly climate index series for the northern extratropics for the period 1938 to 1944. (PDF 264 kb)
Northern summer (May to August) and fall (September to December) surface temperature anomalies averaged for 1940 and 1941 as well as corresponding fields averaged during the 26 strongest El Niño years in the CCSM-2.0 control run. (PDF 1361 kb)
About this article
Cite this article
Brönnimann, S., Luterbacher, J., Staehelin, J. et al. Extreme climate of the global troposphere and stratosphere in 1940–42 related to El Niño. Nature 431, 971–974 (2004). https://doi.org/10.1038/nature02982
Received:

Accepted:

Issue Date:

DOI: https://doi.org/10.1038/nature02982
Comments
By submitting a comment you agree to abide by our Terms and Community Guidelines. If you find something abusive or that does not comply with our terms or guidelines please flag it as inappropriate.