Abstract
Solid materials with uniform micropores, such as zeolites, can act as selective catalysts and adsorbents for molecular mixtures by separating those molecules small enough to enter their pores while leaving the larger molecules behind1,2. Zeolite A is a microporous material with a high void volume. Despite its widespread industrial use in, for example, molecular separations and in detergency3,4, its capability as a petroleum-refining material is limited owing to its poor acid-catalytic activity and hydrothermal stability, and its low hydrophobicity. These characteristics are ultimately a consequence of the low framework Si/Al ratio (normally around one) and the resulting high cationic fraction within the pores and cavities1,2. Researchers have modified the properties of type-A zeolites by increasing the Si/Al compositions up to a ratio of three5,6,7,8,9. Here we describe the synthesis of zeolite A structures exhibiting high Si/Al ratios up to infinity (pure silica). We synthesize these materials, named ITQ-29, using a supramolecular organic structure-directing agent obtained by the self-assembly, through π–π type interactions, of two identical organic cationic moieties. The highly hydrophobic pure-silica zeolite A can be used for hydrocarbon separations that avoid oligomerization reactions, whereas materials with high Si/Al ratios give excellent shape-selective cracking additives for increasing propylene yield in fluid catalytic cracking operations. We have also extended the use of our supramolecular structure-directing agents to the synthesis of a range of other zeolites.
Relevant articles
Open Access articles citing this article.
Manjesh Kumar

,

Madhuresh K. Choudhary

&

Jeffrey D. Rimer

Nature Communications Open Access 29 May 2018
Access options
Subscribe to this journal
Receive 51 print issues and online access
$199.00 per year
only $3.90 per issue
Rent or buy this article
Get just this article for as long as you need it
$39.95
Prices may be subject to local taxes which are calculated during checkout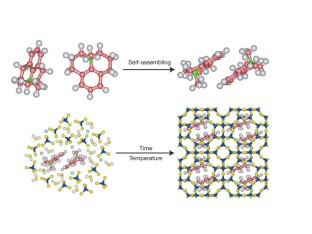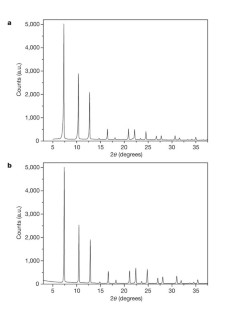 References
Barrer, R. M. Zeolites and Clay Minerals as Sorbents and Molecular Sieves Ch. 1, 2 and 6 (Academic, London, 1978)

Breck, D. W. Zeolite Molecular Sieves: Structure, Chemistry and Use Ch. 1, 2 (John Wiley, New York, 1974)

Moscou, L. in Introduction to Zeolite Science and Practice (eds Van Bekkum, H., Flanigen, E. M. & Jansen, J. C.) Ch. 1 (Elsevier, Amsterdam, 1991)

Sherman, J. D. Synthetic zeolites and other microporous oxide molecular sieves. Proc. Natl Acad. Sci. USA 96, 3471–3478 (1999)

Barrer, R. M., Denny, P. J. & Flanigen, E. M. Molecular sieve adsorbents. US patent 3,306,922 (1967).

Kerr, G. T. Synthetic zeolite. US patent 3,314,752 (1967).

Wadlinger, R. L., Rosinski, E. J. & Plank, C. J. Synthetic zeolite. US patent 3,375,205 (1968).

Kerr, G. T. Chemistry of crystalline aluminosilicates II. The synthesis and properties of zeolite ZK-4. Inorg. Chem. 5, 1537–1539 (1966)

Kuehl, G. H. Shape selective catalyst from zeolite alpha and use thereof. US patent 4,299,686 (1981).

Gramlich, V. & Meier, W. M. The crystal structure of hydrated NaA: A detailed refinement of a pseudosymmetric zeolite structure. Z. Kristallogr. 133, 134–149 (1971)

Gies, H. & Marler, B. The structure-controling role of organic templates for the synthesis of porosils in the system silica/template/water. Zeolites 12, 42–49 (1992)

Lobo, R. F., Zones, S. I. & Davis, M. E. Structure-direction in zeolite synthesis. J. Inclusion Phenom. Mol. Recogn. Chem. 21, 47–78 (1995)

Corma, A., Diaz-Cabañas, M. J., Rey, F., Nicolopoulus, S. & Boulahya, K. ITQ-15: The first ultralarge pore zeolite with a bi-directional pore system formed by intersecting 14- and 12-ring channels, and its catalytic implications. Chem. Commun. 12, 1356–1357 (2004)

Corma, A., Díaz-Cabañas, M. J., Martínez-Triguero, L. J., Rey, F. & Rius, J. A large-cavity zeolite with wide pore windows and potential as an oil refining catalyst. Nature 418, 514–517 (2002)

Corma, A., Rey, F., Valencia, S., Jordá, J. L. & Rius, J. A zeolite with interconnected 8-, 10- and 12-ring pores and its unique catalytic selectivity. Nature Mater. 2, 493–497 (2003)

Castañeda, R., Corma, A., Fornés, V., Rey, F. & Rius, J. Synthesis of a new zeolite structure ITQ-24, with intersecting 10- and 12-membered ring pores. J. Am. Chem. Soc. 125, 7820–7821 (2003)

Lee, H., Zones, S. I. & Davis, M. E. A combustion-free methodology for synthesizing zeolites and zeolite-like materials. Nature 425, 385–388 (2003)

Nakano, T. & Yade, T. Synthesis, structure, and photophysical and electrochemical properties of a π-stacked polymer. J. Am. Chem. Soc. 125, 15474–15484 (2003)

Blasco, T. et al. Preferential location of Ge in the double four-membered ring units of ITQ-7 zeolite. J. Phys. Chem. B 106, 2634–2642 (2002)

Wang, Y., Song, J. & Gies, H. The substitution of germanium for silicon in AST-type zeolite. Solid State Sci. 5, 1421–1433 (2003)

Olson, D. H., Camblor, M. A., Villaescusa, L. A. & Kuehl, G. H. Light hydrocarbon sorption properties of pure silica Si-CHA and ITQ-3 and high silica ZSM-58. Micropor. Mesopor. Mater. 67, 27–33 (2004)

Barrett, P. A. et al. ITQ-12: a new microporous silica polymorph potentially useful for light hydrocarbon separations. Chem. Commun. 2114–2115 (2003)

Grande, C. A., Gigola, C. & Rodríguez, A. E. Adsorption of propane and propylene in pellets and crystals of 5A zeolite. Ind. Eng. Chem. Res. 41, 85–92 (2002)

Boucheffa, Y. et al. Formation of carbonaceous compounds from propene and isobutene over a 5A zeolite. Influence of temperature on their compositions and locations. Ind. Eng. Chem. Res. 36, 3198–3204 (1997)

Rius, J. LSP7. A Computer Program for Restrained Rietveld Refinements (Institut de Ciència de Materials de Barcelona-CSIC, Catalunya, 2002)
Acknowledgements
We thank M. Benham and K. Gallimore at Hiden Isochema for carrying out the water and hydrocabon adsorption experiments. We also thank P. Atienzar and J. Martínez-Triguero for the photoluminescence and catalytic measurements, respectively. We are grateful to the CICYT for financial support.
Ethics declarations
Competing interests
The authors declare that they have no competing financial interests.
Supplementary information
The crystallographic data of the crystallized template. (DOC 539 kb)
Contains: (1) Synthesis and single crystal solution of the Organic Structure Directing Agent (OSDA); (2) Study of the self-assembling of the OSDA by Photoluminiscence spectroscopy; (3) Synthesis of ITQ-29 zeolites. (4) Structure refinement of Si,Ge-LTA and pure silica LTA; (5) Comparison of commercial LTA samples with ITQ-29 zeolites. (DOC 40 kb)
About this article
Cite this article
Corma, A., Rey, F., Rius, J. et al. Supramolecular self-assembled molecules as organic directing agent for synthesis of zeolites. Nature 431, 287–290 (2004). https://doi.org/10.1038/nature02909
Received:

Accepted:

Issue Date:

DOI: https://doi.org/10.1038/nature02909
Comments
By submitting a comment you agree to abide by our Terms and Community Guidelines. If you find something abusive or that does not comply with our terms or guidelines please flag it as inappropriate.