Abstract
Female multiple mating and alternative mating systems can decrease the opportunity for sexual selection1,2,3. Sperm competition is often the outcome of females mating with multiple males and has been observed in many animals1,4,5,6,7, and alternative reproductive systems are widespread among species with external fertilization and parental care3,8,9,10. Multiple paternity without associated complex behaviour related to mating or parental care is also seen in simultaneously spawning amphibians11,12,13,14,15 and fishes16 that release gametes into water. Here we report 'clutch piracy' in a montane population of the common frog Rana temporaria, a reproductive behaviour previously unknown in vertebrates with external fertilization. Males of this species clasp the females and the pair deposits one spherical clutch of eggs. No parental care is provided. 'Pirate' males search for freshly laid clutches, clasp them as they would do a female and fertilize the eggs that were left unfertilized by the 'parental' male. This behaviour does not seem to be size-dependent, and some males mate with a female and perform clutch piracy in the same season. Piracy affected 84% of the clutches and in some cases increased the proportion of eggs fertilized, providing direct fitness benefits both for the pirate males and the females17. Sexual selection—probably caused by a strong male-biased sex ratio—occurs in this population, as indicated by size-assortative mating; however, clutch piracy may reduce its impact. This provides a good model to explore how alternative mating strategies can affect the intensity of sexual selection.
Your institute does not have access to this article
Relevant articles
Open Access articles citing this article.
Marina Reyne

,

Kara Dicks

…

Sarah Helyar

Conservation Genetics Open Access 24 November 2021

E. Fasola

,

R. Ribeiro

&

I. Lopes

Scientific Reports Open Access 16 December 2019

Alexandra Mangold

,

Katharina Trenkwalder

…

Eva Ringler

BMC Evolutionary Biology Open Access 03 September 2015
Access options
Subscribe to Journal
Get full journal access for 1 year
$199.00
only $3.90 per issue
All prices are NET prices.
VAT will be added later in the checkout.
Tax calculation will be finalised during checkout.
Buy article
Get time limited or full article access on ReadCube.
$32.00
All prices are NET prices.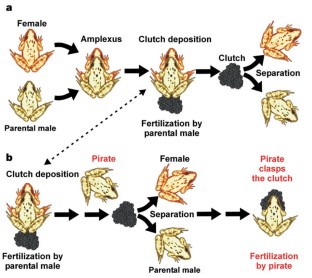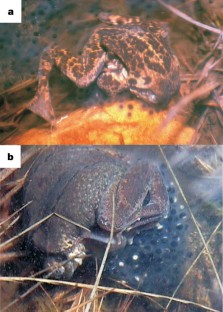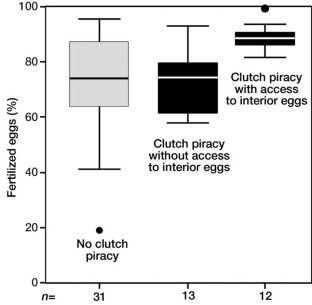 References
Shuster, S. M. & Wade, M. J. Mating Systems and Strategies. Monographs in Behavior and Ecology (Princeton Univ. Press, New Jersey, 2003)

Jones, A. G., Walker, D., Kvarnemo, C., Lindstroem, K. & Avise, J. C. How cuckoldry can decrease the opportunity for sexual selection: Data and theory from a genetic parentage analysis of the sand goby, Potamoschistus minutus. Proc. Natl Acad. Sci. USA 98, 9151–9156 (2001)

Avise, J. C. et al. Genetic mating systems and reproductive natural histories of fishes: lessons for ecology and evolution. Annu. Rev. Genet. 36, 19–45 (2002)

Birkhead, T. R. & Parker, G. A. in Behavioural Ecology: An Evolutionary Approach (eds Krebs, J. R. & Davies, N. B.) 121–148 (Blackwell, Oxford, 1997)

Olsson, M. & Madsen, T. Promiscuity in sand lizards (Lacerta agilis) and adder snakes (Vipera berus): causes and consequences. J. Hered. 92, 190–197 (2001)

Pearse, D. E. & Avise, J. C. Turtle mating systems: behavior, sperm storage, and genetic paternity. J. Hered. 92, 206–211 (2001)

Garner, T. W. J. & Schmidt, B. R. Relatedness, body size and paternity in the alpine newt, Triturus alpestris. Proc. R. Soc. Lond. B 270, 619–624 (2003)

Neff, B. D. Stabilizing selection on genomic divergence in a wild fish population. Proc. Natl Acad. Sci. USA 101, 2381–2385 (2004)

Taborsky, M. The evolution of bourgeois, parasitic, and cooperative reproductive behaviors in fishes. J. Hered. 92, 100–110 (2001)

Clutton-Brock, T. H. The Evolution of Parental Care. Monographs in Behavior and Ecology (Princeton Univ. Press, New Jersey, 1991)

D'Orgeix, C. A. & Turner, B. J. Multiple paternity in the red-eye treefrog Agalychnis callidryas (Cope). Mol. Ecol. 4, 505–508 (1995)

Laurila, A. & Seppa, P. Multiple paternity in the common frog (Rana temporaria): genetic evidence from tadpole kin groups. Biol. J. Linn. Soc. 63, 221–232 (1998)

Byrne, P. G. & Roberts, J. D. Simultaneous mating with multiple males reduces fertilization success in the myobatrachid frog Crinia georgiana. Proc. R. Soc. Lond. B 266, 717–721 (1999)

Roberts, J. D., Standish, R. J., Byrne, P. G. & Doughty, P. Synchronous polyandry and multiple paternity in the frog Crinia georgiana (Anura: Myobatrachidae). Anim. Behav. 57, 721–726 (1999)

Lodé, T. & Lesbarrères, D. Multiple paternity in Rana dalmatina, a monogamous territorial breeding anuran. Naturwissenschaften 91, 44–47 (2004)

Bekkevold, D., Hansen, M. M. & Loeschcke, V. Male reproductive competition in spawning aggregations of cod (Gadus morhua, L.). Mol. Ecol. 11, 91–102 (2002)

Jennions, M. D. & Petrie, M. Why do females mate multiply? A review of the genetic benefits. Biol. Rev. 75, 21–64 (2000)

Duellman, W. E. & Trueb, L. Biology of Amphibians 1–696 (The Johns Hopkins Univ. Press, Baltimore and London, 1986)

Grossenbacher, K., et al. in Atlas of Amphibians and Reptiles in Europe (ed. Gasc, J. P.) 158–159 (Societas Europaea Herpetologica and Muséum National d'Histoire Naturelle (IEGB/SPN), Paris, 1997)

Elmberg, J. Long-term survival, length of breeding season, and operational sex ratio in a boreal population of common frogs, Rana temporaria L. Can. J. Zool. 68, 121–127 (1990)

Byrne, P. G., Roberts, J. D. & Simmons, L. W. Sperm competition selects for increased testes mass in Australian frogs. J. Evol. Biol. 15, 347–355 (2001)

Gibbons, M. M. & McCarthy, T. K. The reproductive output of frogs Rana temporaria (L.) with particular reference to body size and age. J. Zool. 209, 579–583 (1986)

Elmberg, J. Factors affecting male yearly mating success in the common frog, Rana temporaria. Behav. Ecol. Sociobiol. 28, 125–131 (1991)

Elmberg, J. Random mating in a boreal population of European common frogs Rana temporaria L. Holarc. Ecol. 10, 193–195 (1987)

Foerster, K., Delhey, K., Johnsen, A., Lifjeld, J. T. & Kempenaers, B. Females increase offspring heterozygosity and fitness through extra-pair matings. Nature 425, 714–717 (2003)

Rico, C., Kuhnlein, U. & Fitzgerald, G. J. Male reproductive tactics in the threespine stickleback - an evaluation by DNA fingerprinting. Mol. Ecol. 1, 79–87 (1992)

Jones, A. G., Östlund-Nilsson, S. & Avise, J. C. A microsatellite assessment of sneaked fertilizations and egg thievery in the fifteenspine stickleback. Evolution 52, 848–858 (1998)

Vos, C. C., De Jong, A. G., Goedhart, P. W. & Smulders, M. J. M. Genetic similarity as a measure for connectivity between fragmented populations of the moor frog (Rana arvalis). Heredity 86, 598–608 (2001)

Marshall, T. C., Slate, J., Kruuk, L. & Pemberton, J. M. Statistical confidence for likelihood-based paternity inference in natural populations. Mol. Ecol. 7, 639–655 (1998)

Neff, B. D. & Pitcher, T. E. Assessing the statistical power of genetic analyses to detect multiple mating in fishes. J. Fish Biol. 61, 739–750 (2002)
Acknowledgements
We thank T. J. C. Beebee, E. Hespeler and M. Fuerst for help with microsatellite techniques. The team of the Respomuso Refuge (Ursi, Dolores, David, Juani and Javier Abajo), X. González, J. Palanca and N. Palanca provided help and facilities. The Dirección General del Medio Natural de la Diputación General de Aragón issued research permits for the Circo de Piedrafita area. D.R.V. was supported by grants of the University of Vigo, Xunta de Galicia and Deutscher Akademischer Austauschdienst. Grants of the Deutsche Forschungsgemeinschaft to M.V. and A.M. and of the Instituto de Estudios Altoaragoneses to M.V. supported the laboratory work.
Ethics declarations
Competing interests
The authors declare that they have no competing financial interests.
Supplementary information
All supplementary material is included in this file except the video. (DOC 153 kb)
This movie is an example of how several males perform clutch piracy with a freshly laid clutch. The video starts showing two pirate males clasping the clutch while repeatedly ejaculate sperm into the egg mass, while other males fight to get access to the clutch. After 16 seconds, one of the pirates releases the clutch and another one immediately replaces his position. This succession of pirate males ejaculating sperm continued for several minutes. (MP4 5474 kb)
About this article
Cite this article
Vieites, D., Nieto-Román, S., Barluenga, M. et al. Post-mating clutch piracy in an amphibian. Nature 431, 305–308 (2004). https://doi.org/10.1038/nature02879
Received:

Accepted:

Issue Date:

DOI: https://doi.org/10.1038/nature02879
Comments
By submitting a comment you agree to abide by our Terms and Community Guidelines. If you find something abusive or that does not comply with our terms or guidelines please flag it as inappropriate.