Abstract
Developmental dyslexia is characterized by a severe reading problem in people who have normal intelligence and schooling1,2,3. Impaired reading of alphabetic scripts is associated with dysfunction of left temporoparietal brain regions2,3,4,5. These regions perform phonemic analysis and conversion of written symbols to phonological units of speech (grapheme-to-phoneme conversion); two central cognitive processes that mediate reading acquisition6,7. Furthermore, it has been assumed that, in contrast to cultural diversities, dyslexia in different languages has a universal biological origin1,8. Here we show using functional magnetic resonance imaging with reading-impaired Chinese children and associated controls, that functional disruption of the left middle frontal gyrus is associated with impaired reading of the Chinese language (a logographic rather than alphabetic writing system). Reading impairment in Chinese is manifested by two deficits: one relating to the conversion of graphic form (orthography) to syllable, and the other concerning orthography-to-semantics mapping. Both of these processes are critically mediated by the left middle frontal gyrus, which functions as a centre for fluent Chinese reading9,10,11 that coordinates and integrates various information about written characters in verbal and spatial working memory. This finding provides an insight into the fundamental pathophysiology of dyslexia by suggesting that rather than having a universal origin, the biological abnormality of impaired reading is dependent on culture.
Relevant articles
Open Access articles citing this article.
Ricky Van-yip Tso

,

Terry Kit-fong Au

&

Janet Hui-wen Hsiao

Cognitive Research: Principles and Implications Open Access 07 May 2022

Yu Wang

,

Feifei Xu

…

Shuwei Liu

Brain Structure and Function Open Access 20 April 2022

Patrick C. M. Wong

,

Xin Kang

…

Kwong Wai Choy

Scientific Reports Open Access 12 January 2022
Access options
Subscribe to this journal
Receive 51 print issues and online access
$199.00 per year
only $3.90 per issue
Rent or buy this article
Get just this article for as long as you need it
$39.95
Prices may be subject to local taxes which are calculated during checkout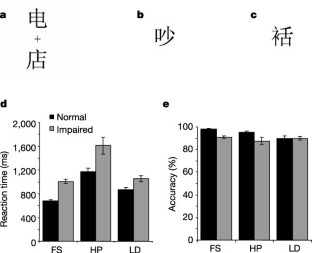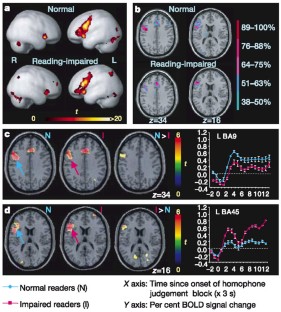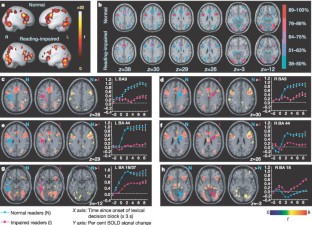 References
Eden, G. & Moats, L. The role of neuroscience in the remediation of students with dyslexia. Nature Neurosci. 5, 1080–1084 (2002)

Horwitz, B., Rumsey, J. M. & Donohue, B. C. Functional connectivity of the angular gyrus in normal reading and dyslexia. Proc. Natl Acad. Sci. USA 95, 8939–8944 (1998)

Temple, E. et al. Neural deficits in children with dyslexia ameliorated by behavioral remediation: Evidence from functional MRI. Proc. Natl Acad. Sci. USA 100, 2860–2865 (2003)

Shaywitz, S. E. et al. Functional disruption in the organization of the brain for reading in dyslexia. Proc. Natl Acad. Sci. USA 95, 2636–2641 (1998)

Aylward, E. H. et al. Instructional treatment associated with changes in brain activation in children with dyslexia. Neurology 61, 212–219 (2003)

Turkeltaub, P. E., Gareau, L., Flowers, D. L., Zeffiro, T. & Eden, G. Development of neural mechanisms for reading. Nature Neurosci. 6, 767–773 (2003)

Rayner, K., Foorman, B. R., Perfetti, C. A., Pesetsky, D. & Seidenberg, M. S. How psychological science informs the teaching of reading. Psychol. Sci. Publ. Interest 2, 31–74 (2001)

Paulesu, E. et al. Dyslexia: cultural diversity and biological unity. Science 291, 2165–2167 (2001)

Tan, L. H. et al. The neural system underlying Chinese logograph reading. Neuroimage 13, 836–846 (2001)

Tan, L. H. et al. Neural systems of second language reading are shaped by native language. Hum. Brain Mapp. 18, 158–166 (2003)

Siok, W. T., Jin, Z., Fletcher, P. & Tan, L. H. Distinct brain regions associated with syllable and phoneme. Hum. Brain Mapp. 18, 201–207 (2003)

Mattingly, I. G. in Language by Ear and by Eye: The Relationships Between Speech and Reading (eds Kavanagh, J. F. & Mattingly, I. G.) 133–147 (MIT Press, Cambridge, Massachusetts, 1972)

Wang, W. S.-Y. The Chinese language. Sci. Am. 228, 50–62 (1973)

Perfetti, C. A. & Tan, L. H. in Reading Chinese Script: A Cognitive Analysis (eds Wang, J., Inhoff, A. W. & Chen, I.) 115–134 (Lawrence Erlbaum Associates, Mahwah, New Jersey, 1999)

Perfetti, C. A., Liu, Y. & Tan, L. H. The lexical constituency model: Some implications of research on Chinese for general theories of reading. Psychol. Rev. (in the press)

Price, C. J., More, C. J., Humphreys, G. W. & Wise, R. S. J. Segregating semantic from phonological processes during reading. J. Cogn. Neurosci. 9, 727–733 (1997)

Gabrieli, J. D., Poldrack, R. A. & Desmond, J. E. The role of left prefrontal cortex in language and memory. Proc. Natl Acad. Sci. USA 95, 906–913 (1998)

Courtney, S. M., Petit, L., Maisog, J. M., Ungerleider, L. G. & Haxby, J. V. An area specialized for spatial working memory in human frontal cortex. Science 279, 1347–1351 (1998)

D'Esposito, M. et al. The neural basis of the central executive system of working memory. Nature 378, 279–281 (1995)

Petrides, M., Alivisatos, B., Meyer, E. & Evans, A. C. Functional activation of the human frontal cortex during the performance of verbal working memory tasks. Proc. Natl Acad. Sci. USA 90, 878–882 (1993)

Cohen, L. et al. The visual word form area: spatial and temporal characterization of an initial stage of reading in normal subjects and posterior split-brain patients. Brain 123, 291–307 (2000)

Tan, L. H. et al. Brain activation in the processing of Chinese characters and words: A functional MRI study. Hum. Brain Mapp. 10, 16–27 (2000)

Gold, B. T. & Buckner, R. L. Common prefrontal regions coactivate with dissociable posterior regions during controlled semantic and phonological tasks. Neuron 35, 803–812 (2002)

Wagner, A. D., Pare-Blagoev, J. E., Clark, J. & Poldrack, R. A. Recovering meaning: left prefrontal cortex guides controlled semantic retrieval. Neuron 31, 329–338 (2001)

Fu, S., Chen, Y., Smith, S., Iversen, S. & Matthews, P. M. Effects of word form on brain processing of written Chinese. Neuroimage 17, 1538–1548 (2002)

Fiez, J. A. Sound and meaning: how native language affects reading strategies. Nature Neurosci. 3, 3–5 (2000)

Kochunov, P. et al. Localized morphological brain differences between English speaking Caucasian and Chinese speaking Asian populations: New evidence of anatomical plasticity. Neuroreport 14, 961–964 (2003)

Siok, W. T. & Fletcher, P. The role of phonological awareness and visual-orthographic skills in Chinese reading acquisition. Dev. Psychol. 36, 887–899 (2001)

Snyder, P. J. & Harris, L. J. Handedness, sex, and familial sinistrality effects on spatial tasks. Cortex 29, 115–134 (1993)

Talairach, J. & Tournoux, P. Co-planar Stereotaxic Atlas of the Human Brain (Thieme Medical Publishers, New York, 1988)

Fox, P. T. et al. A PET study of the neural system of stuttering. Nature 382, 158–161 (1996)
Acknowledgements
This work was supported by a Hong Kong Government RGC Central Allocation grant, and by the Intramural Research Program of NIMH. We thank J. Gabrieli, R. Desimone, C. K. Leong, K. K. Luke, S. Matthews and J. Spinks for support and comments.
Ethics declarations
Competing interests
The authors declare that they have no competing financial interests.
About this article
Cite this article
Siok, W., Perfetti, C., Jin, Z. et al. Biological abnormality of impaired reading is constrained by culture. Nature 431, 71–76 (2004). https://doi.org/10.1038/nature02865
Received:

Accepted:

Issue Date:

DOI: https://doi.org/10.1038/nature02865
Comments
By submitting a comment you agree to abide by our Terms and Community Guidelines. If you find something abusive or that does not comply with our terms or guidelines please flag it as inappropriate.