Abstract
The peptide GsMTx4, isolated from the venom of the tarantula Grammostola spatulata, is a selective inhibitor of stretch-activated cation channels (SACs)1. The mechanism of inhibition remains unknown; but both GsMTx4 and its enantiomer, enGsMTx4, modify the gating of SACs, thus violating a trademark of the traditional lock-and-key model of ligand–protein interactions. Suspecting a bilayer-dependent mechanism, we examined the effect of GsMTx4 and enGsMTx4 on gramicidin A (gA) channel gating2. Both peptides are active, and the effect increases with the degree of hydrophobic mismatch between bilayer thickness and channel length, meaning that GsMTx4 decreases the energy required to deform the boundary lipids adjacent to the channel. GsMTx4 decreases inward SAC single-channel currents but has no effect on outward currents, suggesting it is located within a Debye length of the outer vestibule of the SACs, but significantly farther from the inner vestibule. Likewise, GsMTx4 decreases gA single-channel currents. Our results suggest that modulation of membrane proteins by amphipathic peptides—mechanopharmacology—involves not only the protein itself but also the surrounding lipids. The surprising efficacy of the d form of GsMTx4 peptide has important therapeutic implications, because d peptides are not hydrolysed by endogenous proteases and may be administered orally.
Relevant articles
Open Access articles citing this article.
Peter W. Reeh

&

Michael J. M. Fischer

Pflügers Archiv - European Journal of Physiology Open Access 14 February 2022

Kenjiro Yoshimura

,

Kazuko Iida

&

Hidetoshi Iida

Nature Communications Open Access 19 October 2021

Xiang-Zhi Fang

,

Ting Zhou

…

You Shang

Cell & Bioscience Open Access 09 January 2021
Access options
Subscribe to Journal
Get full journal access for 1 year
$199.00
only $3.90 per issue
All prices are NET prices.
VAT will be added later in the checkout.
Tax calculation will be finalised during checkout.
Buy article
Get time limited or full article access on ReadCube.
$32.00
All prices are NET prices.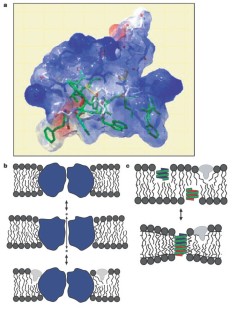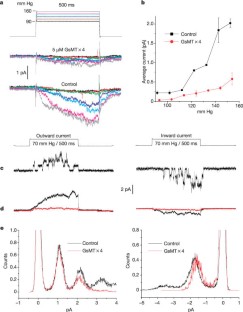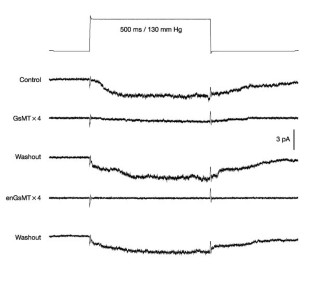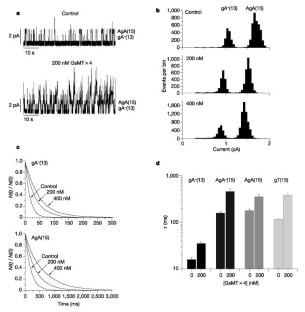 References
Suchyna, T. M. et al. Identification of a peptide toxin from Grammostola spatulata spider venom that blocks cation-selective stretch-activated channels. J. Gen. Physiol. 115, 583–598 (2000)

Andersen, O. S. et al. Ion channels as tools to monitor lipid bilayer-membrane protein interactions: gramicidin channels as molecular force transducers. Methods Enzymol. 294, 208–224 (1999)

Patel, A. J. et al. Inhalational anesthetics activate two-pore-domain background K+ channels. Nature Neurosci. 2, 422–426 (1999)

Patel, A. J., Lazdunski, M. & Honore, E. Lipid and mechano-gated 2P domain K+ channels. Curr. Opin. Cell Biol. 13, 422–427 (2001)

Perozo, E., Kloda, A., Cortes, D. M. & Martinac, B. Physical principles underlying the transduction of bilayer deformation forces during mechanosensitive channel gating. Nature Struct. Biol. 9, 696–703 (2002)

Lundbæk, J. A. & Andersen, O. S. Lysophospholipids modulate channel function by altering the mechanical properties of lipid bilayers. J. Gen. Physiol. 104, 645–673 (1994)

Hwang, T. C., Koeppe, R. E. II & Andersen, O. S. Genistein can modulate channel function by a phosphorylation-independent mechanism: importance of hydrophobic mismatch and bilayer mechanics. Biochemistry 42, 13646–13658 (2003)

Goulian, M. et al. Gramicidin channel kinetics under tension. Biophys. J. 74, 328–337 (1998)

Oswald, R. E., Suchyna, T. M., McFeeters, R., Gottlieb, P. & Sachs, F. Solution structure of peptide toxins that block mechanosensitive ion channels. J. Biol. Chem. 277, 34443–34450 (2002)

Ostrow, K. L. et al. cDNA sequence and in vitro folding of GsMTx4, a specific peptide inhibitor of mechanosensitive channels. Toxicon 42, 263–274 (2003)

Markin, V. S. & Sachs, F. Thermodynamics of mechanosensitivity. Physical Biol. (in the press)

Suchyna, T. & Sachs, F. Dynamic regulation of mechanosensitive channels: capacitance used to monitor patch tension in real time. Phys. Biol. 1, 1–18 (2004)

Ladokhin, A. S., Jayasinghe, S. & White, S. H. How to measure and analyze tryptophan fluorescence in membranes properly, and why bother? Anal. Biochem. 285, 235–245 (2000)

White, S. H., Wimley, W. C., Ladokhin, A. S. & Hristova, K. Protein folding in membranes: determining energetics of peptide-bilayer interactions. Methods Enzymol. 295, 62–87 (1998)

Kim, J., Mosior, M., Chung, L. A., Wu, H. & McLaughlin, S. Binding of peptides with basic residues to membranes containing acidic phospholipids. Biophys. J. 60, 135–148 (1991)

Lundbæk, J. A. & Andersen, O. S. Spring constants for channel-induced lipid bilayer deformations—estimates using gramicidin channels. Biophys. J. 76, 889–895 (1999)

O'Connell, A. M., Koeppe, R. E. II & Andersen, O. S. Kinetics of gramicidin channel formation in lipid bilayers: transmembrane monomer association. Science 250, 1256–1259 (1990)

Elliott, J. R., Needham, D., Dilger, J. P. & Haydon, D. A. The effects of bilayer thickness and tension on gramicidin single-channel lifetime. Biochim. Biophys. Acta 735, 95–103 (1983)

Huang, H. W. Deformation free energy of bilayer membrane and its effect on gramicidin channel lifetime. Biophys. J. 50, 1061–1070 (1986)

Koeppe, R. E. II et al. On the helix sense of gramicidin A single channels. Proteins 12, 49–62 (1992)

Trudelle, Y. & Heitz, F. Synthesis and characterization of Tyr(Bzl)9,11,13,15 and Tyr9,11,13,15 gramicidin A. Int. J. Pept. Protein Res. 30, 163–169 (1987)

Lundbæk, J. A. et al. Regulation of sodium channel function by bilayer elasticity the importance of hydrophobic coupling: effects of micelle-forming amphiphiles and cholesterol. J. Gen. Physiol. 123, 599–621 (2004)

Bode, F., Sachs, F. & Franz, M. R. Tarantula peptide inhibits atrial fibrillation. Nature 409, 35–36 (2001)

Lehtonen, J. Y. & Kinnunen, P. K. Phospholipase A2 as a mechanosensor. Biophys. J. 68, 1888–1894 (1995)

Gudi, S., Nolan, J. P. & Frangos, J. A. Modulation of GTPase activity of G proteins by fluid shear stress and phospholipid composition. Proc. Natl Acad. Sci. USA 95, 2515–2519 (1998)

Laitko, U. & Morris, C. E. Membrane tension accelerates rate-limiting voltage-dependent activation and slow inactivation steps in a Shaker channel. J. Gen. Physiol. 123, 135–154 (2004)

Greathouse, D. V., Koeppe, R. E. II, Providence, L. L., Shobana, S. & Andersen, O. S. Design and characterization of gramicidin channels. Methods Enzymol. 294, 525–550 (1999)

Andersen, O. S. Ion movement through gramicidin A channels. Single-channel measurements at very high potentials. Biophys. J. 41, 119–133 (1983)

Bett, G. C. & Sachs, F. Activation and inactivation of mechanosensitive currents in the chick heart. J. Membr. Biol. 173, 237–254 (2000)
Acknowledgements
We would like to thank J. Niggel (SUNY) and A. Ladokhin (UC Irvine) for the fluorescence data, and M. Teeling for the tissue culture. This work is supported by NIH grants to O.S.A. and F.S.
Ethics declarations
Competing interests
The authors declare that they have no competing financial interests.
About this article
Cite this article
Suchyna, T., Tape, S., Koeppe, R. et al. Bilayer-dependent inhibition of mechanosensitive channels by neuroactive peptide enantiomers. Nature 430, 235–240 (2004). https://doi.org/10.1038/nature02743
Received:

Accepted:

Published:

Issue Date:

DOI: https://doi.org/10.1038/nature02743
Comments
By submitting a comment you agree to abide by our Terms and Community Guidelines. If you find something abusive or that does not comply with our terms or guidelines please flag it as inappropriate.