Abstract
Surface science is an important and well-established branch of materials science involving the study of changes in material properties near a surface or interface. A fundamental issue has been atomic reconstruction: how the surface lattice symmetry differs from the bulk. 'Correlated-electron compounds' are materials in which strong electron–electron and electron–lattice interactions produce new electronic phases, including interaction-induced (Mott) insulators, many forms of spin, charge and orbital ordering, and (presumably) high-transition-temperature superconductivity1,2. Here we propose that the fundamental issue for the new field of correlated-electron surface/interface science is 'electronic reconstruction': how does the surface/interface electronic phase differ from that in the bulk? As a step towards a general understanding of such phenomena, we present a theoretical study of an interface between a strongly correlated Mott insulator and a band insulator. We find dramatic interface-induced electronic reconstructions: in wide parameter ranges, the near-interface region is metallic and ferromagnetic, whereas the bulk phase on either side is insulating and antiferromagnetic. Extending the analysis to a wider range of interfaces and surfaces is a fundamental scientific challenge and may lead to new applications for correlated electron materials.
Relevant articles
Open Access articles citing this article.
Pooja Sindhu

,

K. S. Ananthram

…

Nirmalya Ballav

Nature Communications Open Access 12 December 2022

Wei Han

,

YoshiChika Otani

&

Sadamichi Maekawa

npj Quantum Materials Open Access 22 May 2018

M. J. Veit

,

R. Arras

…

Y. Suzuki

Nature Communications Open Access 13 April 2018
Access options
Subscribe to this journal
Receive 51 print issues and online access
$199.00 per year
only $3.90 per issue
Rent or buy this article
Prices vary by article type
from$1.95
to$39.95
Prices may be subject to local taxes which are calculated during checkout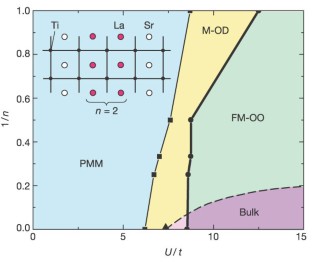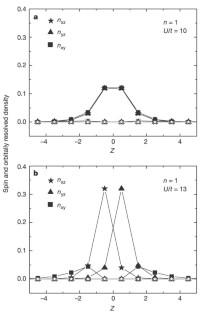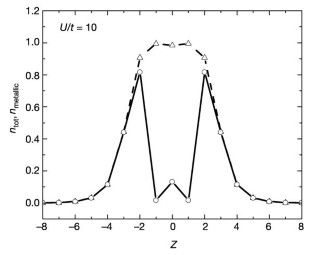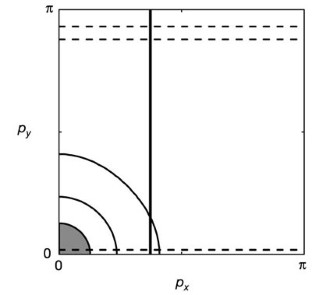 References
Imada, M., Fujimori, A. & Tokura, Y. Metal-insulator transitions. Rev. Mod. Phys. 70, 1039–1263 (1998)

Tokura, Y. & Nagaosa, N. Orbital physics in transition-metal oxides. Science 288, 462–468 (2000)

Altieri, S., Tjeng, L. H. & Sawatzky, G. A. Ultrathin oxide films on metals: new physics and new chemistry? Thin Solid Films 400, 9–15 (2001)

Hesper, R., Tjeng, L. H., Heeres, A. & Sawatzky, G. A. Photoemission evidence of electronic stabilization of polar surface in K3C60 . Phys. Rev. B 62, 16046–16055 (2000)

Duffy, D. M. & Stoneham, A. M. Conductivity and 'negative U' for ionic grain boundaries. J. Phys. C 16, 4087–4092 (1983)

Altieri, S., Tjeng, L. H. & Sawatzky, G. A. Electronic structure and chemical reactivity of oxide-metal interfaces: MgO(100)/Ag(100). Phys. Rev. B 61, 16948–16955 (2000)

Potthoff, M. & Nolting, W. Metallic surface of a Mott insulator? Mott insulating surface of a metal. Phys. Rev. B 60, 7834–7849 (1999)

Fang, Z., Solovyev, I. V. & Terakura, K. Phase diagram of tetragonal manganites. Phys. Rev. Lett. 84, 3169–3172 (2000)

Maiti, K., Mahadevan, P. & Sarma, D. D. Evolution of spectral function in a doped Mott insulator: Surface vs bulk contributions. Phys. Rev. Lett. 80, 2885–2888 (1998)

Matzdorf, R. et al. Ferromagnetism stabilized by lattice distortion at the surface of the p-wave superconductor Sr2RuO4 . Science 289, 746–748 (2000)

Moore, R. G. et al. Surface dynamics of the layered ruthenate Ca1.9Sr0.1RuO4 . Phys. Status Solidi (in the press)

Maiti, K. et al. Electronic structure of Ca1–xSrxVO3: A tale of two energy scales. Europhys. Lett. 55, 246–252 (2001)

Izumi, M. et al. Perovskite superlattices as tailored materials of correlated electrons. Mater. Sci. Eng. B 84, 53–57 (2001)

Ohtomo, A., Muller, D. A., Grazul, J. L. & Hwang, H. Y. Artificial charge–modulation in atomic-scale perovslite titanate superlattices. Nature 419, 378–380 (2002)

Sakudo, T. & Unoki, H. Dielectric properties of SrTiO3 at low temperatures. Phys. Rev. Lett. 26, 851–853 (1971)

Müller, K. A. & Burkard, H. SrTiO3: an intrinsic quantum paraelectric below 4K. Phys. Rev. B 19, 3593–3602 (1979)

Fujitani, H. & Asano, S. Full-potential band calculations on YTiO3 with a distorted perovskite structure. Phys. Rev. B 51, 2098–2102 (1995)

Mizokawa, T. & Fujimori, A. Unrestricted Hartree-Fock study of transition-metal oxides: Spin and orbital ordering in perovskite-type lattice. Phys. Rev. B 51, 12880–12883 (1995)

Okimoto, Y., Katsufuji, T., Okada, Y., Arima, T. & Tokura, Y. Optical spectra in (La, Y)TiO3: Variation of Mott-Hubbard gap features with change of electron correlation and band filling. Phys. Rev. B 51, 9581–9588 (1995)

Kiyama, T. & Itoh, M. Presence of 3d quadrupole moment in LaTiO3 studied by 47,49Ti NMR. Phys. Rev. Lett. 91, 167202 (2003)

Mochizuki, M. & Imada, M. Orbital-spin structure and lattice coupling in RTiO3 where R = La, Pr, Nd, and Sm. Phys. Rev. Lett. 91, 167203 (2003)
Acknowledgements
We thank M. Potthoff, G. Sawatzky, W. Ku, H. Y. Hwang, E. W. Plummer and D. R. Hamann for conversations and the US NSF and the JSPS for support.
Ethics declarations
Competing interests
The authors declare that they have no competing financial interests.
About this article
Cite this article
Okamoto, S., Millis, A. Electronic reconstruction at an interface between a Mott insulator and a band insulator. Nature 428, 630–633 (2004). https://doi.org/10.1038/nature02450
Received:

Accepted:

Issue Date:

DOI: https://doi.org/10.1038/nature02450
Comments
By submitting a comment you agree to abide by our Terms and Community Guidelines. If you find something abusive or that does not comply with our terms or guidelines please flag it as inappropriate.