Abstract
Northern cod, comprising populations of Atlantic cod (Gadus morhua) off southern Labrador and eastern Newfoundland, supported major fisheries for hundreds of years1. But in the late 1980s and early 1990s, northern cod underwent one of the worst collapses in the history of fisheries2,3,4. The Canadian government closed the directed fishing for northern cod in July 1992, but even after a decade-long offshore moratorium, population sizes remain historically low4. Here we show that, up until the moratorium, the life history of northern cod continually shifted towards maturation at earlier ages and smaller sizes. Because confounding effects of mortality changes and growth-mediated phenotypic plasticity are accounted for in our analyses, this finding strongly suggests fisheries-induced evolution of maturation patterns in the direction predicted by theory5,6. We propose that fisheries managers could use the method described here as a tool to provide warning signals about changes in life history before more overt evidence of population decline becomes manifest.
Access options
Access options
Subscribe to Journal
Get full journal access for 1 year
$199.00
only $3.90 per issue
All prices are NET prices.
VAT will be added later in the checkout.
Rent or Buy article
Get time limited or full article access on ReadCube.
from$8.99
All prices are NET prices.
References
1

Hutchings, J. A. & Myers, R. A. in The North Atlantic Fisheries: Successes, Failures, and Challenges (eds Arnason, R. & Felt, L.) 39–93 (The Institute of Island Studies, Charlottetown, Prince Edward Island, 1995)

2

Myers, R. A., Hutchings, J. A. & Barrowman, N. J. Why do fish stocks collapse? The example of cod in Atlantic Canada. Ecol. Appl. 7, 91–106 (1997)

3

Rose, G. A., deYoung, B., Kulka, D. W., Goddard, S. V. & Fletcher, G. L. Distribution shifts and overfishing the northern cod (Gadus morhua): a view from the ocean. Can. J. Fish. Aquat. Sci. 57, 644–663 (2000)

4

Lilly, G. R., et al. An Assessment of the Cod Stock in NAFO Divisions 2J + 3KL DFO Can. Sci. Adv. Sec. Res. Doc. 2001/044 (2001)

5

Gadgil, M. & Bossert, W. Life historical consequences of natural selection. Am. Nat. 104, 1–24 (1970)

6

Ernande, B., Dieckmann, U. & Heino, M. Adaptive changes in harvested populations: plasticity and evolution of age and size at maturation. Proc. R. Soc. Lond. B 271, 415–423 (2004)

7

Trippel, E. A. Age at maturity as a stress indicator in fisheries. Bioscience 45, 759–771 (1995)

8

Stokes, T. K., McGlade, J. M. & Law, R. The Exploitation of Evolving Resources (Springer, Berlin, 1993)

9

Law, R. Fishing, selection, and phenotypic evolution. ICES J. Mar. Sci. 57, 659–668 (2000)

10

Rijnsdorp, A. D. Fisheries as a large-scale experiment on life-history evolution: disentangling phenotypic and genetic effects in changes in maturation and reproduction of North Sea plaice, Pleuronectes platessa L. Oecologia 96, 391–401 (1993)

11

Reznick, D. N., Shaw, F. H., Rodd, H. F. & Shaw, R. G. Evaluation of the rate of evolution in natural populations of guppies (Poecilia reticulata). Science 275, 1934–1937 (1997)

12

Roff, D. A. Trade-offs between growth and reproduction: an analysis of the quantitative genetic evidence. J. Evol. Biol. 13, 434–445 (2000)

13

Lorenzen, K. & Enberg, K. Density-dependent growth as a key mechanism in the regulation of fish populations: evidence from among-population comparisons. Proc. R. Soc. Lond. B 269, 49–54 (2002)

14

Alm, G. Connection between maturity, size and age in fishes. Rep. Inst. Freshw. Res. Drottningholm 40, 5–145 (1959)

15

Heino, M., Dieckmann, U. & Godø, O. R. Measuring probabilistic reaction norms for age and size at maturation. Evolution 56, 669–678 (2002)

16

Hutchings, J. A. Influence of growth and survival costs of reproduction on Atlantic cod, Gadus morhua, population growth rate. Can. J. Fish. Aquat. Sci. 56, 1612–1623 (1999)

17

Stearns, S. C. & Koella, J. C. The evolution of phenotypic plasticity in life-history traits: predictions of reaction norms for age and size at maturity. Evolution 40, 893–913 (1986)

18

Bishop, C. A. & Baird, J. W. Spatial and temporal variability in condition factors of Divisions 2J and 3KL cod (Gadus morhua). NAFO Sci. Counc. Stud. 21, 105–113 (1994)

19

Ruzzante, D. E., Taggart, C. T., Doyle, R. W. & Cook, D. Stability in the historical pattern of genetic structure of Newfoundland cod (Gadus morhua) despite the catastrophic decline in population size from 1964 to 1994. Cons. Gen. 2, 257–269 (2001)

20

Lear, W. H. Discrimination of the stock complex of Atlantic cod (Gadus morhua) off southern Labrador and eastern Newfoundland, as inferred from tagging studies. J. Northwest Atl. Fish. Sci. 5, 143–159 (1984)

21

Sohn, J. J. Socially induced inhibition of genetically determined maturation in the platyfish, Xiphophorus maculatus. Science 195, 199–200 (1977)

22

Haugen, T. O. & Vøllestad, L. A. A century of life-history evolution in grayling. Genetica 112–113, 475–491 (2001)

23

Hendry, A. P. & Kinnison, M. T. The pace of modern life: measuring rates of contemporary microevolution. Evolution 53, 1637–1653 (1999)

24

Kinnison, M. T. & Hendry, A. P. The pace of modern life II: from rates of contemporary microevolution to pattern and process. Genetica 112–113, 145–164 (2001)

25

Stockwell, C. A., Hendry, A. P. & Kinnison, M. T. Contemporary evolution meets conservation biology. Trends Ecol. Evol. 18, 94–101 (2003)

26

Grant, P. R. & Grant, B. R. Unpredictable evolution in a 30-year study of Darwin's finches. Science 296, 707–711 (2002)

27

Conover, D. O. & Munch, S. B. Sustaining fisheries yields over evolutionary time scales. Science 297, 94–96 (2002)

28

Barot, S., Heino, M., O'Brien, L. & Dieckmann, U. Estimating Reaction Norms for Age and Size at Maturation when Age at First Reproduction is Unknown. IIASA Interim Report No. IR-03-043 (2003)

29

Morgan, M. J. & Hoenig, J. M. Estimating maturity-at-age from length stratified sampling. J. Northwest Atl. Fish. Sci 21, 51–63 (1997)

30

Manly, F. J. Randomization, Bootstrap and Monte Carlo Methods in Biology (Chapman & Hall, London, 1997)
Acknowledgements
We are grateful to the many fisheries biologists and technicians who participated in the data collection underlying this study. We also thank S. Barot, O. R. Godø, T. O. Haugen, N. C. Stenseth and L. A. Vøllestad for discussions. S. Barot, W. B. Brodie, O. R. Godø and S. J. Walsh are thanked for their help in initiating the interaction that led to this study. U.D. gratefully acknowledges financial support from the Austrian Science Fund and the Austrian Federal Ministry of Education, Science, and Cultural Affairs. This research has been supported by the European Research Training Network ModLife (Modern Life-History Theory and its Application to the Management of Natural Resources), funded through the Human Potential Programme of the European Commission.
Ethics declarations
Competing interests
The authors declare that they have no competing financial interests.
Supplementary information
The probabilistic maturation reaction norm method. (DOC 38 kb)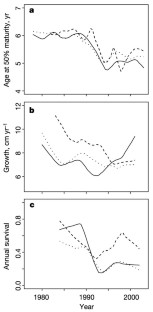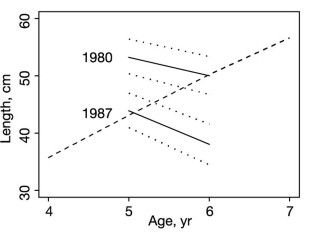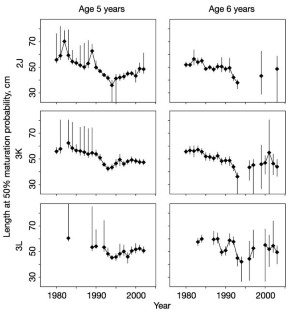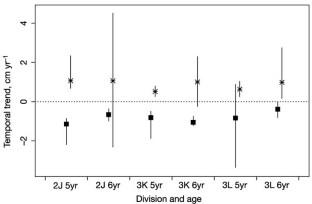 Comments
By submitting a comment you agree to abide by our Terms and Community Guidelines. If you find something abusive or that does not comply with our terms or guidelines please flag it as inappropriate.