Abstract
The herbivorous insects of tropical forests constitute some of the most diverse communities of living organisms1. For this reason it has been difficult to discover the degree to which these communities are structured, and by what processes. Interspecific competition for resources does occur, but its contemporary importance is limited because most pairs of potentially competing insects feed on different host plants2. An alternative way in which species can interact is through shared natural enemies, a process called apparent competition3. Despite extensive theoretical discussion there are few field demonstrations of apparent competition, and none in hyper-diverse tropical communities. Here, we experimentally removed two species of herbivore from a community of leaf-mining insects in a tropical forest. We predicted that other species that share natural enemies with the two removed species would experience lower parasitism and have higher population densities in treatment compared with control sites. In both cases (on removal of a dipteran and a coleopteran leaf-miner species) we found significantly lower parasitism, and in one case (removal of the dipteran) we found significantly higher abundance a year after the manipulation. Our results suggest that apparent competition may be important in structuring tropical insect communities.
Relevant articles
Open Access articles citing this article.
Warwick J. Allen

,

Lauren P. Waller

…

Jason M. Tylianakis

Nature Communications Open Access 11 May 2021

Jó Cássio Nascimento Carvalho

,

Farley William Souza Silva

…

Jesusa Crisostomo Legaspi

Scientific Reports Open Access 16 July 2020

Zhaoke Dong

,

Xingyuan Men

…

Zhiyong Zhang

Scientific Reports Open Access 11 June 2019
Access options
Subscribe to Journal
Get full journal access for 1 year
$199.00
only $3.90 per issue
All prices are NET prices.
VAT will be added later in the checkout.
Tax calculation will be finalised during checkout.
Buy article
Get time limited or full article access on ReadCube.
$32.00
All prices are NET prices.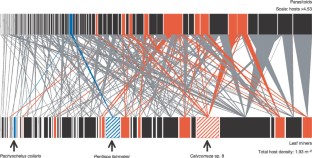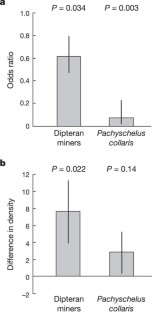 References
Novotny, V. et al. Low host specificity of herbivorous insects in a tropical forest. Nature 416, 841–844 (2002)

Strong, D. R., Lawton, J. H. & Southwood, T. R. E. Insects on Plants: Community Patterns and Mechanisms (Blackwell Science, Oxford, 1984)

Holt, R. D. Predation, apparent competition and the structure of prey communities. Theor. Popul. Biol. 12, 197–229 (1977)

Strauss, S. Y. Indirect effects in community ecology—their definition, study and importance. Trends Ecol. Evol. 6, 206–210 (1991)

Wootton, J. T. The nature and consequences of indirect effects in ecological communities. Annu. Rev. Ecol. Syst. 25, 443–466 (1994)

Abrams, P. A., Menge, B. A., Mittelback, G. G., Spiller, D. A. & Yodzis, P. Food Webs: Integration of Patterns and Dynamics. (eds Polis, G. & Winemiller, K. O.) 371–395 (Chapman & Hall, New York, 1995)

Holt, R. D. & Lawton, J. H. Apparent competition and enemy-free space in insect host-parasitoid communities. Am. Nat. 142, 623–645 (1993)

Schmitt, R. J. Indirect interactions between prey: apparent competition, predator aggregation, and habitat segregation. Ecology 68, 1887–1897 (1987)

Menge, B. A. Indirect effects in marine rocky intertidal interaction webs: Patterns and importance. Ecol. Monogr. 65, 21–74 (1995)

Tomkins, D. M., Draycott, R. A. H. & Hudson, P. J. Field evidence for apparent competition mediated via the shared parasites of two gamebird species. Ecol. Lett. 3, 10–14 (2000)

Muller, C. B. & Godfray, H. C. J. Apparent competition between two aphid species. J. Anim. Ecol. 66, 57–64 (1997)

Morris, R. J., Müller, C. B. & Godfray, H. C. J. Field experiments testing for apparent competition between primary parasitoids mediated by secondary parasitoids. J. Anim. Ecol. 70, 301–309 (2001)

Bonsall, M. B. & Hassell, M. P. Apparent competition structures ecological assemblages. Nature 338, 371–373 (1997)

Settle, W. H. & Wilson, L. T. Invasion by the variegated leafhopper and biotic interactions: parasitism, competition and apparent competition. Ecology 71, 1461–1470 (1990)

Janzen, D. H. Herbivores and the number of tree species in tropical forests. Am. Nat. 104, 501–528 (1970)

Hespenheide, H. A. Bionomics of leaf-mining insects. Annu. Rev. Entomol. 36, 535–560 (1991)

Lewis, O. T. et al. Structure of a diverse tropical forest insect-parasitoid community. J. Anim. Ecol. 71, 855–873 (2002)

Holt, R. D. & Lawton, J. H. The ecological consequences of shared natural enemies. Annu. Rev. Ecol. Syst. 25, 495–520 (1994)

Abrams, P. The theory of limiting similarity. Annu. Rev. Ecol. Syst. 14, 359–376 (1983)

Jeffries, M. J. & Lawton, J. H. Enemy free space and the structure of ecological communities. Biol. J. Linn. Soc. 23, 269–286 (1984)

Abrams, P. A. & Matsuda, H. Positive indirect effects between prey species that share predators. Ecology 77, 610–616 (1996)

Bonsall, M. B. & Hassell, M. P. The effects of metapopulation structure on indirect interactions in host-parasitoid assemblages. Proc. R. Soc. Lond. B 267, 2207–2212 (2000)

Bonsall, M. B. & Hassell, M. P. Parasitoid-mediated effects: apparent competition and the persistence of host-parasitoid assemblages. Res. Popul. Ecol. 41, 59–68 (1999)

Turchin, P. Complex Population Dynamics: A Theoretical/Empirical Synthesis (Princeton Univ. Press, Princeton, New Jersey, 2003)

Power, M. E. et al. Challenges in the quest for keystones. Bioscience 46, 609–620 (1996)

Howarth, F. G. Environmental impacts of classical biological control. Annu. Rev. Entomol. 36, 485–509 (1991)

Simberloff, D. in Selection Criteria and Ecological Consequences of Importing Natural Enemies (eds Kauffman, W. C. & Nechols, J. R.) 103–117 (Entomological Society of America, Lanham, Maryland, 1992)

Henneman, M. L. & Memmott, J. Infiltration of a Hawaiian community by introduced biological control agents. Science 293, 1314–1316 (2001)

Memmott, J. & Godfray, H. C. J. in Parasitoid Community Ecology (eds Hawkins, B. A. & Sheehan, W.) 300–318 (Oxford Univ. Press, Oxford, 1994)
Acknowledgements
We are particularly grateful to A. Lord. We thank Ch. Bol, Ce. Bol, I. Bol, N. Coc, L. Davies and E. Saquil for support and assistance in the field, and our taxonomic collaborators, including J. LaSalle, D. Quicke and C. Whitefoord. Research permission was granted by the Ministry of Natural Resources in Belize, and we are grateful to the Natural History Museum London for allowing us to work at Las Cuevas, and the Natural Environment Research Council for financial support. O.T.L. is a Royal Society University Research Fellow.
Ethics declarations
Competing interests
The authors declare that they have no competing financial interests.
About this article
Cite this article
Morris, R., Lewis, O. & Godfray, H. Experimental evidence for apparent competition in a tropical forest food web. Nature 428, 310–313 (2004). https://doi.org/10.1038/nature02394
Received:

Accepted:

Issue Date:

DOI: https://doi.org/10.1038/nature02394
Comments
By submitting a comment you agree to abide by our Terms and Community Guidelines. If you find something abusive or that does not comply with our terms or guidelines please flag it as inappropriate.