Abstract
It has often been proposed that the vocal calls of monkeys are precursors of human speech, in part because they provide critical information to other members of the species who rely on them for survival and social interactions1,2. Both behavioural and lesion studies suggest that monkeys, like humans, use the auditory system of the left hemisphere preferentially to process vocalizations3,4. To investigate the pattern of neural activity that might underlie this particular form of functional asymmetry in monkeys, we measured local cerebral metabolic activity while the animals listened passively to species-specific calls compared with a variety of other classes of sound. Within the superior temporal gyrus, significantly greater metabolic activity occurred on the left side than on the right, only in the region of the temporal pole and only in response to monkey calls. This functional asymmetry was absent when these regions were separated by forebrain commissurotomy, suggesting that the perception of vocalizations elicits concurrent interhemispheric interactions that focus the auditory processing within a specialized area of one hemisphere.
Your institute does not have access to this article
Relevant articles
Open Access articles citing this article.
Florence Steiner

,

Marine Bobin

&

Sascha Frühholz

Communications Biology Open Access 25 June 2021

Serenella d'Ingeo

,

Angelo Quaranta

…

Hugo Cousillas

Scientific Reports Open Access 09 August 2019

Masaki Kato

,

Chihiro Yokoyama

…

Atsushi Iriki

Animal Cognition Open Access 27 February 2018
Access options
Subscribe to Journal
Get full journal access for 1 year
$199.00
only $3.90 per issue
All prices are NET prices.
VAT will be added later in the checkout.
Tax calculation will be finalised during checkout.
Buy article
Get time limited or full article access on ReadCube.
$32.00
All prices are NET prices.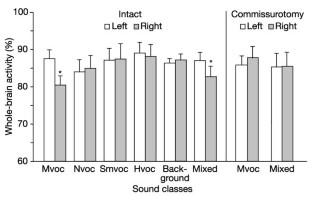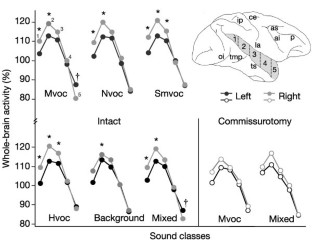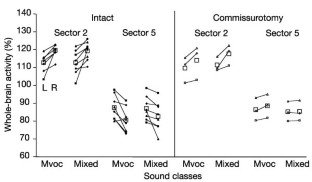 References
Cheney, D. L. & Seyfarth, R. M. How Monkeys See The World (Univ. Chicago Press, Chicago, IL, 1990)

Prell, C. G., Hauser, M. D. & Moody, D. B. Discrete or graded variation within rhesus monkey screams? Psychophysical experiment on classification. Anim. Behav. 63, 47–62 (2002)

Ghazanfar, A. A. & Hauser, M. D. The auditory behaviour of primates: a neuroethological perspective. Curr. Opin. Neurobiol. 11, 712–720 (2001)

Heffner, H. E. & Heffner, R. S. Temporal lobe lesions and perception of species-specific vocalizations by macaques. Science 226, 75–76 (1984)

Petersen, M. R., Beecher, M. D., Zoloth, S. R., Moody, D. B. & Stebbins, W. C. Neural lateralization of species-specific vocalizations by Japanese Macaques. Science 202, 324–327 (1978)

Hauser, M. D. & Anderson, K. Left hemisphere dominance for processing vocalizations in adult, but not infant, rhesus monkeys: Field experiments. Proc. Natl Acad. Sci. USA 91, 3946–3948 (1994)

Phelps, M. E. et al. Tomographic measurement of local cerebral glucose metabolic rate in humans with (F-18) 2-fluoro-2-deoxy-d-glucose: Validation of method. Ann. Neurol. 6, 371–388 (1979)

Poremba, A. et al. Functional mapping of the primate auditory system. Science 299, 568–572 (2003)

Ferbert, A. et al. Interhemispheric inhibition of the human motor cortex. J. Physiol. (Lond.) 453, 525–546 (1992)

Netz, J. in Transcranial Magnetic Stimulation (eds Paulus, E., Hallett, M., Rossini, P. M. & Rothwell, J. C.) Ch. 14 (Elsevier Science, New York, 1999)

Otten, L. J., Henson, R. N. & Rugg, M. D. Sate-related and item-related neural correlates of successful memory encoding. Nature Neurosci. 5, 1339–1344 (2002)

Ehret, G. Left hemisphere advantage in the mouse brain for recognizing ultrasonic communication calls. Nature 325, 249–251 (1987)

George, I., Cousillas, H., Richard, J. P. & Hausberger, M. Song perception in the European starling: hemispheric specialization and individual variations. C. R. Biol. 325, 197–204 (2002)

Snowdon, C. T., Brown, C. H. & Petersen, M. R. Primate Communication (Cambridge Univ. Press, Cambridge, UK, 1982)

Hauser, M. D. Functional referents and acoustic similarity: field playback experiments with rhesus monkeys. Anim. Behav. 55, 1647–1658 (1998)

Glass, I. & Wollberg, Z. Reponses to cells in the auditory cortex of awake squirrel monkeys to normal and reversed species-specific vocalizations. Hear. Res. 9, 27–33 (1983)

Wang, X., Merzenich, M. M., Beitel, R. & Schreiner, C. E. Representation of a species-specific vocalization in the primary auditory cortex of the common marmoset: temporal and spectral characteristics. J. Neurophysiol. 74, 2685–2706 (1995)

Rauschecker, J. P. & Tian, B. Mechanisms and streams for processing of "what" and "where" in auditory cortex. Proc. Natl Acad. Sci. USA 97, 11800–11806 (2000)

Wang, X. & Kadia, S. C. Differential representation of species-specific primate vocalizations in the auditory cortices of marmoset and cat. J. Neurosci. 86, 2616–2620 (2001)

Sokoloff, L., Takahashi, S., Gotoh, J., Driscoll, B. F. & Law, M. J. Contribution of astroglia to functionally activated energy metabolism. Dev. Neurosci. 18, 344–352 (1996)

Magistretti, P. Cellular bases of functional brain imaging: insights from neuron-glia metabolic coupling. Brain Res. 886, 108–112 (2000)

Woods, R., Mazziotta, J. & Cherry, S. MRI-PET registration with automated algorithm. J. Comput. Assist. Tomogr. 17, 536–546 (1993)

Yeterian, E. H. & Pandya, D. N. Corticostriatal connections of the superior temporal region in rhesus monkeys. J. Comp. Neurol. 399, 384–402 (1998)

Keppel, G. Design and Analysis: A Researcher's Handbook. 2nd edn, Ch. 8 (Prentice-Hall, Englewood Cliffs, NJ, 1982)
Acknowledgements
We thank E. Moreton for programming a software package to phase-scramble the sounds. This work was supported by the Intramural Research Program of NIMH, NIH, DHHS, and by internal funds from the University of Iowa.
Ethics declarations
Competing interests
The authors declare that they have no competing financial interests.
Supplementary information
About this article
Cite this article
Poremba, A., Malloy, M., Saunders, R. et al. Species-specific calls evoke asymmetric activity in the monkey's temporal poles. Nature 427, 448–451 (2004). https://doi.org/10.1038/nature02268
Received:

Accepted:

Issue Date:

DOI: https://doi.org/10.1038/nature02268
Comments
By submitting a comment you agree to abide by our Terms and Community Guidelines. If you find something abusive or that does not comply with our terms or guidelines please flag it as inappropriate.