Abstract
Only a few metallic phases have been identified in pure crystalline materials. These include normal, ferromagnetic and antiferromagnetic metals, systems with spin and charge density wave order, and superconductors. Fermi-liquid theory provides a basis for the description of all of these phases. It has been suggested that non-Fermi-liquid phases of metals may exist in some heavy-fermion compounds1,2 and oxide materials3,4,5,6, but the discovery of a characteristic microscopic signature of such phases presents a major challenge. The transition-metal compound MnSi above a certain pressure (pc = 14.6 kbar) provides what may be the cleanest example of an extended non-Fermi-liquid phase in a three-dimensional metal7,8,9. The bulk properties of MnSi suggest that long-range magnetic order is suppressed at pc (refs 7–12). Here we report neutron diffraction measurements of MnSi, revealing that sizeable quasi-static magnetic moments survive far into the non-Fermi-liquid phase. These moments are organized in an unusual pattern with partial long-range order. Our observation supports the existence of novel metallic phases with partial ordering of the conduction electrons (reminiscent of liquid crystals), as proposed for the high-temperature superconductors4,5,6 and heavy-fermion compounds13.
Relevant articles
Open Access articles citing this article.
Xiao-Tian Zhang

&

Gang Chen

npj Quantum Materials Open Access 21 February 2023

Joseph A. M. Paddison

,

Georg Ehlers

…

J. Ross Stewart

npj Quantum Materials Open Access 09 December 2021

Hiroki Yamauchi

,

Dita Puspita Sari

…

Shin-ichi Shamoto

Communications Materials Open Access 21 July 2020
Access options
Subscribe to this journal
Receive 51 print issues and online access
$199.00 per year
only $3.90 per issue
Rent or buy this article
Get just this article for as long as you need it
$39.95
Prices may be subject to local taxes which are calculated during checkout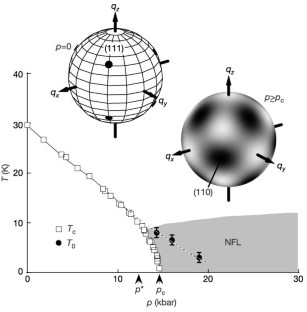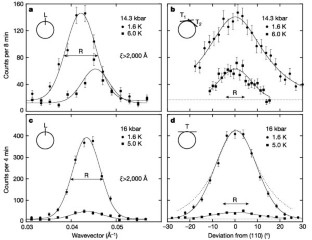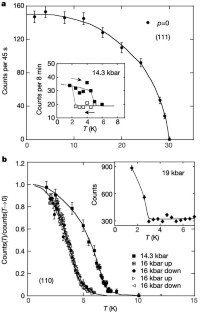 References
Chandra, P., Coleman, P., Mydosh, J. A. & Tripathi, V. Hidden orbital order in the heavy fermion metal URu2Si2 . Nature 417, 831–834 (2002)

Grosche, F. M. G. et al. Anomalous low temperature states in CeNi2Ge2 and CePd2Si2 . J. Phys. Condens. Matter 12, L533–L540 (2000)

Dagotto, E., Hotta, T. & Moreo, A. Colossal magnetoresistant materials: The key role of phase separation. Phys. Rep. 344, 1–153 (2001)

Kivelson, S. A. et al. How to detect fluctuating order in the high-temperature superconductors. Rev. Mod. Phys. 75, 1201–1241 (2003)

Sachdev, S. Order and quantum phase transitions in the cuprate superconductors. Rev. Mod. Phys. 75, 913–932 (2003)

Zaanen, J. et al. The geometric order of stripes and Luttinger liquids. Phil. Mag. B 81, 1485–1531 (2001)

Pfleiderer, C., Julian, S. R. & Lonzarich, G. G. Non-Fermi liquid nature of the normal state of itinerant-electron ferromagnets. Nature 414, 427–430 (2001)

Pfleiderer, C. The non-Fermi liquid puzzle of MnSi at high pressure. Physica B 328, 100–104 (2003)

Doiron-Leyraud, N. et al. Fermi-liquid breakdown in the paramagnetic phase of a pure metal. Nature 425, 595–599 (2003)

Pfleiderer, C., McMullan, G. J., Julian, S. R. & Lonzarich, G. G. Magnetic quantum phase transition in MnSi under hydrostatic pressure. Phys. Rev. B 55, 8330–8338 (1997)

Thessieu, C. et al. Field dependence of the magnetic quantum phase transition in MnSi. J. Phys. Condens. Matter 9, 6677–6687 (1997)

Koyama, K., Goto, T., Kanomata, T. & Note, R. Observation of an itinerant metamagnetic transition in MnSi under high pressure. Phys. Rev. B 62, 986–991 (2000)

Barzykin, V. & Gorkov, L. P. Possibility of nontrivial magnetic order by elastic neutron scattering. Phys. Rev. Lett. 70, 2479–2482 (1993)

Fawcett, E., Maita, J. P. & Wernick, J. H. Magnetoelastic and thermal properties of MnSi. Int. J. Magn. 1, 29–34 (1970)

Bloch, D., Voiron, J., Jaccarino, V. & Wernick, J. H. The high field–high pressure magnetic properties of MnSi. Phys. Lett. A 51, 259–291 (1975)

Ishikawa, Y. et al. Paramagnetic spin fluctuations in the weak itinerant-electron ferromagnet MnSi. Phys. Rev. B 31, 5884–5893 (1985)

Yasuoka, H., Jaccarion, V., Sherwood, R. C. & Wernick, J. H. NMR and susceptibility studies of MnSi above Tc . J. Phys. Soc. Jpn 44, 842–849 (1978)

Taillefer, L., Lonzarich, G. G. & Strange, P. The band magnetism of MnSi. J. Magn. Magn. Mater. 54–57, 957–958 (1986)

Ishikawa, Y. & Arai, M. Magnetic phase diagram of MnSi near critical temperature studied by neutron small angle scattering. J. Phys. Soc. Jpn 53, 2726–2733 (1984)

Lebech, B. in Recent Advances in Magnetism of Transition Metal Compounds (eds Kotani, A. & Suzuki, N.) 167–178 (World Scientific, Singapore, 1993)

Mena, F. P. et al. Heavy carriers and non-Drude optical conductivity in MnSi. Phys. Rev. B 67, 241101(R) (2003)

Bak, P. & Jensen, M. H. Theory of helical magnetic structures and phase transitions in MnSi and FeGe. J. Phys. C 13, L881–L885 (1980)

Nakanishi, O., Yanase, A., Hasegawa, A. & Kataoka, M. The origin of the helical spin density wave in MnSi. Solid State Commun. 35, 995–998 (1980)

Thessieu, C. et al. Pressure effect on MnSi: An NMR study. J. Magn. Magn. Mater. 177–181, 609–610 (1998)

Lammert, P. E., Rokhsar, D. S. & Toner, J. Topology and nematic ordering. Phys. Rev. Lett. 70, 1650–1653 (1993)

Wright, D. C. & Mermin, N. D. Crystalline liquids: The blue phases. Rev. Mod. Phys. 61, 385–432 (1989)

Koistinen, E. P. & Keyes, P. H. Light-scattering study of the structures of blue phase III. Phys. Rev. Lett. 74, 4460–4463 (1995)

Vonsovskij, S. V. Magnetism Vol. 2, Part 3 (Wiley, New York, 1974)

Mydosh, J. Spin Glasses: An Experimental Introduction (Taylor and Francis, London, 1993)

Huxley, A. et al. Co-existence of superconductivity and ferromagnetism in actinide compounds. J. Phys. Condens. Matter 15, S1945–S1956 (2003)
Acknowledgements
We acknowledge discussions with P. Böni, A. N. Bogdanov, E. Dormann, B. Fåk, P. C. Howell, B. Keimer, B. Lebech, G. G. Lonzarich, I. Mazin, A. J. Millis, K.-H. Müller, J. Mydosh, J. Kübler, B. Rössli, S. Sachdev, S. S. Saxena, J. Schmalian, Q. Si, M. Turlakov, U. Rössler, M. Vojta, P. Wölfle and J. Zaanen. Help with the experiments from M. Uhlarz, B. Hennion, J. Haug, E. Garcia-Matres and the staff of the Laboratoire Léon Brillouin (Saclay) and the Hahn-Meitner Institut (Berlin), respectively, is also acknowledged. This work was supported by the Deutsche Forschungsgemeinschaft, the Helmholtz Gemeinschaft and the European Science Foundation under FERLIN.
Ethics declarations
Competing interests
The authors declare that they have no competing financial interests.
About this article
Cite this article
Pfleiderer, C., Reznik, D., Pintschovius, L. et al. Partial order in the non-Fermi-liquid phase of MnSi. Nature 427, 227–231 (2004). https://doi.org/10.1038/nature02232
Received:

Accepted:

Issue Date:

DOI: https://doi.org/10.1038/nature02232
Comments
By submitting a comment you agree to abide by our Terms and Community Guidelines. If you find something abusive or that does not comply with our terms or guidelines please flag it as inappropriate.