Abstract
Ecosystems are supported by organic carbon from two distinct sources. Endogenous carbon is produced by photosynthesis within an ecosystem by autotrophic organisms. Exogenous carbon is produced elsewhere and transported into ecosystems. Consumers may use exogenous carbon with consequent influences on population dynamics, predator–prey relationships and ecosystem processes1. For example, exogenous inputs provide resources that may enhance consumer abundance beyond levels supported by within-system primary production2. Exogenous fluxes of organic carbon to ecosystems are often large, but this material is recalcitrant and difficult to assimilate, in contrast to endogenously produced organic matter, which is used more easily3,4. Here we show, by the experimental manipulation of dissolved inorganic 13C in two lakes, that internal primary production is insufficient to support the food webs of these ecosystems. Additions of NaH13CO3 enriched the 13C content of dissolved inorganic carbon, particulate organic carbon, zooplankton and fish. Dynamics of 13C indicate that 40–55% of particulate organic carbon and 22–50% of zooplankton carbon are derived from terrestrial sources, showing that there is significant subsidy of these ecosystems by organic carbon produced outside their boundaries.
Relevant articles
Open Access articles citing this article.
Hayedeh Behzad

,

Hajime Ohyanagi

…

Takashi Gojobori

BMC Genomics Open Access 07 April 2022

Robert J. Lennox

,

Samuel Westrelin

…

Robert Arlinghaus

Movement Ecology Open Access 28 July 2021
Access options
Subscribe to Journal
Get full journal access for 1 year
$199.00
only $3.90 per issue
All prices are NET prices.
VAT will be added later in the checkout.
Tax calculation will be finalised during checkout.
Buy article
Get time limited or full article access on ReadCube.
$32.00
All prices are NET prices.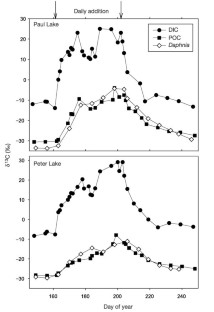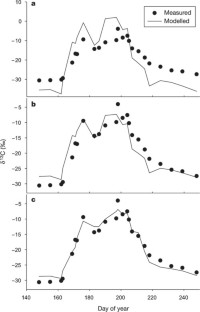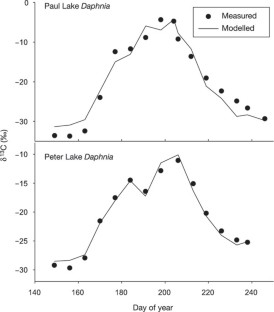 References
Polis, G. A., Anderson, W. B. & Holt, R. D. Toward an integration of landscape and food web ecology: the dynamics of spatially subsidized food webs. Annu. Rev. Ecol. Syst. 28, 289–316 (1997)

Nakano, S. & Murakami, M. Reciprocal subsidies: dynamic interdependence between terrestrial and aquatic food webs. Proc. Natl Acad. Sci. 98, 166–170 (2001)

Cyr, H. & Pace, M. L. Magnitude and patterns of herbivory in aquatic and terrestrial ecosystems. Nature 361, 148–150 (1993)

Wetzel, R. G. Death, detritus, and energy flow in aquatic ecosystems. Freshw. Biol. 33, 83–89 (1995)

Lindeman, R. L. The trophic–dynamic aspect of ecology. Ecology 23, 399–418 (1942)

Kalff, J. Limnology: Inland Water Ecosystems 366–368 (Prentice-Hall, Upper Saddle River, NJ, 2002)

Birge, E. A. & Juday, C. The organic content of the water of small lakes. Proc. Am. Phil. Soc. 66, 357–372 (1927)

Cole, J. J., Pace, M. L., Carpenter, S. R. & Kitchell, J. F. Persistence of net heterotrophy in lakes during nutrient addition and food web manipulations. Limnol. Oceanogr. 45, 1718–1730 (2000)

Hessen, D. O. in Aquatic Humic Substances (eds Hessen, D. O & Tranvik, L. J.) 285–315 (Springer, New York, 1998)

Grey, J., Jones, R. I. & Sleep, D. Seasonal changes in the importance of the source of organic matter to the diet of zooplankton in Loch Ness, as indicated by stable isotope analysis. Limnol. Oceanogr. 46, 505–513 (2001)

Tranvik, L. J. in Aquatic Humic Substances (eds Hessen, D. O & Tranvik, L. J.) 259–283 (Springer, New York, 1998)

Roditi, H. A., Fisher, N. S. & Sanudo-Wilhelmy, S. A. Uptake of dissolved organic carbon and trace elements by zebra mussels. Nature 407, 78–80 (2000)

Kerner, M. et al. Self-organization of dissolved organic matter to micelle-like microparticles in river water. Nature 422, 150–154 (2003)

Wallace, J. B., Eggert, S. L., Meyer, J. L. & Webster, J. R. Multiple trophic levels of a forest stream linked to terrestrial litter inputs. Science 277, 102–104 (1997)

Peterson, B. J., Howarth, R. W. & Garritt, R. H. Multiple stable isotopes used to trace organic matter in estuarine food webs. Science 227, 1361–1363 (1985)

Cole, J. J., Carpenter, S. R., Kitchell, J. F. & Pace, M. L. Pathways of organic carbon utilization in small lakes: results from a whole-lake 13C addition and coupled model. Limnol. Oceanogr. 47, 1664–1675 (2002)

Carpenter, S. R. & Kitchell, J. F. (eds) The Trophic Cascade in Lakes (Cambridge Univ. Press, Cambridge, 1993)

Laws, E. A., Popp, B. N., Bidigare, R. R., Kennicutt, M. C. & Macko, S. A. Dependence of phytoplankton carbon isotopic composition on growth rate and [CO2]aq: theoretical considerations and experimental results. Geochim. Cosmochim. Acta 59, 1131–1138 (1995)

Mook, W. G., Bimmerson, J. C. & Staverman, W. H. Carbon isotope fractionation between dissolved bicarbonate and gaseous carbon dioxide. Earth Planet. Sci. Lett. 22, 169–176 (1974)

Bidigare, R. R. et al. Consistent fractionation of 13C in nature and in the laboratory: growth rate effects in some haptophyte algae. Global Biogeochem. Cycles 11, 279–292 (1997)

Jones, R. I., Grey, J., Sleep, D. & Arvola, L. Stable isotope analysis of zooplankton carbon nutrition in humic lakes. Oikos 86, 97–104 (1999)

Bastviken, D., Ejlertsson, J., Sundh, I. & Tranvik, L. Methane as a source of carbon and energy for lake pelagic food webs. Ecology 84, 1000–1012 (2003)

Post, D. M. et al. Seasonal effects of variable recruitment of a dominant piscivore on pelagic food web structure. Limnol. Oceanogr. 42, 722–729 (1997)

Cole, J. J., Caraco, N. F. & Likens, G. E. Short-range atmospheric transport: A significant source of phosphorous to an oligotrophic lake. Limnol. Oceanogr. 35, 1230–1237 (1990)

Cole, J. J & Pace, M. L. Hydrologic variability of small, northern lakes measured by the addition of tracers. Ecosystems 1, 310–320 (1998)

Hilborn, R. & Mangel, M. The Ecological Detective: Confronting Models with Data 114–117 (Princeton Univ. Press, Princeton, NJ, 1997)

Burham, K. P. & Anderson, D. R. Model Selection and Inference: a Practical Information Theoretic Approach (Springer, New York, 1998)

Efron, B. & Tibshirani, R. J. An Introduction to the Bootstrap (Chapman & Hall, New York, 1993)
Acknowledgements
We thank D. Fischer, J. Hinke, C. M. Gille, C. L. Fankhauser, B. Charipar and M. Bastviken for assistance; and N. Haubenstock and R. Drimmie for help and advice on stable isotope analysis. The University of Notre Dame Environmental Research Center provided facilities and support for the field research. This research was supported by a collaborative grant from the National Science Foundation.
Ethics declarations
Competing interests
The authors declare that they have no competing financial interests.
Supplementary information
About this article
Cite this article
Pace, M., Cole, J., Carpenter, S. et al. Whole-lake carbon-13 additions reveal terrestrial support of aquatic food webs. Nature 427, 240–243 (2004). https://doi.org/10.1038/nature02227
Received:

Accepted:

Issue Date:

DOI: https://doi.org/10.1038/nature02227
Comments
By submitting a comment you agree to abide by our Terms and Community Guidelines. If you find something abusive or that does not comply with our terms or guidelines please flag it as inappropriate.