Abstract
Cryogenic detectors are extremely sensitive and have a wide variety of applications1,2,3 (particularly in astronomy4,5,6,7,8), but are difficult to integrate into large arrays like a modern CCD (charge-coupled device) camera. As current detectors of the cosmic microwave background (CMB) already have sensitivities comparable to the noise arising from the random arrival of CMB photons, the further gains in sensitivity needed to probe the very early Universe will have to arise from large arrays. A similar situation is encountered at other wavelengths. Single-pixel X-ray detectors now have a resolving power of ΔE < 5 eV for single 6-keV photons, and future X-ray astronomy missions7 anticipate the need for 1,000-pixel arrays. Here we report the demonstration of a superconducting detector that is easily fabricated and can readily be incorporated into such an array. Its sensitivity is already within an order of magnitude of that needed for CMB observations, and its energy resolution is similarly close to the targets required for future X-ray astronomy missions.
Relevant articles
Open Access articles citing this article.
C. P. Bracken

&

C. McAleer

Journal of Low Temperature Physics Open Access 19 September 2022

A. Paiella

,

P. de Bernardis

…

F. Radiconi

Journal of Low Temperature Physics Open Access 10 September 2022
Access options
Subscribe to Journal
Get full journal access for 1 year
$199.00
only $3.90 per issue
All prices are NET prices.
VAT will be added later in the checkout.
Tax calculation will be finalised during checkout.
Buy article
Get time limited or full article access on ReadCube.
$32.00
All prices are NET prices.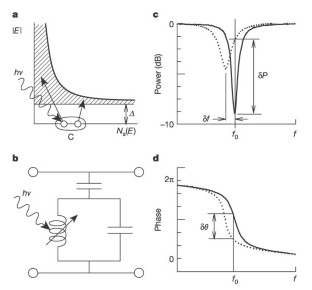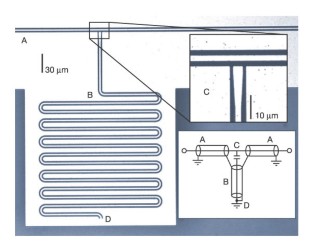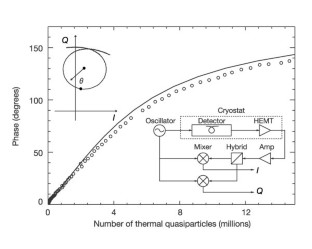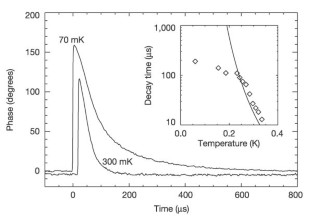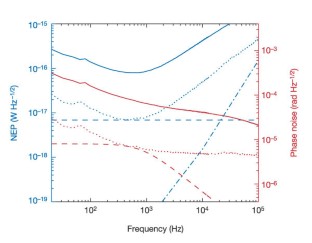 References
Newbury, D. et al. The approaching revolution in X-ray microanalysis: The microcalorimeter energy dispersive spectrometer. J. Radioanal. Nucl. Chem. 244, 627–635 (2000)

Booth, N., Cabrera, B. & Fiorini, E. Low-temperature particle detectors. Annu. Rev. Nucl. Part. Sci. 46, 471–532 (1996)

Saab, T. et al. Deployment of the first CDMS II ZIP detectors at the Stanford Underground Facility. Nucl. Phys. B 110, 100–102 (2002)

Peacock, A. et al. Single optical photon detection with a superconducting tunnel junction. Nature 381, 135–137 (1996)

Cabrera, B. et al. Detection of single infrared, optical, and ultraviolet photons using superconducting transition edge sensors. Appl. Phys. Lett. 73, 735–737 (1998)

Lee, S., Gildemeister, J., Holmes, W., Lee, A. & Richards, P. Voltage-biased superconducting transition-edge bolometer with strong electrothermal feedback operated at 370 mK. Appl. Opt. 37, 3391–3397 (1998)

de Korte, P. Cryogenic imaging spectrometers for X-ray astronomy. Nucl. Instrum. Meth. A 444(1–2), 163–169 (2000)

Rando, N. et al. S-cam: A spectrophotometer for optical astronomy: Performance and latest results. Rev. Sci. Instrum. 71(12), 4582–4591 (2000)

Twerenbold, D. Giaever-type superconducting tunneling junctions as high-resolution X-ray-detectors. Europhys. Lett. 1(5), 209–214 (1986)

Kraus, H. et al. High-resolution X-ray-detection with superconducting tunnel-junctions. Europhys. Lett. 1(4), 161–166 (1986)

Irwin, K., Hilton, G., Wollman, D. & Martinis, J. X-ray detection using a superconducting transition-edge sensor microcalorimeter with electrothermal feedback. Appl. Phys. Lett. 69(13), 1945–1947 (1996)

Irwin, K. et al. A Mo-Cu superconducting transition-edge microcalorimeter with 4.5 eV energy resolution at 6 keV. Nucl. Instrum. Meth. A 444, 184–187 (2000)

Angloher, G. et al. Energy resolution of 12 eV at 5.9 keV from Al superconducting tunnel junction detectors. J. Appl. Phys. 89, 1425–1429 (2001)

Li, L. et al. Improved energy resolution of X-ray single photon imaging spectrometers using superconducting tunnel junctions. J. Appl. Phys. 90, 3645–3647 (2001)

Chervenak, J. et al. Superconducting multiplexer for arrays of transition edge sensors. Appl. Phys. Lett. 74, 4043–4045 (1999)

Yoon, J. et al. Single superconducting quantum interference device multiplexer for arrays of low-temperature sensors. Appl. Phys. Lett. 78, 371–373 (2001)

Mazin, B. A., Day, P. K., Leduc, H. G., Vayonakis, A. & Zmuidzinas, J. Superconducting kinetic inductance photon detectors. Proc. SPIE 4849, 283–293 (2002)

Tinkham, M. Introduction to Superconductivity, 2nd edn (McGraw-Hill, New York, 1996)

Kozorezov, A. G. et al. Quasiparticle-phonon downconversion in nonequilibrium superconductors. Phys. Rev. B 61 (May), 11807–11819 (2000)

Mattis, D. C. & Bardeen, J. Theory of the anomalous skin effect in normal and superconducting metals. Phys. Rev. 111, 412–417 (1958)

Moseley, S., Mather, J. & McCammon, D. Thermal detectors as x-ray spectrometers. J. Appl. Phys. 56, 1257–1262 (1984)

Wilson, C., Frunzio, L. & Prober, D. Time-resolved measurements of thermodynamic fluctuations of the particle number in a nondegenerate Fermi gas. Phys. Rev. Lett. 87, 067004 (2001)

Sergeev, A., Mitin, V. & Karasik, B. Ultrasensitive hot-electron kinetic-inductance detectors operating well below the superconducting transition. Appl. Phys. Lett. 80, 817–819 (2002)

Zmuidzinas, J. & LeDuc, H. G. Quasi-optical slot antenna SIS mixers. IEEE Trans. Microwave Theory Tech. MTT-40, 1797–1804 (1992)

Li, L., Frunzio, L., Wilson, C. & Prober, D. Quasiparticle nonequilibrium dynamics in a superconducting Ta film. J. Appl. Phys. 93, 1137–1141 (2003)

Chang, W. Inductance of a superconducting strip transmission-line. J. Appl. Phys. 50, 8129–8134 (1979)

McMillan, W. Transition temperature of strong-coupled superconductors. Phys. Rev. 167, 331–334 (1968)

Wells, G. L., Jackson, J. E. & Mitchell, E. N. Superconducting tunneling in single-crystal and polycrystal films of aluminum. Phys. Rev. B 1, 3636–3644 (1970)

Kaplan, S. et al. Quasiparticle and phonon lifetimes in superconductors. Phys. Rev. B 14, 4854–4873 (1976)
Acknowledgements
This work has been supported in part by NASA (Aerospace Technology Enterprise), the JPL Director's Research and Development Fund, and the Caltech President's Fund. We are grateful for the support of A. Lidow, Caltech Trustee.
Ethics declarations
Competing interests
The authors declare that they have no competing financial interests.
About this article
Cite this article
Day, P., LeDuc, H., Mazin, B. et al. A broadband superconducting detector suitable for use in large arrays. Nature 425, 817–821 (2003). https://doi.org/10.1038/nature02037
Received:

Accepted:

Issue Date:

DOI: https://doi.org/10.1038/nature02037
Comments
By submitting a comment you agree to abide by our Terms and Community Guidelines. If you find something abusive or that does not comply with our terms or guidelines please flag it as inappropriate.