Abstract
The microscopic origin of superconductivity in the high-transition-temperature (high-Tc) copper oxides remains the subject of active inquiry; several of their electronic characteristics are well established as universal to all the known materials, forming the experimental foundation that all theories must address. The most fundamental of those characteristics, for both the copper oxides and other superconductors, is the dependence of the superconducting Tc on the degree of electronic band filling. The recent report of superconductivity1 near 4 K in the layered sodium cobalt oxyhydrate, Na0.35CoO2·1.3H2O, is of interest owing to both its triangular cobalt–oxygen lattice and its generally analogous chemical and structural relationships to the copper oxide superconductors. Here we show that the superconducting Tc of this compound displays the same kind of behaviour on chemical doping that is observed in the high-Tc copper oxides. Specifically, the optimal superconducting Tc occurs in a narrow range of sodium concentrations (and therefore electron concentrations) and decreases for both underdoped and overdoped materials, as observed in the phase diagram of the copper oxide superconductors. The analogy is not perfect, however, suggesting that NaxCoO2·1.3H2O, with its triangular lattice geometry and special magnetic characteristics, may provide insights into systems where coupled charge and spin dynamics play an essential role in leading to superconductivity.
This is a preview of subscription content
Access options
Subscribe to Journal
Get full journal access for 1 year
$199.00
only $3.90 per issue
All prices are NET prices.
VAT will be added later in the checkout.
Tax calculation will be finalised during checkout.
Buy article
Get time limited or full article access on ReadCube.
$32.00
All prices are NET prices.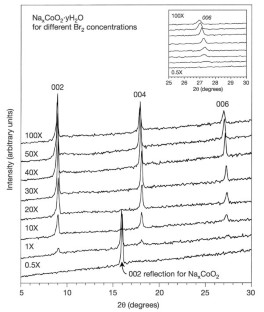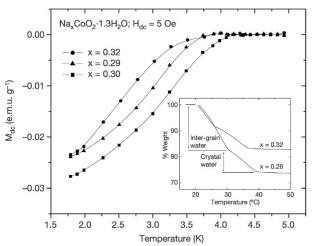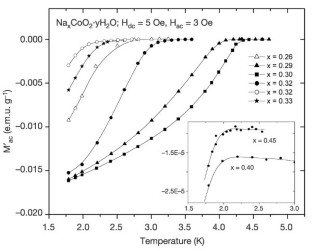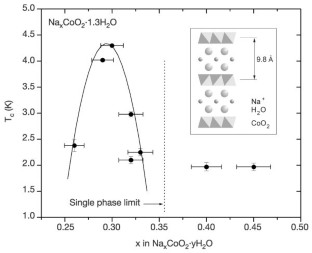 References
Takada, K. et al. Superconductivity in two-dimensional CoO2 layers. Nature 422, 53–55 (2003)

Foo, M. L. et al. Chemical instability of the cobalt oxyhydrate superconductor under ambient conditions. Solid State Commun 127, 33–37 (2003)

Foussassier, C., Matjeka, G., Reau, J.-M. & Hagenmuller, P. Sur de noveaux bronzes oxygenes de formulae NaxCoO2 (x ≤ 1). Le system cobalt-oxygene-sodium. J. Solid State Chem. 6, 532–537 (1973)

Baskaran, G. An electronic model for CoO2 layer based systems: Chiral RVB metal and superconductivity. Preprint at 〈http://xxx.lanl.gov/cond-mat/0303649〉 (2003).

Kumar, B. & Shastry, B. S. Superconductivity in CoO2 layers and the resonating valence bond mean field theory of the triangular lattice t-J model. Preprint at 〈http://xxx.lanl.gov/cond-mat/0304210〉 (2003).

Singh, D. J. Electronic structure of NaCo2O4 . Phys. Rev. B 61, 13397–13402 (2000)

Honercamp, C. Instabilities of interacting electrons on the triangular lattice. Preprint at 〈http://xxx.lanl.gov/cond-mat/0304460〉 (2003).

Tanaka, A. & Hu, X. Possible spin triplet superconductivity in NaxCoO2·yH2O. Preprint at 〈http://xxx.lanl.gov/cond-mat/0304409〉 (2003).

Wang, Q.-H., Lee, D.-H. & Lee, P. A. Doped t-J model on a triangular lattice: Possible application to NaxCoO2.yH2O and NaxTiO2. Preprint at 〈http://xxx.lanl.gov/cond-mat/0304377〉 (2003).

Terasaki, I., Sasago, Y. & Uchinokura, K. Large thermoelectric power in NaCo2O4 single crystals. Phys. Rev. B 56, R12685–R12687 (1997)

Wang, Y., Rogado, N. S., Cava, R. J. & Ong, N. P. Spin entropy as the likely source of enhanced thermopower in NaxCo2O4 . Nature 423, 425–428 (2003)

Lorenz, B., Cmaidalka, J., Meng, R. L. & Chu, C. W. Effect of hydrostatic pressure on the superconductivity in NaxCoO2·yH2O. Preprint at 〈http://xxx.lanl.gov/cond-mat/0304537〉 (2003).

Anderson, P. W. Resonating valence bonds: A new type of insulator. Mater. Res. Bull. 8, 153–160 (1973)
Acknowledgements
This work was supported by the US National Science Foundation, Division of Materials Research, and the US Department of Energy, Division of Basic Energy Sciences. T.K. thanks the Foundation for Polish Science for support.
Ethics declarations
Competing interests
The authors declare that they have no competing financial interests.
About this article
Cite this article
Schaak, R., Klimczuk, T., Foo, M. et al. Superconductivity phase diagram of NaxCoO2·1.3H2O. Nature 424, 527–529 (2003). https://doi.org/10.1038/nature01877
Received:

Accepted:

Issue Date:

DOI: https://doi.org/10.1038/nature01877
Comments
By submitting a comment you agree to abide by our Terms and Community Guidelines. If you find something abusive or that does not comply with our terms or guidelines please flag it as inappropriate.