Abstract
Anthrax poses a clear and present danger as an agent of biological terrorism1,2,3. Infection with Bacillus anthracis, the causative agent of anthrax, if untreated can result in rampant bacteraemia, multisystem dysfunction and death4,5,6,7,8. Anthrax lethal toxin (LT) is a critical virulence factor of B. anthracis, which occurs as a complex of protective antigen and lethal factor. Here we demonstrate that LT severely impairs the function of dendritic cells—which are pivotal to the establishment of immunity against pathogens—and host immune responses by disrupting the mitogen-activated protein (MAP) kinase intracellular signalling network. Dendritic cells exposed to LT and then stimulated with lipopolysaccharide do not upregulate co-stimulatory molecules, secrete greatly diminished amounts of proinflammatory cytokines, and do not effectively stimulate antigen-specific T cells in vivo. Furthermore, injections of LT induce a profound impairment of antigen-specific T- and B-cell immunity. These data suggest a role for LT in suppressing host immunity during B. anthracis infections, and represent an immune evasion strategy, where a microbe targets MAP kinases in dendritic cells to disarm the immune response.
Access options
Subscribe to Journal
Get full journal access for 1 year
$199.00
only $3.90 per issue
All prices are NET prices.
VAT will be added later in the checkout.
Tax calculation will be finalised during checkout.
Buy article
Get time limited or full article access on ReadCube.
$32.00
All prices are NET prices.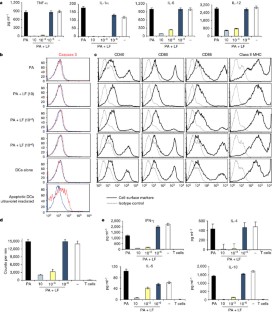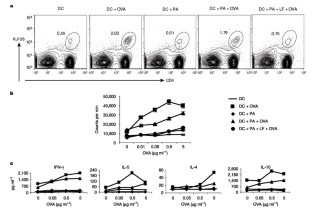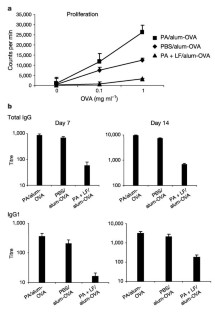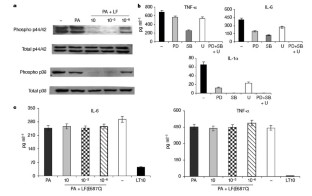 References
Mourez, M. et al. 2001: a year of major advances in anthrax toxin research. Trends Microbiol. 10, 287–293 (2002)

Dixon, T. C., Meselson, M., Guillemin, J. & Hanna, P. C. Anthrax. N. Engl. J. Med. 341, 815–826 (1999)

Lane, H. C., Montagne, J. L. & Fauci, A. Bioterrorism: a clear and present danger. Nature Med. 7, 1271–1273 (2001)

Mock, M. & Fouet, A. Anthrax. Annu. Rev. Microbiol. 55, 647–671 (2001)

Little, S. F. & Ivins, B. E. Molecular pathogenesis of Bacillus anthracis infection. Microbes Infect. 1, 131–139 (1999)

Hanna, P. C. & Ireland, J. A. Understanding Bacillus anthracis pathogenesis. Trends Microbiol. 7, 180–182 (1999)

Smith, H. Discovery of the anthrax toxin: the beginning of in vivo studies on pathogenic bacteria. Trends Microbiol. 8, 199–200 (2000)

Brossier, F. & Mock, M. Toxins of Bacillus anthracis. Toxicon 39, 1747–1755 (2001)

Bradley, K. A., Mogridge, J., Mourez, M., Collier, R. J. & Young, J. A. Identification of the cellular receptor for anthrax toxin. Nature 414, 225–229 (2001)

Duesbery, N. S. et al. Proteolytic inactivation of MAP-kinase-kinase by anthrax lethal factor. Science 280, 734–737 (1998)

Vitale, G., Bernardi, L., Napolitani, G., Mock, M. & Montecucco, C. Susceptibility of mitogen-activated protein kinase kinase family members to proteolysis by anthrax lethal factor. Biochem. J. 352, 739–745 (2000)

Pellizzari, R., Guidi-Rontani, C., Vitale, G., Mock, M. & Montecucco, C. Anthrax lethal factor cleaves MKK3 in macrophages and inhibits the LPS/IFNγ-induced release of NO and TNFα. FEBS Lett. 462, 199–204 (1999)

Park, J. M., Greten, F. R., Li, Z. W. & Karin, M. Macrophage apoptosis by anthrax lethal factor through p38 MAP kinase inhibition. Science 297, 2048–2051 (2002)

Dong, C., Davis, R. J. & Flavell, R. A. MAP Kinases in the immune response. Annu. Rev. Immunol. 20, 55–72 (2002)

Hanna, P. C., Acosta, D. & Collier, R. J. On the role of macrophages in anthrax. Proc. Natl Acad. Sci. USA 90, 10198–10201 (1993)

Banchereau, J. & Steinman, R. M. Dendritic cells. Nature 392, 245–252 (1998)

Pulendran, B., Palucka, K. & Banchereau, J. Sensing pathogens and tuning immune responses. Science 293, 253–256 (2001)

Liu, Y.-J. Dendritic cell subsets and lineages, and their functions in innate and adaptive immunity. Cell 106, 259–262 (2001)

Shortman, K. & Liu, Y-J. Mouse and human dendritic cell subtypes. Nature Rev. Immunol. 2, 151–161 (2002)

Jernigan, D. B. et al. Investigation of bioterrorism-related anthrax, United States, 2001: epidemiologic findings. Emerg. Infect. Dis. 8, 1019–1028 (2002)

Pulendran, B. et al. Developmental pathways of dendritic cells in vivo: distinct function, phenotype, and localization of dendritic cell subsets in FLT3 ligand-treated mice. J. Immunol. 159, 2222–2231 (1997)

Sailaja, G. et al. Long-term maintenance of gp120-specific immune responses by genetic vaccination with the HIV-1 envelope genes linked to the gene encoding Flt-3 ligand. J. Immunol. 170, 2496–2507 (2003)

Liu, L. et al. Visualization and quantification of T cell-mediated cytotoxicity using cell-permeable fluorogenic caspase substrates. Nature Med. 8, 185–189 (2002)

Kearney, E. R., Pape, K. A., Loh, D. Y. & Jenkins, M. K. Visualization of peptide-specific T cell immunity and peripheral tolerance induction in vivo. Immunity 1, 327–339 (1994)

Haskins, K. et al. The major histocompatibility complex-restricted antigen receptor on T cells. I. Isolation with a monoclonal antibody. J. Exp. Med. 157, 1149–1169 (1983)

Ingulli, E., Mondino, A., Khoruts, A. & Jenkins, M. K. In vivo detection of dendritic cell antigen presentation to CD4(+ ) T cells. J. Exp. Med. 185, 2133–2144 (1997)

Yi, A. K. et al. Role of mitogen-activated protein kinases in CpG DNA-mediated IL-10 and IL-12 production: central role of extracellular signal-regulated kinase in the negative feedback loop of the CpG DNA-mediated Th1 response. J. Immunol. 168, 4711–4720 (2002)

Yi, A. K. et al. Lipopolysaccharide and CpG DNA synergize for tumor necrosis factor-α production through activation of NF-kB. Int. Immunol. 13, 1391–1404 (2002)

Pannifer, A. D. et al. Crystal structure of the anthrax lethal factor. Nature 414, 229–233 (2001)

Petosa, C. et al. Crystal structure of the anthrax protective antigen. Nature 385, 833–838 (1997)
Acknowledgements
We thank R. Ahmed and S. Mahanty for critical review of this manuscript. This work was supported by grants from the NIH and CDC.
Ethics declarations
Competing interests
The authors declare that they have no competing financial interests.
Supplementary information
About this article
Cite this article
Agrawal, A., Lingappa, J., Leppla, S. et al. Impairment of dendritic cells and adaptive immunity by anthrax lethal toxin. Nature 424, 329–334 (2003). https://doi.org/10.1038/nature01794
Received:

Accepted:

Issue Date:

DOI: https://doi.org/10.1038/nature01794
Comments
By submitting a comment you agree to abide by our Terms and Community Guidelines. If you find something abusive or that does not comply with our terms or guidelines please flag it as inappropriate.