Abstract
Parallel processes for patterning densely packed nanometre-scale structures are critical for many diverse areas of nanotechnology. Thin films of diblock copolymers1,2,3,4,5,6,7,8,9,10,11 can self-assemble into ordered periodic structures at the molecular scale (∼5 to 50 nm), and have been used as templates to fabricate quantum dots1,2, nanowires3,4,5, magnetic storage media6, nanopores7 and silicon capacitors8. Unfortunately, perfect periodic domain ordering can only be achieved over micrometre-scale areas at best12,13 and defects exist at the edges of grain boundaries. These limitations preclude the use of block-copolymer lithography for many advanced applications14. Graphoepitaxy12,15, in-plane electric fields3,16, temperature gradients17, and directional solidification14,18 have also been demonstrated to induce orientation or long-range order with varying degrees of success. Here we demonstrate the integration of thin films of block copolymer with advanced lithographic techniques to induce epitaxial self-assembly of domains. The resulting patterns are defect-free, are oriented and registered with the underlying substrate and can be created over arbitrarily large areas. These structures are determined by the size and quality of the lithographically defined surface pattern rather than by the inherent limitations of the self-assembly process. Our results illustrate how hybrid strategies to nanofabrication allow for molecular level control in existing manufacturing processes.
This is a preview of subscription content
Access options
Subscribe to Journal
Get full journal access for 1 year
$199.00
only $3.90 per issue
All prices are NET prices.
VAT will be added later in the checkout.
Tax calculation will be finalised during checkout.
Buy article
Get time limited or full article access on ReadCube.
$32.00
All prices are NET prices.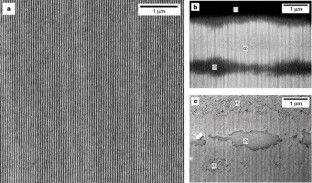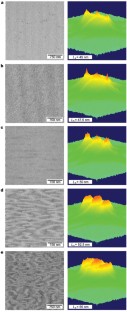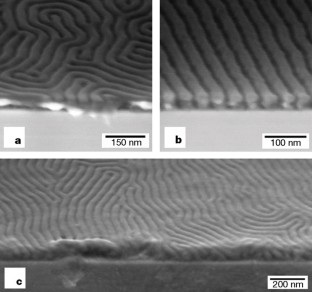 References
Park, M., Harrison, C., Chaikin, P. M., Register, R. A. & Adamson, D. H. Block copolymer lithography: periodic arrays of ∼1011 holes in 1 square centimeter. Science 276, 1401–1404 (1997)

Li, R. R. et al. Dense arrays of ordered GaAs nanostructures by selective area growth on substrates patterned by block copolymer lithography. Appl. Phys. Lett. 76, 1689–1691 (2000)

Thurn-Albrecht, T. et al. Ultrahigh-density nanowire arrays grown in self-assembled diblock copolymer templates. Science 290, 2126–2129 (2000)

Kim, H. C. et al. A route to nanoscopic SiO2 posts via block copolymer templates. Adv. Mater. 13, 795–797 (2001)

Lopes, W. A. & Jaeger, H. M. Hierarchical self-assembly of metal nanostructures on diblock copolymer scaffolds. Nature 414, 735–738 (2001)

Cheng, J. Y. et al. Formation of a cobalt magnetic dot array via block copolymer lithography. Adv. Mater. 13, 1174–1178 (2001)

Chan, V. Z.-H. et al. Ordered bicontinuous nanoporous and nanorelief ceramic films from self assembling polymer precursors. Science 286, 1716–1719 (1999)

Black, C. T. et al. Integration of self-assembled diblock copolymers for semiconductor capacitor fabrication. Appl. Phys. Lett. 79, 409–411 (2001)

Fasolka, M. J. & Mayes, A. M. Block copolymer thin films: physics and applications. Annu. Rev. Mater. Res. 31, 323–355 (2001)

Mansky, P., Liu, Y., Huang, E., Russell, T. P. & Hawker, C. Controlling polymer-surface interactions with random copolymer brushes. Science 275, 1458–1460 (1997)

Huang, E., Rockford, L., Russell, T. P. & Hawker, C. J. Nanodomain control in copolymer thin films. Nature 395, 757–758 (1998)

Segalman, R. A., Yokoyama, H. & Kramer, E. J. Graphoepitaxy of spherical domain block copolymer films. Adv. Mater. 13, 1152–1155 (2001)

Harrison, C. et al. Mechanisms of ordering in striped patterns. Science 290, 1558–1560 (2000)

Rosa, C. D., Park, C., Thomas, E. L. & Lotz, B. Microdomain patterns from directional eutectic solidification and epitaxy. Nature 405, 433–437 (2000)

Cheng, J. Y., Ross, C. A., Thomas, E. L., Smith, H. I. & Vansco, G. J. Fabrication of nanostructures with long-range order using block copolymer lithography. Appl. Phys. Lett. 81, 3657–3659 (2002)

Morkved, T. L. et al. Local control of microdomain orientation in diblock copolymer thin films with electric fields. Science 273, 931–933 (1996)

Bodycomb, J., Funaki, Y., Kimishima, K. & Hashimoto, T. Single-grain lamellar microdomain from a diblock copolymer. Macromolecules 32, 2075–2077 (1999)

Park, C. et al. Double textured cylindrical block copolymer domains via directional solidification on a topographically patterned substrate. Appl. Phys. Lett. 79, 848–850 (2001)

Bates, F. S. & Fedrickson, G. H. Block copolymer thermodynamics: theory and experiment. Annu. Rev. Phys. Chem. 41, 525–557 (1990)

Rockford, L. et al. Polymers on nanoperiodic, heterogeneous surfaces. Phys. Rev. Lett. 82, 2602–2605 (1999)

Yang, X. M., Peters, R. D., Nealey, P. F., Solak, H. H. & Cerrina, F. Guided self-assembly of symmetric diblock copolymer films on chemically nanopatterned substrates. Macromolecules 33, 9575–9582 (2000)

Rockford, L., Mochrie, S. G. J. & Russell, T. P. Propagation of nanopatterned substrate templated ordering of block copolymers in thick films. Macromolecules 34, 1487–1492 (2001)

Wang, Q., Nealey, P. F. & de Pablo, J. J. Simulations of the morphology of cylinder-forming asymmetric diblock copolymer thin films on nanopatterned substrates. Macromolecules 36, 1731–1740 (2003)

Wang, Q., Nath, S. K., Graham, M. D., Nealey, P. F. & de Pablo, J. J. Symmetric diblock copolymer thin films confined between homogeneous and patterned surfaces: Simulation and theory. J. Chem. Phys. 112, 9996–10010 (2000)

Petera, D. & Muthukumar, M. Self-consistent field theory of diblock copolymer melts at patterned surfaces. J. Chem. Phys. 109, 5101–5107 (1998)

Solak, H. H. et al. Sub-50 nm period patterns with EUV interference lithography. Microelectron. Eng. 67–8, 56–62 (2003)

Dulcey, C. S. et al. Photochemistry and patterning of self-assembled monolayer films containing aromatic hydrocarbon functional groups. Langmuir 12, 1638–1650 (1996)
Acknowledgements
We thank F. Cerrina, E. W. Edwards and S. Xiao for discussions, and V. Golovkina and J. Wallace for assistance with the EUV-IL system. This work was supported by the Semiconductor Research Corporation, the National Science Foundation through the Materials Research Science and Engineering Center, and the Camille Dreyfus Teacher-Scholar Award. S.K. acknowledges a research fellowship from the Post-Doctoral Fellowship Program of the Korea Science and Engineering Foundation. Facilities and staff of the CNTech were supported by DARPA and the Intel Corporation, and the Synchrotron Radiation Center is supported by the National Science Foundation.
Ethics declarations
Competing interests
The authors declare that they have no competing financial interests.
About this article
Cite this article
Ouk Kim, S., Solak, H., Stoykovich, M. et al. Epitaxial self-assembly of block copolymers on lithographically defined nanopatterned substrates. Nature 424, 411–414 (2003). https://doi.org/10.1038/nature01775
Received:

Accepted:

Issue Date:

DOI: https://doi.org/10.1038/nature01775
Comments
By submitting a comment you agree to abide by our Terms and Community Guidelines. If you find something abusive or that does not comply with our terms or guidelines please flag it as inappropriate.