Abstract
Whereas naive T cells migrate only to secondary lymphoid organs1,2, activation by antigen confers to T cells the ability to home to non-lymphoid sites3,4. Activated effector/memory T cells migrate preferentially to tissues that are connected to the secondary lymphoid organs where antigen was first encountered5,6,7. Thus, oral antigens induce effector/memory cells that express essential receptors for intestinal homing, namely the integrin α4β7 and CCR9, the receptor for the gut-associated chemokine TECK/CCL25 (refs 6, 8, 9). Here we show that this imprinting of gut tropism is mediated by dendritic cells from Peyer's patches. Stimulation of CD8-expressing T cells by dendritic cells from Peyer's patches, peripheral lymph nodes and spleen induced equivalent activation markers and effector activity in T cells, but only Peyer's patch dendritic cells induced high levels of α4β7, responsiveness to TECK and the ability to home to the small intestine. These findings establish that Peyer's patch dendritic cells imprint gut-homing specificity on T cells, and thus license effector/memory cells to access anatomical sites most likely to contain their cognate antigen.
Your institute does not have access to this article
Relevant articles
Open Access articles citing this article.
Nadja Salomon

,

Abderaouf Selmi

…

Fulvia Vascotto

Cancer Immunology, Immunotherapy Open Access 31 December 2021

Elisabeth H. Vollmann

,

Kristin Rattay

…

Ulrich H. von Andrian

Nature Communications Open Access 28 October 2021

Jan-Hendrik Riedel

,

Jan-Eric Turner

&

Ulf Panzer

Cell and Tissue Research Open Access 17 February 2021
Access options
Subscribe to Journal
Get full journal access for 1 year
$199.00
only $3.90 per issue
All prices are NET prices.
VAT will be added later in the checkout.
Tax calculation will be finalised during checkout.
Buy article
Get time limited or full article access on ReadCube.
$32.00
All prices are NET prices.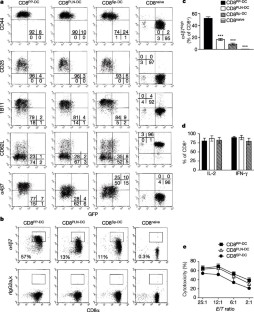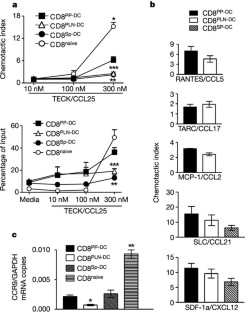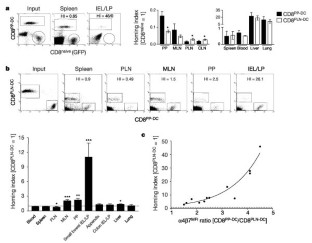 References
Butcher, E. C., Williams, M., Youngman, K., Rott, L. & Briskin, M. Lymphocyte trafficking and regional immunity. Adv. Immunol. 72, 209–253 (1999)

von Andrian, U. H. & Mackay, C. R. T-cell function and migration. Two sides of the same coin. N. Engl. J. Med. 343, 1020–1034 (2000)

Masopust, D., Vezys, V., Marzo, A. L. & Lefrancois, L. Preferential localization of effector memory cells in nonlymphoid tissue. Science 291, 2413–2417 (2001)

Weninger, W., Manjunath, N. & von Andrian, U. H. Migration and differentiation of CD8+ T cells. Immunol. Rev. 186, 221–233 (2002)

Guy-Grand, D., Griscelli, C. & Vassalli, P. The mouse gut T lymphocyte, a novel type of T cell. Nature, origin, and traffic in mice in normal and graft-versus-host conditions. J. Exp. Med. 148, 1661–1677 (1978)

Kantele, A., Zivny, J., Hakkinen, M., Elson, C. O. & Mestecky, J. Differential homing commitments of antigen-specific T cells after oral or parenteral immunization in humans. J. Immunol. 162, 5173–5177 (1999)

Campbell, D. J. & Butcher, E. C. Rapid acquisition of tissue-specific homing phenotypes by CD4+ T cells activated in cutaneous or mucosal lymphoid tissues. J. Exp. Med. 195, 135–141 (2002)

Hamann, A., Andrew, D. P., Jablonski-Westrich, D., Holzmann, B. & Butcher, E. C. Role of α4-integrins in lymphocyte homing to mucosal tissues in vivo. J. Immunol. 152, 3282–3293 (1994)

Svensson, M. et al. CCL25 mediates the localization of recently activated CD8αβ+ lymphocytes to the small-intestinal mucosa. J. Clin. Invest. 110, 1113–1121 (2002)

Davenport, M. P., Grimm, M. C. & Lloyd, A. R. A homing selection hypothesis for T-cell trafficking. Immunol. Today 21, 315–317 (2000)

Shi, G. P. et al. Cathepsin S required for normal MHC class II peptide loading and germinal center development. Immunity 10, 197–206 (1999)

Nakache, M., Berg, E. L., Streeter, P. R. & Butcher, E. C. The mucosal vascular addressin is a tissue-specific endothelial cell adhesion molecule for circulating lymphocytes. Nature 337, 179–181 (1989)

Berlin, C. et al. α4 integrins mediate lymphocyte attachment and rolling under physiologic flow. Cell 80, 413–422 (1995)

Schott, E. & Ploegh, H. L. Mouse MHC class I tetramers that are unable to bind to CD8 reveal the need for CD8 engagement in order to activate naive CD8 T cells. Eur. J. Immunol. 32, 3425–3434 (2002)

Stagg, A. J., Kamm, M. A. & Knight, S. C. Intestinal dendritic cells increase T cell expression of α4β7 integrin. Eur. J. Immunol. 32, 1445–1454 (2002)

Andrew, D. P. et al. Distinct but overlapping epitopes are involved in α4β7-mediated adhesion to vascular cell adhesion molecule-1, mucosal addressin-1, fibronectin, and lymphocyte aggregation. J. Immunol. 153, 3847–3861 (1994)

Hynes, R. O. Integrins: bidirectional, allosteric signaling machines. Cell 110, 673–687 (2002)

Zabel, B. A. et al. Human G protein-coupled receptor GPR-9-6/CC chemokine receptor 9 is selectively expressed on intestinal homing T lymphocytes, mucosal lymphocytes, and thymocytes and is required for thymus-expressed chemokine-mediated chemotaxis. J. Exp. Med. 190, 1241–1256 (1999)

Zaballos, A., Gutierrez, J., Varona, R., Ardavin, C. & Marquez, G. Cutting edge: identification of the orphan chemokine receptor GPR-9-6 as CCR9, the receptor for the chemokine TECK. J. Immunol. 162, 5671–5675 (1999)

Carramolino, L. et al. Expression of CCR9 β-chemokine receptor is modulated in thymocyte differentiation and is selectively maintained in CD8+ T cells from secondary lymphoid organs. Blood 97, 850–857 (2001)

Iwasaki, A. & Kelsall, B. L. Localization of distinct Peyer's patch dendritic cell subsets and their recruitment by chemokines macrophage inflammatory protein (MIP)-3α, MIP-3β, and secondary lymphoid organ chemokine. J. Exp. Med. 191, 1381–1394 (2000)

Wagner, N. et al. Critical role for β7 integrins in formation of the gut-associated lymphoid tissue. Nature 382, 366–370 (1996)

Weninger, W., Crowley, M. A., Manjunath, N. & von Andrian, U. H. Migratory properties of naive, effector, and memory CD8+ T cells. J. Exp. Med. 194, 953–966 (2001)

Kunkel, E. J. & Butcher, E. C. Chemokines and the tissue-specific migration of lymphocytes. Immunity 16, 1–4 (2002)

Kelsall, B. L., Biron, C. A., Sharma, O. & Kaye, P. M. Dendritic cells at the host–pathogen interface. Nature Immunol. 3, 699–702 (2002)

Banchereau, J. et al. Immunobiology of dendritic cells. Annu. Rev. Immunol. 18, 767–811 (2000)

Xie, H., Lim, Y. C., Luscinskas, F. W. & Lichtman, A. H. Acquisition of selectin binding and peripheral homing properties by CD4+ and CD8+ T cells. J. Exp. Med. 189, 1765–1776 (1999)

Maurice, M. M., Gould, D. S., Carroll, J., Vugmeyster, Y. & Ploegh, H. L. Positive selection of an MHC class-I restricted TCR in the absence of classical MHC class I molecules. Proc. Natl Acad. Sci. USA 98, 7437–7442 (2001)

Suss, G. & Shortman, K. A subclass of dendritic cells kills CD4 T cells via Fas/Fas-ligand-induced apoptosis. J. Exp. Med. 183, 1789–1796 (1996)

Manjunath, N. et al. A transgenic mouse model to analyse CD8+ effector T cell differentiation in vivo. Proc. Natl Acad. Sci. USA 96, 13932–13937 (1999)
Acknowledgements
We are grateful to H. Ploegh for providing reagents and mice. We thank I. Dodge, B. Harnisch, G. Cheng, N. Barteneva, C. Halin, E. Schott and S. Feske for advice and technical assistance. J.R.M. is indebted to Ingrid Ramos for constant support. This work was supported by grants from NIH to U.H.v.A.; from Fondecyt to J.R.M., M.R.B. and M.R.; and from MIFAB (financed in part by Ministerio de Planificación y Cooperación, Chile) to M.R. W.W. is a fellow of the Max Kade Foundation. J.R.M. was supported in part by fellowships from Fundación Andes and the Pew Foundation.
Ethics declarations
Competing interests
The authors declare that they have no competing financial interests.
Supplementary information
About this article
Cite this article
Mora, J., Bono, M., Manjunath, N. et al. Selective imprinting of gut-homing T cells by Peyer's patch dendritic cells. Nature 424, 88–93 (2003). https://doi.org/10.1038/nature01726
Received:

Accepted:

Issue Date:

DOI: https://doi.org/10.1038/nature01726
Comments
By submitting a comment you agree to abide by our Terms and Community Guidelines. If you find something abusive or that does not comply with our terms or guidelines please flag it as inappropriate.