Abstract
During development, information about the three-dimensional shape and mechanical properties of the body is laid down in the synaptic connectivity of sensorimotor systems through unknown adaptive mechanisms. In spinal reflex systems, this enables the fast transformation of complex sensory information into adequate correction of movements. Here we use a computer simulation to show that an unsupervised correlation-based learning mechanism, using spontaneous muscle twitches, can account for the functional adaptation of the withdrawal reflex system. We also show that tactile feedback resulting from spontaneous muscle twitches during sleep1,2,3 does indeed modify sensorimotor transformation in young rats in a predictable manner. The results indicate that these twitches, corresponding to human fetal movements4, are important in spinal self-organization.
Relevant articles
Open Access articles citing this article.
Ran Darshan

,

William E. Wood

…

David Hansel

Nature Communications Open Access 22 May 2017

Ana R. Inácio

,

Azat Nasretdinov

…

Roustem Khazipov

Nature Communications Open Access 07 October 2016

Yasunori Yamada

,

Hoshinori Kanazawa

…

Yasuo Kuniyoshi

Scientific Reports Open Access 15 June 2016
Access options
Subscribe to Journal
Get full journal access for 1 year
$199.00
only $3.90 per issue
All prices are NET prices.
VAT will be added later in the checkout.
Tax calculation will be finalised during checkout.
Buy article
Get time limited or full article access on ReadCube.
$32.00
All prices are NET prices.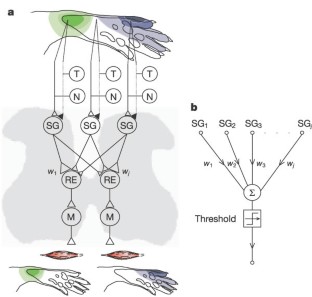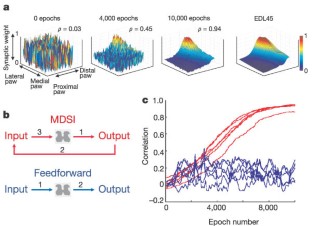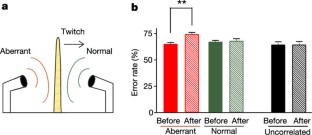 References
Karlsson, K. A. & Blumberg, M. S. The union of the state: Myoclonic twitching is coupled with nuchal muscle atonia in infant rats. Behav. Neurosci. 116, 912–917 (2002)

Blumberg, M. S. & Lucas, D. E. A developmental and component analysis of active sleep. Dev. Psychobiol. 29, 1–22 (1996)

Blumberg, M. S. & Lucas, D. E. Dual mechanisms of twitching during sleep in neonatal rats. Behav. Neurosci. 108, 1196–1202 (1994)

Clancy, B., Darlington, R. B. & Finlay, B. L. Translating developmental time across mammalian species. Neuroscience 105, 7–17 (2001)

Pouget, A. & Snyder, L. H. Computational approaches to sensorimotor transformations. Nature Neurosci. 3 (Suppl.), 1192–1198 (2000)

Schouenborg, J. & Weng, H. R. Sensorimotor transformation in a spinal motor system. Exp. Brain Res. 100, 170–174 (1994)

Holmberg, H. & Schouenborg, J. Postnatal development of the nociceptive withdrawal reflexes in the rat: a behavioural and electromyographic study. J. Physiol. (Lond.) 493, 239–252 (1996)

Waldenström, A., Thelin, J. & Schouenborg, J. Tactile sensory input is used for the postnatal tuning of the nociceptive withdrawal reflex system. Soc. Neurosci. Abstr. 30, 1623 (2001)

Holmberg, H. & Schouenborg, J. Developmental adaptation of withdrawal reflexes to early alteration of peripheral innervation in the rat. J. Physiol. (Lond.) 495, 399–409 (1996)

Holmberg, H., Schouenborg, J., Yu, Y. B. & Weng, H. R. Developmental adaptation of rat nociceptive withdrawal reflexes after neonatal tendon transfer. J. Neurosci. 17, 2071–2078 (1997)

Gardner, R. & Grossman, W. Normal motor patterns in sleep in man. Adv. Sleep Res. 2, 67–107 (1975)

Hadders-Algra, M., Nakae, Y., Van Eykern, L. A., Klip-Van den Nieuwendijk, A. W. & Prechtl, H. F. The effect of behavioural state on general movements in healthy full-term newborns. A polymyographic study. Early Hum. Dev. 35, 63–79 (1993)

de Lisi, L. Su di un fenomeno motorio costante del sonno normale: Le mioclonie ipniche fisiologiche. Riv. Patol. Nerv. Ment. 29, 481–496 (1932)

Waldenström, A., Christensson, M. & Schouenborg, J. Spontaneous movements precede and overlap in time with the tuning of the nociceptive withdrawal reflex (NWR) in postnatal rats. IASP Abstr. 1558, P106 (2002)

Fitzgerald, M. & Koltzenburg, M. The functional development of descending inhibitory pathways in the dorsolateral funiculus of the newborn rat spinal cord. Brain Res. 389, 261–270 (1986)

Levinsson, A., Luo, X. L., Holmberg, H. & Schouenborg, J. Developmental tuning in a spinal nociceptive system: effects of neonatal spinalization. J. Neurosci. 19, 10397–10403 (1999)

Cervero, F. & Iggo, A. The substantia gelatinosa of the spinal cord: a critical review. Brain 103, 717–772 (1980)

Rosenblatt, F. The perceptron: A probabilistic model for information storage and organization in the brain. Psychol. Rev. 65, 386–408 (1958)

Oja, E. A simplified neuron model as a principal component analyzer. J. Math. Biol. 15, 267–273 (1982)

Turrigiano, G. G., Leslie, K. R., Desai, N. S., Rutherford, L. C. & Nelson, S. B. Activity-dependent scaling of quantal amplitude in neocortical neurons. Nature 391, 892–896 (1998)

Nakatsuka, T., Ataka, T., Kumamoto, E., Tamaki, T. & Yoshimura, M. Alteration in synaptic inputs through C-afferent fibers to substantia gelatinosa neurons of the rat spinal dorsal horn during postnatal development. Neuroscience 99, 549–556 (2000)

Linsker, R. From basic network principles to neural architecture: emergence of orientation columns. Proc. Natl Acad. Sci. USA 83, 8779–8783 (1986)

Fregnac, Y. & Bienenstock, E. in Mechanistic Relationships between Development and Learning (eds Carew, T. J., Menzel, R. & Shatz, C. J.) 113–148 (Wiley, Berlin, 1998)

Katz, L. C. & Shatz, C. J. Synaptic activity and the construction of cortical circuits. Science 274, 1133–1138 (1996)

Nicolelis, M. A., De Oliveira, L. M., Lin, R. C. & Chapin, J. K. Active tactile exploration influences the functional maturation of the somatosensory system. J. Neurophysiol. 75, 2192–2196 (1996)

Levinsson, A., Holmberg, H., Broman, J., Zhang, M. & Schouenborg, J. Spinal sensorimotor transformation: Relation between cutaneous somatotopy and a reflex network. J. Neurosci. 22, 8170–8182 (2002)

Morisset, V. & Nagy, F. Nociceptive integration in the rat spinal cord: Role of non-linear membrane properties of deep dorsal horn neurons. Eur. J. Neurosci. 10, 3642–3652 (1998)

Stickgold, R., Hobson, J. A., Fosse, R. & Fosse, M. Sleep, learning, and dreams: Off-line memory reprocessing. Science 294, 1052–1057 (2001)

Frank, M. G., Issa, N. P. & Stryker, M. P. Sleep enhances plasticity in the developing visual cortex. Neuron 30, 275–287 (2001)

Johansson, R. System Modeling and Identification (Prentice Hall, Englewood Cliffs, New Jersey, 1993)
Acknowledgements
We thank P. Nockhammar for technical assistance and M. Garwicz for constructive comments on earlier versions of the manuscript.
Ethics declarations
Competing interests
The authors declare that they have no competing financial interests.
Supplementary information
About this article
Cite this article
Petersson, P., Waldenström, A., Fåhraeus, C. et al. Spontaneous muscle twitches during sleep guide spinal self-organization. Nature 424, 72–75 (2003). https://doi.org/10.1038/nature01719
Received:

Accepted:

Issue Date:

DOI: https://doi.org/10.1038/nature01719
Comments
By submitting a comment you agree to abide by our Terms and Community Guidelines. If you find something abusive or that does not comply with our terms or guidelines please flag it as inappropriate.