Abstract
The effect of 'colossal magnetoresistance' (CMR) in hole-doped manganites—an abnormal decrease of resistivity when a magnetic field is applied1—has attracted significant interest from researchers in the past decade. But the underlying mechanism for the CMR phenomenon is not yet fully understood. It has become clear that a phase-separated state2,3,4,5,6, where magnetic and non-magnetic phases coexist, is important, but the detailed magnetic microstructure of this mixed-phase state is so far unclear. Here we use electron microscopy to study the magnetic microstructure and development of ferromagnetic domains in the mixed-phase state of La1-xSrxMnO3 (x = 0.54, 0.56). Our measurements show that, in the absence of a magnetic field, the magnetic flux is closed within ferromagnetic regions, indicating a negligible magnetic interaction between separated ferromagnetic domains. However, we also find that the domains start to combine with only very small changes in temperature. We propose that the delicate nature of the magnetic microstructure in the mixed-phase state of hole-doped manganites is responsible for the CMR effect, in which significant conduction paths form between the ferromagnetic domains upon application of a magnetic field.
Relevant articles
Open Access articles citing this article.
N. Zaidi

,

Mounira Elabassi

…

E. K. Hlil

Journal of Superconductivity and Novel Magnetism Open Access 29 May 2020

Toshiaki Tanigaki

,

Tetsuya Akashi

…

Hiroyuki Shinada

Scientific Reports Open Access 05 December 2017

Y. Murakami

,

K. Niitsu

…

D. Shindo

Nature Communications Open Access 18 June 2014
Access options
Subscribe to this journal
Receive 51 print issues and online access
$199.00 per year
only $3.90 per issue
Rent or buy this article
Get just this article for as long as you need it
$39.95
Prices may be subject to local taxes which are calculated during checkout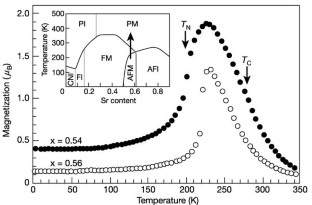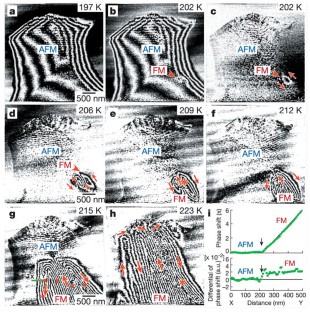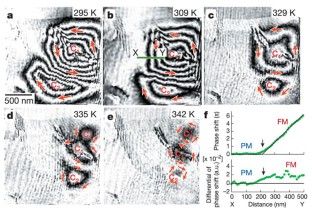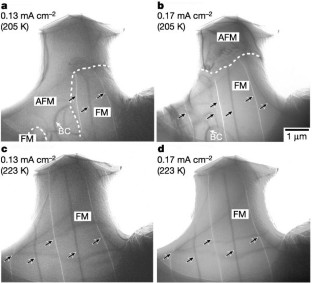 References
Jin, S. et al. Thousandfold change in resistivity in magnetoresistive La-Ca-Mn-O films. Science 264, 413–415 (1994)

Moreo, A., Yunoki, S. & Dagotto, E. Phase separation scenario for manganese oxides and related materials. Science 283, 2034–2039 (1999)

Fäth, M. et al. Spatially inhomogeneous metal-insulator transition in doped manganites. Science 285, 1540–1542 (1999)

Uehara, M., Mori, S., Chen, C. H. & Cheong, S.-W. Percolative phase separation underlies colossal magnetoresistance in mixed-valent manganites. Nature 399, 560–563 (1999)

Mori, S., Chen, C. H. & Cheong, S.-W. Paired and unpaired charge stripes in the ferromagnetic phase of La0.5Ca0.5MnO3 . Phys. Rev. Lett. 81, 3972–3975 (1998)

Lu, Q., Chen, C. C. & de Lozanne, A. Observation of magnetic domain behavior in colossal magnetoresistive materials with a magnetic force microscope. Science 276, 2006–2008 (1997)

Anderson, P. W. & Hasegawa, H. Considerations on double exchange. Phys. Rev. 100, 675–681 (1955)

de Gennes, P.-G. Effect of double exchange in magnetic crystals. Phys. Rev. 118, 141–154 (1960)

Moreo, A., Mayr, M., Feiguin, A., Yunoki, S. & Dagotto, E. Giant cluster coexistence in doped manganites and other compounds. Phys. Rev. Lett. 84, 5568–5571 (2000)

Mayr, M. et al. Resistivity of mixed-phase manganites. Phys. Rev. Lett. 86, 135–138 (2001)

Zhang, L., Israel, C., Biswas, A., Greene, R. L. & de Lozanne, A. Direct observation of percolation in a manganite thin film. Science 298, 805–807 (2002)

Kikuchi, K., Chiba, H., Kikuchi, M. & Syono, Y. Syntheses and magnetic properties of La1-xSrxMnO3 (0.5 < x < 1.0) perovskite. J. Solid State Chem. 146, 1–5 (1999)

Urushibara, A. et al. Insulator-metal transformation and giant magnetoresistance in La1-xSrxMnO3 . Phys. Rev. B 51, 14103–14109 (1995)

Akimoto, T. et al. Antiferromagnetic metallic state in doped manganites. Phys. Rev. B 57, R5594–R5597 (1998)

Moritomo, Y., Akimoto, T., Nakamura, A., Ohoyama, K. & Ohashi, M. Antiferromagnetic state in the heavily doped region of perovskite manganites. Phys. Rev. B 58, 5544–5549 (1998)

Tonomura, A. Electron Holography (Springer, Tokyo, 1999)

Shindo, D. & Oikawa, T. Analytical Electron Microscopy for Materials Science (Springer, Tokyo, 2002)

Loudon, J. C., Mathur, N. D. & Midgley, P. A. Charge-ordered ferromagnetic phase in La0.5Ca0.5MnO3 . Nature 420, 797–800 (2002)

Rez, D., Rez, P. & Grant, I. Dirac-Fock calculations of X-ray scattering factors and contributions to the mean inner potential for electron scattering. Acta Crystallogr. A 50, 481–497 (1994)
Acknowledgements
We thank T. Ohsuna and Y. Gao for discussions. This work was supported by a Grant-in-Aid for Scientific Research from the Ministry of Education, Science, Sports and Culture of Japan, and by the Special Coordination Funds for Promoting Science and Technology of 'Nanohetero Metallic Materials' from the Science and Technology Agency.
Ethics declarations
Competing interests
The authors declare that they have no competing financial interests.
About this article
Cite this article
Murakami, Y., Yoo, J., Shindo, D. et al. Magnetization distribution in the mixed-phase state of hole-doped manganites. Nature 423, 965–968 (2003). https://doi.org/10.1038/nature01715
Received:

Accepted:

Issue Date:

DOI: https://doi.org/10.1038/nature01715
Comments
By submitting a comment you agree to abide by our Terms and Community Guidelines. If you find something abusive or that does not comply with our terms or guidelines please flag it as inappropriate.