Abstract
Faithful transmission of the genome requires that a protein complex called cohesin establishes and maintains the regulated linkage between replicated chromosomes before their segregation1,2. Here we report the unforeseen participation of Caenorhabditis elegans TIM-1, a paralogue of the Drosophila clock protein TIMELESS, in the regulation of chromosome cohesion. Our biochemical experiments defined the C. elegans cohesin complex and revealed its physical association with TIM-1. Functional relevance of the interaction was demonstrated by aberrant mitotic chromosome behaviour, embryonic lethality and defective meiotic chromosome cohesion caused by the disruption of either TIM-1 or cohesin. TIM-1 depletion prevented the assembly of non-SMC (structural maintenance of chromosome) cohesin subunits onto meiotic chromosomes; however, unexpectedly, a partial cohesin complex composed of SMC components still loaded. Further disruption of cohesin activity in meiosis by the simultaneous depletion of TIM-1 and an SMC subunit decreased homologous chromosome pairing before synapsis, revealing a new role for cohesin in metazoans. On the basis of comparisons between TIMELESS homologues in worms, flies and mice, we propose that chromosome cohesion, rather than circadian clock regulation, is the ancient and conserved function for TIMELESS-like proteins.
Relevant articles
Open Access articles citing this article.
Arpita Kulkarni

,

James W. Lightfoot

&

Adrian Streit

Chromosoma Open Access 12 December 2015

Andrew M Schurko

,

John M Logsdon

&

Brian D Eads

BMC Evolutionary Biology Open Access 21 April 2009
Access options
Subscribe to Journal
Get full journal access for 1 year
$199.00
only $3.90 per issue
All prices are NET prices.
VAT will be added later in the checkout.
Tax calculation will be finalised during checkout.
Buy article
Get time limited or full article access on ReadCube.
$32.00
All prices are NET prices.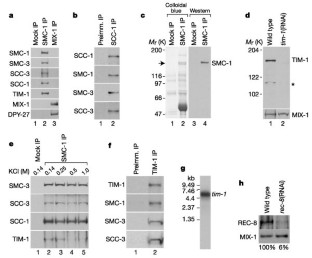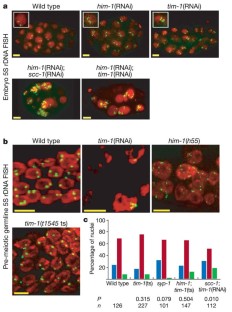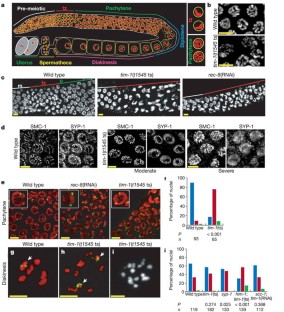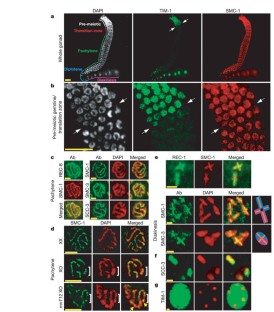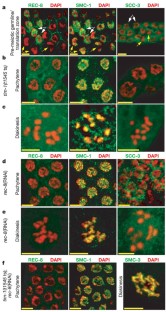 References
Hirano, T. Chromosome cohesion, condensation, and separation. Annu. Rev. Biochem. 69, 115–144 (2000)

Nasmyth, K. Disseminating the genome: joining, resolving, and separating sister chromatids during mitosis and meiosis. Annu. Rev. Genet. 35, 673–745 (2001)

Sumara, I. et al. The dissociation of cohesin from chromosomes in prophase is regulated by Polo-like kinase. Mol. Cell 9, 515–525 (2002)

Uhlmann, F., Lottspeich, F. & Nasmyth, K. Sister-chromatid separation at anaphase onset is promoted by cleavage of the cohesin subunit Scc1. Nature 400, 37–47 (1999)

Hodgkin, J., Horvitz, H. R. & Brenner, S. Nondisjunction mutants of the nematode Caenorhabditis elegans. Genetics 91, 67–94 (1979)

Broverman, S. A. & Meneely, P. M. Meiotic mutants that cause a polar decrease in recombination on the X chromosome in Caenorhabditis elegans. Genetics 136, 119–127 (1994)

Pasierbek, P. et al. A Caenorhabditis elegans cohesion protein with functions in meiotic chromosome pairing and disjunction. Genes Dev. 15, 1349–1360 (2001)

Chuang, P. T., Albertson, D. G. & Meyer, B. J. DPY-27: A chromosome condensation protein homolog that regulates C. elegans dosage compensation through association with the X chromosome. Cell 79, 459–474 (1994)

Lieb, J. D., Albrecht, M. R., Chuang, P. T. & Meyer, B. J. MIX-1: An essential component of the C. elegans mitotic machinery executes X chromosome dosage compensation. Cell 92, 265–277 (1998)

Jeon, M., Gardner, H. F., Miller, E. A., Deshler, J. & Rougvie, A. E. Similarity of the C. elegans developmental timing protein LIN-42 to circadian rhythm proteins. Science 286, 1141–1146 (1999)

Williams, J. A. & Sehgal, A. Molecular components of the circadian system in Drosophila. Annu. Rev. Physiol. 63, 729–755 (2001)

Young, M. W. & Kay, S. A. Time zones: A comparative genetics of circadian clocks. Nature Rev. Genet. 2, 702–715 (2001)

Benna, C. et al. A second timeless gene in Drosophila shares greater sequence similarity with mammalian tim. Curr. Biol. 10, R512–R513 (2000)

Gotter, A. L. et al. A time-less function for mouse timeless. Nature Neurosci. 3, 755–756 (2000)

Petronczki, M., Siomos, M. F. & Nasmyth, K. Un ménage à quatre: the molecular biology of chromosome segregation in meiosis. Cell 112, 423–440 (2003)

Schedl, T. in C. elegans II (eds Riddle, D. L., Blumenthal, T., Meyer, B. J. & Priess, J. R.) 241–270 (Cold Spring Harbor Laboratory Press, Cold Spring Harbor, New York, 1997)

MacQueen, A. J. & Villeneuve, A. M. Nuclear reorganization and homologous chromosome pairing during meiotic prophase require C. elegans chk-2. Genes Dev. 15, 1674–1687 (2001)

Dernburg, A. F. et al. Meiotic recombination in C. elegans initiates by a conserved mechanism and is dispensable for homologous chromosome synapsis. Cell 94, 387–398 (1998)

MacQueen, A. J., Colaiacovo, M. P., McDonald, K. & Villeneuve, A. M. Synapsis-dependent and -independent mechanisms stabilize homolog pairing during meiotic prophase in C. elegans. Genes Dev. 16, 2428–2442 (2002)

Klein, F. et al. A central role for cohesins in sister chromatid cohesion, formation of axial elements, and recombination during yeast meiosis. Cell 98, 91–103 (1999)

Ciosk, R. et al. Cohesin's binding to chromosomes depends on a separate complex consisting of Scc2 and Scc4 proteins. Mol. Cell 5, 243–254 (2000)

Hartman, T., Stead, K., Koshland, D. & Guacci, V. Pds5p is an essential chromosomal protein required for both sister chromatid cohesion and condensation in Saccharomyces cerevisiae. J. Cell Biol. 151, 613–626 (2000)

Panizza, S., Tanaka, T., Hochwagen, A., Eisenhaber, F. & Nasmyth, K. Pds5 cooperates with cohesin in maintaining sister chromatid cohesion. Curr. Biol. 10, 1557–1564 (2000)

Haering, C. H., Lowe, J., Hochwagen, A. & Nasmyth, K. Molecular architecture of SMC proteins and the yeast cohesin complex. Mol. Cell 9, 773–788 (2002)

Vodovar, N., Clayton, J. D., Costa, R., Odell, M. & Kyriacou, C. P. The Drosophila clock protein Timeless is a member of the Arm/HEAT family. Curr. Biol. 12, R610–R611 (2002)

Howell, A. M., Gilmour, S. G., Mancebo, R. A. & Rose, A. M. Genetic analysis of a large autosomal region in Caenorhabditis elegans by the use of a free duplication. Genet. Res. 49, 207–213 (1987)

Howe, M., McDonald, K. L., Albertson, D. G. & Meyer, B. J. HIM-10 is required for kinetochore structure and function on Caenorhabditis elegans holocentric chromosomes. J. Cell Biol. 153, 1227–1238 (2001)

Chu, D. S. et al. A molecular link between gene-specific and chromosome-wide transcriptional repression. Genes Dev. 16, 796–805 (2002)

Gonczy, P. et al. Dissection of cell division processes in the one cell stage Caenorhabditis elegans embryo by mutational analysis. J. Cell Biol. 144, 927–946 (1999)
Acknowledgements
We thank D. King for the MALDI–MS analyses, M. Ralston for advice on statistical methods, J. Loidl, A. Villeneuve and Y. Kohara for useful reagents, G. Csankovszki for the RNA blot, M. Colaiacovo and A. Villeneuve for discussions, and T. Cline, A. Severson and C. Tsai for comments on the manuscript. This work was supported by the Leukemia and Lymphoma Society (R.C.C.), the American Cancer Society (D.P.) and the National Institutes of Health (A.E.R.). B.J.M. is an investigator and R.C.C. an associate of the Howard Hughes Medical Institute.
Ethics declarations
Competing interests
The authors declare that they have no competing financial interests.
Supplementary information
About this article
Cite this article
Chan, R., Chan, A., Jeon, M. et al. Chromosome cohesion is regulated by a clock gene paralogue TIM-1. Nature 423, 1002–1009 (2003). https://doi.org/10.1038/nature01697
Received:

Accepted:

Issue Date:

DOI: https://doi.org/10.1038/nature01697
Comments
By submitting a comment you agree to abide by our Terms and Community Guidelines. If you find something abusive or that does not comply with our terms or guidelines please flag it as inappropriate.