Abstract
Environmental contaminants affect a wide variety of biological events in many species. Dioxins are typical environmental contaminants that exert adverse oestrogen-related effects1. Although their anti-oestrogenic actions2,3 are well described, dioxins can also induce endometriosis4,5,6,7 and oestrogen-dependent tumours8,9, implying possible oestrogenic effects. However, the molecular mechanism underlying oestrogen-related actions of dioxins remains largely unknown. A heterodimer of the dioxin receptor (AhR) and Arnt, which are basic helix–loop–helix/PAS-family transcription factors, mediates most of the toxic effects of dioxins10,11. Here we show that the agonist-activated AhR/Arnt heterodimer directly associates with oestrogen receptors ER-α and ER-β. This association results in the recruitment of unliganded ER and the co-activator p300 to oestrogen-responsive gene promoters, leading to activation of transcription and oestrogenic effects. The function of liganded ER is attenuated. Oestrogenic actions of AhR agonists were detected in wild-type ovariectomized mouse uteri, but were absent in AhR-/- or ER-α-/- ovariectomized mice. Our findings suggest a novel mechanism by which ER-mediated oestrogen signalling is modulated by a co-regulatory-like function of activated AhR/Arnt, giving rise to adverse oestrogen-related actions of dioxin-type environmental contaminants.
Relevant articles
Open Access articles citing this article.
Sebastian Lungu-Mitea

,

Yuxin Han

&

Johan Lundqvist

Cell Biology and Toxicology Open Access 15 October 2021

Francesco De Pascali

,

Livio Casarini

…

Viktoria von Schönfeldt

Histochemistry and Cell Biology Open Access 21 June 2021

Francesca Cirillo

,

Rosamaria Lappano

…

Marcello Maggiolini

Journal of Experimental & Clinical Cancer Research Open Access 01 August 2019
Access options
Subscribe to this journal
Receive 51 print issues and online access
$199.00 per year
only $3.90 per issue
Rent or buy this article
Get just this article for as long as you need it
$39.95
Prices may be subject to local taxes which are calculated during checkout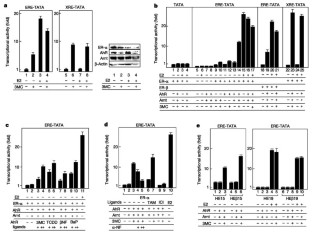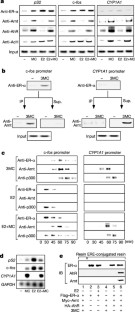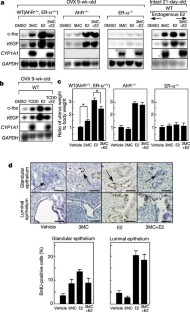 References
Bock, K. W. Aryl hydrocarbon or dioxin receptor: biologic and toxic responses. Rev. Physiol. Biochem. Pharmacol. 125, 1–42 (1994)

Krishnan, V. et al. Molecular mechanism of inhibition of estrogen-induced cathepsin D gene expression by 2,3,7,8-tetrachlorodibenzo-p-dioxin (TCDD) in MCF-7 cells. Mol. Cell. Biol. 15, 6710–6719 (1995)

Astroff, B. et al. Inhibition of the 17β-estradiol-induced and constitutive expression of the cellular protooncogene c-fos by 2,3,7,8-tetrachlorodibenzo-p-dioxin (TCDD) in the female rat uterus. Toxicol. Lett. 56, 305–315 (1991)

Gibbons, A. Dioxin tied to endometriosis. Science 262, 1373 (1993)

Mayani, A., Barel, S., Soback, S. & Almagor, M. Dioxin concentrations in women with endometriosis. Hum. Reprod. 12, 373–375 (1997)

Rier, S. E., Martin, D. C., Bowman, R. E., Dmowski, W. P. & Becker, J. L. Endometriosis in rhesus monkeys (Macaca mulatta) following chronic exposure to 2,3,7,8-tetrachlorodibenzo-p-dioxin. Fundam. Appl. Toxicol. 21, 433–441 (1993)

Cummings, A. M., Metcalf, J. L. & Birnbaum, L. Promotion of endometriosis by 2,3,7,8-tetrachlorodibenzo-p-dioxin in rats and mice: time–dose dependence and species comparison. Toxicol. Appl. Pharmacol. 138, 131–139 (1996)

Brown, N. M., Manzolillo, P. A., Zhang, J. X., Wang, J. & Lamartiniere, C. A. Prenatal TCDD and predisposition to mammary cancer in the rat. Carcinogenesis 19, 1623–1629 (1998)

Davis, B. J., McCurdy, E. A., Miller, B. D., Lucier, G. W. & Tritscher, A. M. Ovarian tumors in rats induced by chronic 2,3,7,8-tetrachlorodibenzo-p-dioxin treatment. Cancer Res. 60, 5414–5419 (2000)

Sogawa, K. & Fujii-Kuriyama, Y. Ah receptor, a novel ligand-activated transcription factor. J. Biochem. (Tokyo) 122, 1075–1079 (1997)

Schmidt, J. V. & Bradfield, C. A. Ah receptor signaling pathways. Annu. Rev. Cell Dev. Biol. 12, 55–89 (1996)

Kato, S. et al. Activation of the estrogen receptor through phosphorylation by mitogen-activated protein kinase. Science 270, 1491–1494 (1995)

McKenna, N. J. & O'Malley, B. W. Combinatorial control of gene expression by nuclear receptors and coregulators. Cell 108, 465–474 (2002)

Mangelsdorf, D. J. et al. The nuclear receptor superfamily: the second decade. Cell 83, 835–839 (1995)

Freedman, L. P. Increasing the complexity of coactivation in nuclear receptor signaling. Cell 97, 5–8 (1999)

Watanabe, M. et al. A subfamily of RNA-binding DEAD-box proteins acts as an estrogen receptor alpha coactivator through the N-terminal activation domain (AF-1) with an RNA coactivator, SRA. EMBO J. 20, 1341–1352 (2001)

Yanagisawa, J. et al. Nuclear receptor function requires a TFTC-type histone acetyl transferase complex. Mol. Cell 9, 553–562 (2002)

Kamei, Y. et al. A CBP integrator complex mediates transcriptional activation and AP-1 inhibition by nuclear receptors. Cell 85, 403–414 (1996)

Tian, Y., Ke, S., Thomas, T., Meeker, R. J. & Gallo, M. A. Transcriptional suppression of estrogen receptor gene expression by 2,3,7,8-tetrachlorodibenzo-p-dioxin (TCDD). J. Steroid Biochem. Mol. Biol. 67, 17–24 (1998)

Tora, L. et al. The human estrogen receptor has two independent nonacidic transcriptional activation functions. Cell 59, 477–487 (1989)

Kobayashi, Y. et al. p300 mediates functional synergism between AF-1 and AF-2 of estrogen receptor alpha and beta by interacting directly with the N-terminal A/B domains. J. Biol. Chem. 275, 15645–15651 (2000)

Mimura, J., Ema, M., Sogawa, K. & Fujii-Kuriyama, Y. Identification of a novel mechanism of regulation of Ah (dioxin) receptor function. Genes Dev. 13, 20–25 (1999)

Beischlag, T. V. et al. Recruitment of the NCoA/SRC-1/p160 family of transcriptional coactivators by the aryl hydrocarbon receptor/aryl hydrocarbon receptor nuclear translocator complex. Mol. Cell. Biol. 22, 4319–4333 (2002)

Daitoku, H. Y. K., Matsuzaki, H., Hatta, M. & Fukamizu, A. Regulation of PGC-1 promoter activity by protein kinase B and the forkhead transcription factor FKHR. Diabetes 52, 642–649 (2003)

Weisz, A. & Rosales, R. Identification of an estrogen response element upstream of the human c-fos gene that binds the estrogen receptor and the AP-1 transcription factor. Nucleic Acids Res. 18, 5097–5106 (1990)

Mueller, M. D. et al. Regulation of vascular endothelial growth factor (VEGF) gene transcription by estrogen receptors alpha and beta. Proc. Natl Acad. Sci. USA 97, 10972–10977 (2000)

Puga, A., Nebert, D. W. & Carrier, F. Dioxin induces expression of c-fos and c-jun proto-oncogenes and a large increase in transcription factor AP-1. DNA Cell Biol. 11, 269–281 (1992)

Mimura, J. et al. Loss of teratogenic response to 2,3,7,8-tetrachlorodibenzo-p-dioxin (TCDD) in mice lacking the Ah (dioxin) receptor. Genes Cells 2, 645–654 (1997)

Dupont, S. et al. Effect of single and compound knockouts of estrogen receptors α (ERα) and β (ERβ) on mouse reproductive phenotypes. Development 127, 4277–4291 (2000)

Kuchenhoff, A. et al. Arylhydrocarbon receptor expression in the human endometrium. Fertil. Steril. 71, 354–360 (1999)
Acknowledgements
We thank K. Korach and A. Fukamizu for helpful discussion; T. Sato, A. Murayama and Y. Kobayashi for technical assistance; Taiho Pharmaceutical Co. for ER ligands; and R. Nakamura and H. Higuchi for manuscript preparation. This work was supported in part by grants-in-aid for priority areas from the Ministry of Education, Science, Sports and Culture of Japan (to Y.F.-K. and S.K.).
Ethics declarations
Competing interests
The authors declare that they have no competing financial interests.
About this article
Cite this article
Ohtake, F., Takeyama, Ki., Matsumoto, T. et al. Modulation of oestrogen receptor signalling by association with the activated dioxin receptor. Nature 423, 545–550 (2003). https://doi.org/10.1038/nature01606
Received:

Accepted:

Issue Date:

DOI: https://doi.org/10.1038/nature01606
Comments
By submitting a comment you agree to abide by our Terms and Community Guidelines. If you find something abusive or that does not comply with our terms or guidelines please flag it as inappropriate.