Abstract
Cytosine methylation is common, but not ubiquitous, in eukaryotes. Mammals1 and the fungus Neurospora crassa2,3 have about 2–3% of cytosines methylated. In mammals, methylation is almost exclusively in the under-represented CpG dinucleotides, and most CpGs are methylated1 whereas in Neurospora, methylation is not preferentially in CpG dinucleotides and the bulk of the genome is unmethylated4. DNA methylation is essential in mammals5 but is dispensable in Neurospora3,6, making this simple eukaryote a favoured organism in which to study methylation. Recent studies indicate that DNA methylation in Neurospora depends on one DNA methyltransferase, DIM-2 (ref. 6), directed by a histone H3 methyltransferase, DIM-5 (ref. 7), but little is known about its cellular and evolutionary functions. As only four methylated sequences have been reported previously in N. crassa, we used methyl-binding-domain agarose chromatography8 to isolate the methylated component of the genome. DNA sequence analysis shows that the methylated component of the genome consists almost exclusively of relics of transposons that were subject to repeat-induced point mutation—a genome defence system that mutates duplicated sequences9.
Relevant articles
Open Access articles citing this article.
Malin Elfstrand

,

Jun Chen

…

Mikael Brandström Durling

BMC Genomics Open Access 04 July 2021

Yujiao Chen

,

Yuqian Wu

…

Yaozhou Zhang

Scientific Reports Open Access 29 January 2019

Jesper Svedberg

,

Sara Hosseini

…

Hanna Johannesson

Nature Communications Open Access 12 October 2018
Access options
Subscribe to this journal
Receive 51 print issues and online access
$199.00 per year
only $3.90 per issue
Rent or buy this article
Get just this article for as long as you need it
$39.95
Prices may be subject to local taxes which are calculated during checkout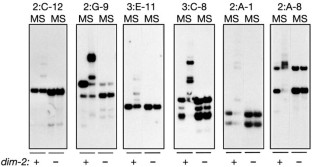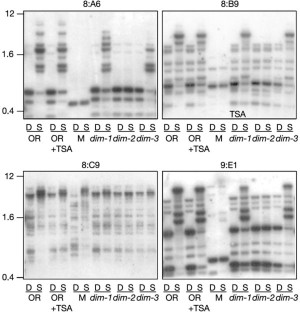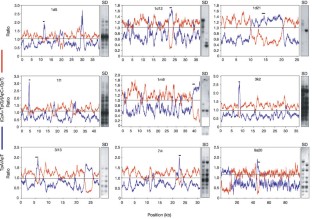 References
Bird, A. P. CpG-rich islands and the function of DNA methylation. Nature 321, 209–213 (1986)

Russell, P. J., Rodland, K. D., Cutler, J. E., Rachlin, E. M. & McCloskey, J. A. in Molecular Genetics of Filamentous Fungi (ed. Timberlake, W.) 321–332 (Alan Liss, New York, 1985)

Foss, H. M., Roberts, C. J., Claeys, K. M. & Selker, E. U. Abnormal chromosome behavior in Neurospora mutants defective in DNA methylation. Science 262, 1737–1741 (1993)

Selker, E. U., Fritz, D. Y. & Singer, M. J. Dense non-symmetrical DNA methylation resulting from repeat-induced point mutation (RIP) in Neurospora. Science 262, 1724–1728 (1993)

Li, E., Bestor, T. H. & Jaenisch, R. Targeted mutation of the DNA methyltransferase gene results in embryonic lethality. Cell 69, 915–926 (1992)

Kouzminova, E. A. & Selker, E. U. Dim-2 encodes a DNA-methyltransferase responsible for all known cytosine methylation in Neurospora. EMBO J. 20, 4309–4323 (2001)

Tamaru, H. & Selker, E. U. A histone H3 methyltransferase controls DNA methylation in Neurospora crassa. Nature 414, 277–283 (2001)

Cross, S. H., Charlton, J. A., Nan, X. & Bird, A. P. Purification of CpG islands using a methylated DNA binding column. Nature Genet. 6, 236–244 (1994)

Selker, E. U. Repeat-induced gene silencing in fungi. Adv. Genet. 46, 439–450 (2002)

Meehan, R. R., Lewis, J. D. & Bird, A. P. Characterization of MeCP2, a vertebrate DNA binding protein that binds methylated DNA. Nucleic Acids Res. 20, 5085–5092 (1992)

Selker, E. U. Trichostatin A causes selective loss of DNA methylation in Neurospora. Proc. Natl Acad. Sci. USA 95, 9430–9435 (1998)

Foss, H. M., Roberts, C. J. & Selker, E. U. Reduced levels and altered patterns of DNA methylation caused by mutations in Neurospora crassa. Mol. Gen. Genet. 259, 60–71 (1998)

Metzenberg, R. L., Stevens, J. N., Selker, E. U. & Morzycka-Wroblewska, E. Identification and chromosomal distribution of 5S rRNA genes in Neurospora crassa. Proc. Natl Acad. Sci. USA 82, 2067–2071 (1985)

Krumlauf, R. & Marzluf, G. A. Genome organization and characterization of the repetitive and inverted repeat DNA sequences in Neurospora crassa. J. Biol. Chem. 255, 1138–1145 (1980)

Margolin, B. S. et al. A methylated Neurospora 5S rRNA pseudogene contains a transposable element inactivated by RIP. Genetics 149, 1787–1797 (1998)

Altschul, S. F. et al. Gapped BLAST and PSI-BLAST: a new generation of protein database search programs. Nucleic Acids Res. 25, 3389–3402 (1997)

Bibbins, M., Cummings, N. J. & Connerton, I. F. DAB1: a degenerate retrotransposon-like element from Neurospora crassa. Mol. Gen. Genet. 258, 431–436 (1998)

Cambareri, E. B., Helber, J. & Kinsey, J. A. Tad1-1, an active LINE-like element of Neurospora crassa. Mol. Gen. Genet. 242, 658–665 (1994)

Cambareri, E. B., Aisner, R. & Carbon, J. Structure of the chromosome VII centromere region in Neurospora crassa: degenerate transposons and simple repeats. Mol. Cell Biol. 18, 5465–5477 (1998)

Kempken, F. & Windhofer, F. The hAT family: a versatile transposon group common to plants, fungi, animals, and man. Chromosoma 110, 1–9 (2001)

Plasterk, R. H., Izsvak, Z. & Ivics, Z. Resident aliens: the Tc1/mariner superfamily of transposable elements. Trends Genet. 15, 326–332 (1999)

Galagan, J. E. et al. The genome sequence of the filamentous fungus Neurospora crassa. Nature 422, 859–868 (2003)

Miao, V. P., Freitag, M. & Selker, E. U. Short TpA-rich segments of the zeta-eta region induce DNA methylation in Neurospora crassa. J. Mol. Biol. 300, 249–273 (2000)

Paszkowski, J. & Whitham, S. A. Gene silencing and DNA methylation processes. Curr. Opin. Plant Biol. 4, 123–129 (2001)

Yoder, J. A., Walsh, C. P. & Bestor, T. H. Cytosine methylation and the ecology of intragenomic parasites. Trends Genet. 13, 335–340 (1997)

Bird, A. DNA methylation patterns and epigenetic memory. Genes Dev. 16, 6–21 (2002)

Zhou, Y., Cambareri, E. B. & Kinsey, J. A. DNA methylation inhibits expression and transposition of the Neurospora Tad retrotransposon. Mol. Gen. Genet. 265, 748–754 (2001)

Miura, A. et al. Mobilization of transposons by a mutation abolishing full DNA methylation in Arabidopsis. Nature 411, 212–214 (2001)

Singer, T., Yordan, C. & Martienssen, R. A. Robertson's Mutator transposons in A. thaliana are regulated by the chromatin-remodeling gene Decrease in DNA Methylation (DDM1). Genes Dev. 15, 591–602 (2001)

Tompa, R. et al. Genome-wide profiling of DNA methylation reveals transposon targets of CHROMOMETHYLASE3. Curr. Biol. 12, 65–68 (2002)
Acknowledgements
We thank F. K. Selker and C. B. Matsen for help with computer analyses; T. Wolfe for technical assistance; G. Mannhaupt for providing some accession numbers; and J. Galagan for comments on the manuscript. E.U.S. acknowledges the hospitality of the Bird laboratory when he initiated this project while on sabbatical, and is thankful to D. Macleod, R. Meehan and F. Antequera for their advice. This work was supported by a US Public Health Service grant to E.U.S. from the National Institutes of Health, and a Senior International Fellowship from the Fogarty International Center of the National Institutes of Health.
Ethics declarations
Competing interests
The authors declare that they have no competing financial interests.
Supplementary information
About this article
Cite this article
Selker, E., Tountas, N., Cross, S. et al. The methylated component of the Neurospora crassa genome. Nature 422, 893–897 (2003). https://doi.org/10.1038/nature01564
Received:

Accepted:

Issue Date:

DOI: https://doi.org/10.1038/nature01564
Comments
By submitting a comment you agree to abide by our Terms and Community Guidelines. If you find something abusive or that does not comply with our terms or guidelines please flag it as inappropriate.