Abstract
Understanding the genetic basis of the physical and behavioural traits that distinguish humans from other primates presents one of the great new challenges in biology. Of the millions of base-pair differences between humans and chimpanzees, which particular changes contributed to the evolution of human features after the separation of the Pan and Homo lineages 5–7 million years ago? How can we identify the 'smoking guns' of human genetic evolution from neutral ticks of the molecular evolutionary clock? The magnitude and rate of morphological evolution in hominids suggests that many independent and incremental developmental changes have occurred that, on the basis of recent findings in model animals, are expected to be polygenic and regulatory in nature. Comparative genomics, population genetics, gene-expression analyses and medical genetics have begun to make complementary inroads into the complex genetic architecture of human evolution.
Relevant articles
Open Access articles citing this article.
Vanessa I. Romero

,

Benjamin Arias-Almeida

&

Stefanie A. Aguiar

BMC Genomics Open Access 22 December 2022

Emily V. Dutrow

,

Deena Emera

…

James P. Noonan

Nature Communications Open Access 13 January 2022

Nashaiman Pervaiz

,

Hongen Kang

…

Amir Ali Abbasi

BMC Ecology and Evolution Open Access 03 May 2021
Access options
Subscribe to this journal
Receive 51 print issues and online access
$199.00 per year
only $3.90 per issue
Rent or buy this article
Get just this article for as long as you need it
$39.95
Prices may be subject to local taxes which are calculated during checkout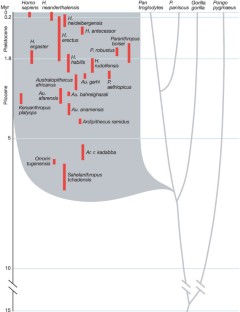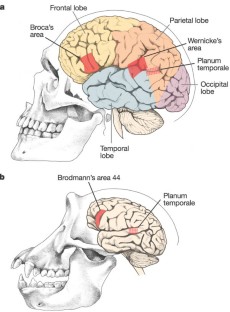 References
Wood, B. Hominid revelations from Chad. Nature 418, 133–135 (2002)

Leakey, M. et al. New hominin genus from eastern Africa shows diverse middle Pliocene lineages. Nature 410, 433–440 (2001)

Brunet, M. et al. A new hominid from the Upper Miocene of Chad, Central Africa. Nature 418, 145–151 (2002)

Wolpoff, M., Senut, B., Pickford, M. & Hawks, J. Palaeoanthropology: Sahelanthropus or 'Sahelpithecus'? Nature 419, 581–582 (2002)

Groves, C. P. in Comparative Primate Biology Vol. 1 (eds Swindler, D. R. & Erwin, J.) 187–218 (Alan R. Liss, New York, 1986)

Klein, J. & Takahata, N. Where Do We Come From? The Molecular Evidence for Human Descent (Springer, New York, 2002)

Wood, B. & Collard, M. The human genus. Science 284, 65–71 (1999)

Relethford, J. H. Genetics and the Search for Modern Human Origins (Wiley–Liss, New York, 2001)

Ruff, C. B., Trinkhaus, E. & Holliday, T. W. Body mass and enchephalization in Pleistocene Homo. Nature 387, 173–176 (1997)

Conroy, G. C. et al. Endocranial capacity in an early hominid cranium from Sterkfontein, South Africa. Science 280, 1730–1731 (1998)

Conroy, G. C., Weber, G. W., Seidler, H., Recheis, W. & Zur Nedden, E. Endocranial capacity of the Bodo cranium determined from three-dimensional computed tomography. Am. J. Phys. Anthropol. 113, 111–118 (2000)

Brodmann, K. Neue Ergebnisse über die vergleichende histologische Lokalisation der Grosshirnrinde mit besonderer Berücksichtigung des Stirnhirns. Anat. Anz. 41, 157–216 (1912)

Semendeferi, K., Lu, A., Schenker, N. & Damasio, H. Humans and great apes share a large frontal cortex. Nature Neurosci. 5, 272–276 (2002)

Cantalupo, C. & Hopkins, W. D. Asymmetric Broca's area in great apes. Nature 414, 505 (2001)

Hopkins, W. D. & Leavens, D. A. The whole-hand point: The structure and function of pointing from a comparative perspective. J. Comp. Psychol. 112, 95–99 (1998)

Holloway, R. L. Indonesian "Solo" (Ngandong) endocranial reconstructions: Some preliminary observations and comparisons with Neandertal and Homo erectus groups. Am. J. Phys. Anthropol. 53, 285–295 (1980)

Gannon, P. J., Holloway, R. L., Broadfield, D. C. & Braun, A. R. Asymmetry of chimpanzee planum temporale: Humanlike pattern of Wernicke's brain language area homolog. Science 279, 220–222 (1998)

Hopkins, W. D., Marino, L., Rilling, J. K. & MacGregor, L. Planum temporale asymmetries in great apes as revealed by magnetic resonance imaging (MRI). NeuroReport 9, 2913–2918 (1998)

Hof, P. R., Nimchinsky, E. A., Perl, D. P. & Erwin, J. M. An unusual population of pyramidal neurons in the anterior cingulate cortex of hominids contains the calcium-binding protein calretinin. Neurosci. Lett. 307, 139–142 (2001)

Nimchinsky, E. A. et al. A neuronal morphological type unique to humans and great apes. Proc. Natl Acad. Sci. USA 96, 5268–5273 (1999)

Buxhoeveden, D., Switala, A., Litaker, M., Roy, E. & Casanova, M. Lateralization of minicolumns in human planum temporale is absent in nonhuman primate cortex. Brain Behav. Evol. 57, 349–358 (2001)

Semendeferi, K., Armstrong, E., Schleicher, A., Zilles, K. & Van Hoesen, G. W. Prefrontal cortex in humans and apes: A comparative study of area 10. Am. J. Phys. Anthropol. 114, 224–241 (2001)

Penin, X., Berge, C. & Baylac, M. Ontogenetic study of the skull in modern humans and the common chimpanzees: Neotenic hypothesis reconsidered with a tridimensional procrustes analysis. Am. J. Phys. Anthropol. 118, 50–62 (2002)

Ponce de León, M. S. & Zollikofer, C. P. E. Neanderthal cranial ontogeny and its implications for late hominid diversity. Nature 412, 534–538 (2001)

Lieberman, D. E., McBratney, B. M. & Krovitz, G. The evolution and development of cranial form in Homo sapiens. Proc. Natl Acad. Sci. USA 99, 1134–1139 (2002)

Williams, F. L., Godfrey, L. R. & Sutherland, M. R. in Human Evolution through Developmental Change (eds Minugh-Purvis, N. & McNamara, K. J.) 405–441 (Johns Hopkins Univ. Press, Baltimore, 2002)

Dean, C. et al. Growth processes in teeth distinguish modern humans from Homo erectus and earlier hominins. Nature 414, 628–631 (2001)

Rice, S. H. in Human Evolution through Developmental Change (eds Minugh-Purvis, N. & McNamara, K. J.) 154–170 (Johns Hopkins Univ. Press, Baltimore, 2002)

Gould, S. J. Ontogeny and Phylogeny (Belknap, Cambridge, Massachusetts, 1977)

Moggi-Cecchi, J. Questions of growth. Nature 414, 595–597 (2001)

MacFadden, B. J. Fossil horses from "Eohippus" (Hyracotherium) to Equus: Scaling, Cope's Law, and the evolution of body size. Paleobiology 12, 355–369 (1986)

Charlesworth, B., Lande, R. & Slatkin, M. A neo-Darwinian commentary on macroevolution. Evolution 36, 474–498 (1982)

Schwartz, J. H. Homeobox genes, fossils, and the origin of species. Anat. Rec. 257, 15–31 (1999)

Klein, R. G. Archeology and the evolution of human behavior. Evol. Anthropol. 9, 17–36 (2000)

Mackay, T. F. C. Quantitative trait loci in Drosophila. Nature Rev. Genet. 2, 11–20 (2001)

Atchley, W. R., Plummer, A. A. & Riska, B. Genetic analysis of size-scaling patterns in the mouse mandible. Genetics 111, 579–595 (1985)

Atchley, W. R. & Zhu, J. Developmental quantitative genetics, conditional epigenetic variability and growth in mice. Genetics 147, 765–776 (1997)

Doebley, J. & Stec, A. Inheritance of the morphological differences between maize and teosinte: Comparison of results for two F2 populations. Genetics 134, 559–570 (1993)

Livshits, G., Roset, A., Yakovenko, K., Trofimov, S. & Kobyliansky, E. Genetics of human body size and shape: Body proportions and indices. Ann. Hum. Biol. 29, 271–289 (2002)

Brakefield, P. et al. Development, plasticity and evolution of butterfly eyespot patterns. Nature 384, 236–242 (1996)

True, J. R., Liu, J., Stam, L. F., Zeng, Z. B. & Laurie, C. C. Quantitative genetic analysis of divergence in male secondary sexual traits between Drosophila simulans and Drosophila mauritiana. Evolution 51, 816–832 (1997)

Shubin, N., Wake, D. B. & Crawford, A. J. Morphological variation in the limbs of Taricha granulosa (Caudata: Salamandridae): Evolutionary and phylogenetic implications. Evolution 49, 874–884 (1995)

Gingerich, P. D. Rates of evolution on the time scale of the evolutionary process. Genetics 112/113, 127–144 (2001)

Gingerich, P. D. Rate of evolution: Effects of time and temporal scaling. Science 222, 159–161 (1983)

Lauter, N. & Doebley, J. Genetic variation for phenotypically invariant traits detected in teosinte: Implications for the evolution of novel forms. Genetics 160, 333–342 (2002)

Polaczyk, P. J., Gasperini, R. & Gibson, G. Naturally occurring genetic variation affects Drosophila photoreceptor determination. Dev. Genes. Evol. 207, 462–470 (1998)

Rutherford, S. L. & Lindquist, S. Hsp90 as a capacitor for morphological evolution. Nature 396, 336–342 (1998)

Gibson, G., Wemple, M. & van Helden, S. Potential variance affecting homeotic Ultrabithorax and Antennapedia phenotypes in Drosophila melanogaster. Genetics 151, 1081–1091 (1999)

Goldschmidt, R. The Material Basis of Evolution (Yale Univ. Press, New Haven, Connecticut, 1940)

Carroll, S. B., Grenier, J. K. & Weatherbee, S. D. From DNA to Diversity: Molecular Genetics and the Evolution of Animal Design (Blackwell Scientific, Malden, Massachusetts, 2001)

Davidson, E. H. Genomic Regulatory Systems: Development and Evolution (Academic, San Diego, 2001)

Wilkins, A. S. The Evolution of Developmental Pathways (Sinauer Associates, Sunderland, Massachusetts, 2002)

Laurie, C. C. & Stam, L. F. Molecular dissection of a major gene effect on a quantitative trait: The level of alcohol dehydrogenase expression in Drosophila melanogaster. Genetics 144, 1559–1564 (1996)

Long, A. D., Lyman, R. F., Morgan, A. H., Langley, C. H. & Mackay, T. F. C. Both naturally occurring insertions of transposable elements and intermediate frequency polymorphisms at the achaete-scute complex are associated with variation in bristle number in Drosophila melanogaster. Genetics 154, 1255–1269 (2000)

Wang, R.-L., Stec, A., Hey, J., Lukens, L. & Doebley, J. The limits of selection during maize domestication. Nature 398, 236–239 (1999)

Long, A. D., Lyman, R. F., Langley, C. H. & Mackay, T. F. C. Two sites in the Delta gene region contribute to naturally occurring variation in bristle number in Drosophila melanogaster. Genetics 149, 999–1017 (1998)

Lai, C., Lyman, R. F., Long, A. D., Langley, C. H. & Mackay, T. F. C. Naturally occurring variation in bristle number and DNA polymorphisms at the scabrous locus of Drosophila melanogaster. Science 266, 1697–1702 (1994)

Nuzhdin, S. V. & Reiwitch, S. G. Are the same genes responsible for intra- and interspecific variability for sex comb tooth number in Drosophila. Heredity 84, 97–102 (2000)

Chen, F.-C. & Li, W.-H. Genomic divergences between humans and other hominoids and the effective population size of the common ancestor of humans and chimpanzees. Am. J. Hum. Genet. 68, 444–456 (2001)

Britten, R. J. Divergence between samples of chimpanzee and human DNA sequences is 5%, counting indels. Proc. Natl Acad. Sci. USA 99, 13633–13634 (2002)

Fujiyama, A. et al. Construction and analysis of a human–chimpanzee comparative clone map. Science 295, 131–134 (2002)

Johnson, M. E. et al. Positive selection of a gene family during the emergence of humans and African apes. Nature 413, 514–518 (2001)

Mouse Genome Sequencing Consortium. Initial sequencing and comparative analysis of the mouse genome. Nature 420, 520–562 (2002)

Venter, J. C. et al. The sequence of the human genome. Science 291, 1304–1323 (2001)

International Human Genome Sequencing Consortium. Initial sequencing and analysis of the human genome. Nature 409, 860–921 (2001)

Li, W.-H. Molecular Evolution (Sinauer Associates, Sunderland, Massachusetts, 1997)

Kreitman, M. Methods to detect selection in populations with applications to the human. Ann. Rev. Genomics Hum. Genet. 1, 539–559 (2000)

McDonald, J. H. & Kretiman, M. Adaptive protein evolution at the Adh locus in Drosophila. Nature 351, 652–654 (1991)

Fay, J. C., Wyckoff, G. J. & Wu, C.-I. Positive and negative selection on the human genome. Genetics 158, 1227–1234 (2001)

Ohta, T. Near-neutrality in evolution of genes and gene regulation. Proc. Natl Acad. Sci. USA 99, 16134–16137 (2002)

Hughes, A. L. Adaptive Evolution of Genes and Genomes (Oxford Univ. Press, New York, 1999)

Swanson, W. J. & Vacquier, V. D. The rapid evolution of reproductive proteins. Nature Rev. Genet. 3, 137–144 (2002)

Wyckoff, G. J., Wang, W. & Wu, C.-I. Rapid evolution of male reproductive genes in the descent of man. Nature 403, 304–309 (2000)

King, M.-C. & Wilson, A. C. Evolution at two levels in humans and chimpanzees. Science 188, 107–116 (1975)

Nachman, M. W. Single nucleotide polymorphisms and recombination rate in humans. Trends Genet. 17, 481–485 (2001)

Enard, W. et al. Intra- and interspecific variation in primate gene expression patterns. Science 296, 340–343 (2002)

Yan, H., Yuan, W., Velculescu, V. E., Vogelstein, B. & Kinzler, K. W. Allelic variation in human gene expression. Science 297, 1143 (2002)

McCollum, M. A. & Sharpe, P. T. Developmental genetics and early hominid craniodental evolution. BioEssays 23, 481–493 (2001)

Andolfatto, P. Adaptive hitchhiking effects on genome variability. Curr. Opin. Genet. Dev. 11, 635–641 (2001)

Diller, K. C., Gilbert, W. A. & Kocher, T. D. Selective sweeps in the human genome: A starting point for identifying genetic differences between modern humans and chimpanzees. Mol. Biol. Evol. 19, 2342–2345 (2002)

Sabetl, P. C. et al. Detecting recent positive selection in the human genome from haplotype structure. Nature 419, 832–837 (2002)

Lai, C. S. L., Fisher, S. E., Hurst, J. A., Vargha-Khadem, F. & Monaco, A. P. A forkhead-domain gene is mutated in a severe speech and language disorder. Nature 413, 519–523 (2001)

Pinker, S. Talk of genetics and vice versa. Nature 413, 465–566 (2001)

Enard, W. et al. Molecular evolution of FOXP2, a gene involved in speech and language. Nature 418, 869–872 (2002)

Coyne, J. A. Evolution under pressure. Nature 418, 19–20 (2002)

Kimbel, W. H., Johanson, D. C. & Rak, Y. The first skull and other new discoveries of Australopithecus afarensis at Hadar, Ethiopia. Nature 368, 449–451 (1994)

Haile-Selassie, Y. Late Miocene hominids from the Middle Awash, Ethiopia. Nature 412, 178–181 (2001)

Asfaw, B. et al. Remains of Homo erectus from Bouri, Middle Awash, Ethiopia. Nature 416, 317–320 (2002)

Hacia, J. G. Genome of the apes. Trends Genet. 17, 637–645 (2001)

Richmond, B. G., Aiello, L. C. & Wood, B. A. Early hominid limb proportions. J. Hum. Evol. 43, 529–548 (2002)

Tajima, F. Statistical method for testing the neutral mutation hypothesis by DNA polymorphism. Genetics 123, 585–596 (1989)

Ptak, S. E. & Przeworski, M. Evidence for population growth in humans is confounded by fine-scale population structure. Trends Genet. 18, 1–5 (2002)
Acknowledgements
Thanks to B. Hopkins and C. Cantalupo for guidance on Fig. 2, and to L. Olds for illustrations; to B. Williams, A. Kopp, S. Paddock, A. Rokas, D. Bownds, J. Doebley, N. Shubin and J. Crow for comments on the manuscript; to P., N. and J. Carroll for inspiration, and to J. Carroll for preparation of the manuscript. S.B.C. is an Investigator of the Howard Hughes Medical Institute.
About this article
Cite this article
Carroll, S. Genetics and the making of Homo sapiens. Nature 422, 849–857 (2003). https://doi.org/10.1038/nature01495
Issue Date:

DOI: https://doi.org/10.1038/nature01495
Comments
By submitting a comment you agree to abide by our Terms and Community Guidelines. If you find something abusive or that does not comply with our terms or guidelines please flag it as inappropriate.