Abstract
MRE11, RAD50 and NBS1 form a highly conserved protein complex (the MRE11 complex) that is involved in the detection, signalling and repair of DNA damage1. We identify MDC1 (KIAA0170/NFBD1), a protein that contains a forkhead-associated (FHA) domain and two BRCA1 carboxy-terminal (BRCT) domains, as a binding partner for the MRE11 complex. We show that, in response to ionizing radiation, MDC1 is hyperphosphorylated in an ATM-dependent manner, and rapidly relocalizes to nuclear foci that also contain the MRE11 complex, phosphorylated histone H2AX and 53BP1. Downregulation of MDC1 expression by small interfering RNA yields a radio-resistant DNA synthesis (RDS) phenotype and prevents ionizing radiation-induced focus formation by the MRE11 complex. However, downregulation of MDC1 does not abolish the ionizing radiation-induced phosphorylation of NBS1, CHK2 and SMC1, or the degradation of CDC25A. Furthermore, we show that overexpression of the MDC1 FHA domain interferes with focus formation by MDC1 itself and by the MRE11 complex, and induces an RDS phenotype. These findings reveal that MDC1-mediated focus formation by the MRE11 complex at sites of DNA damage is crucial for the efficient activation of the intra-S-phase checkpoint.
Relevant articles
Open Access articles citing this article.
Bo Qin

,

Jia Yu

…

Zhenkun Lou

Genome Instability & Disease Open Access 10 August 2022

Jinjiang Chou

,

Markus Kaller

…

Heiko Hermeking

Molecular Cancer Open Access 27 May 2022

Qinglei Hang

,

Liyong Zeng

…

Li Ma

Nature Communications Open Access 29 June 2021
Access options
Subscribe to Journal
Get full journal access for 1 year
$199.00
only $3.90 per issue
All prices are NET prices.
VAT will be added later in the checkout.
Tax calculation will be finalised during checkout.
Buy article
Get time limited or full article access on ReadCube.
$32.00
All prices are NET prices.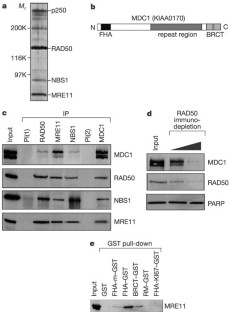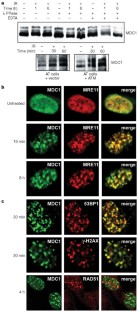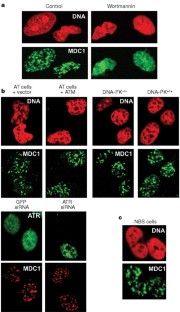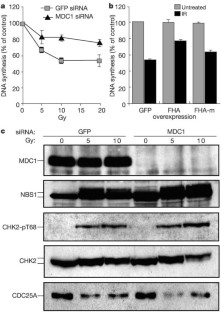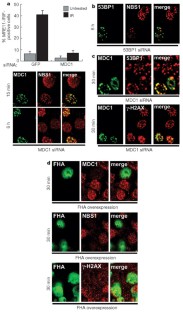 References
D'Amours, D. & Jackson, S. P. The Mre11 complex: at the crossroads of DNA repair and checkpoint signalling. Nature Rev. Mol. Cell Biol. 3, 317–327 (2002)

Gatei, M. et al. ATM-dependent phosphorylation of nibrin in response to radiation exposure. Nature Genet. 25, 115–119 (2000)

Lim, D. S. et al. ATM phosphorylates p95/nbs1 in an S-phase checkpoint pathway. Nature 404, 613–617 (2000)

Wu, X. et al. ATM phosphorylation of Nijmegen breakage syndrome protein is required in a DNA damage response. Nature 405, 477–482 (2000)

Zhao, S. et al. Functional link between ataxia–telangiectasia and Nijmegen breakage syndrome gene products. Nature 405, 473–477 (2000)

Carney, J. P. et al. The hMre11/hRad50 protein complex and Nijmegen breakage syndrome: Linkage of double-strand break repair to the cellular DNA damage response. Cell 93, 477–486 (1998)

Matsuura, S. et al. Positional cloning of the gene for Nijmegen breakage syndrome. Nature Genet. 19, 179–181 (1998)

Stewart, G. S. et al. The DNA double-strand break repair gene hMRE11 is mutated in individuals with an ataxia–telangiectasia-like disorder. Cell 99, 577–587 (1999)

Savitsky, K. et al. A single ataxia telangiectasia gene with a product similar to PI-3 kinase. Science 268, 1749–1753 (1995)

Varon, R. et al. Nibrin, a novel DNA double-strand break repair protein, is mutated in Nijmegen breakage syndrome. Cell 93, 467–476 (1998)

Michelson, R. J. & Weinert, T. Closing the gaps among a web of DNA repair disorders. BioEssays 22, 966–969 (2000)

Shiloh, Y. Ataxia–telangiectasia and the Nijmegen breakage syndrome: Related disorders but genes apart. Annu. Rev. Genet. 31, 635–662 (1997)

Falck, J., Petrini, J. H., Williams, B. R., Lukas, J. & Bartek, J. The DNA damage-dependent intra-S phase checkpoint is regulated by parallel pathways. Nature Genet. 30, 290–294 (2002)

Nagase, T., Seki, N., Ishikawa, K., Tanaka, A. & Nomura, N. Prediction of the coding sequences of unidentified human genes. V. The coding sequences of 40 new genes (KIAA0161–KIAA0200) deduced by analysis of cDNA clones from human cell line KG-1. DNA Res. 3, 17–24 (1996)

Durocher, D. & Jackson, S. P. The FHA domain. FEBS Lett. 513, 58–66 (2002)

Bork, P. et al. A superfamily of conserved domains in DNA damage-responsive cell cycle checkpoint proteins. FASEB J. 11, 68–76 (1997)

Abraham, R. T. Cell cycle checkpoint signaling through the ATM and ATR kinases. Genes Dev. 15, 2177–2196 (2001)

Maser, R. S., Monsen, K. J., Nelms, B. E. & Petrini, J. H. hMre11 and hRad50 nuclear foci are induced during the normal cellular response to DNA double-strand breaks. Mol. Cell. Biol. 17, 6087–6096 (1997)

Schultz, L. B., Chehab, N. H., Malikzay, A. & Halazonetis, T. D. p53 binding protein 1 (53BP1) is an early participant in the cellular response to DNA double-strand breaks. J. Cell Biol. 151, 1381–1390 (2000)

Paull, T. T. et al. A critical role for histone H2AX in recruitment of repair factors to nuclear foci after DNA damage. Curr. Biol. 10, 886–895 (2000)

Rogakou, E. P., Boon, C., Redon, C. & Bonner, W. M. Megabase chromatin domains involved in DNA double-strand breaks in vivo. J. Cell Biol. 146, 905–916 (1999)

Burma, S., Chen, B. P., Murphy, M., Kurimasa, A. & Chen, D. J. ATM phosphorylates histone H2AX in response to DNA double-strand breaks. J. Biol. Chem. 276, 42462–42467 (2001)

Sarkaria, J. N. et al. Inhibition of phosphoinositide 3-kinase related kinases by the radiosensitizing agent wortmannin. Cancer Res. 58, 4375–4382 (1998)

Elbashir, S. M. et al. Duplexes of 21-nucleotide RNAs mediate RNA interference in cultured mammalian cells. Nature 411, 494–498 (2001)

Li, J. et al. Structural and functional versatility of the FHA domain in DNA-damage signaling by the tumour suppressor kinase Chk2. Mol. Cell 9, 1045–1054 (2002)

Falck, J., Mailand, N., Syljuasen, R. G., Bartek, J. & Lukas, J. The ATM–Chk2–Cdc25A checkpoint pathway guards against radioresistant DNA synthesis. Nature 410, 842–847 (2001)

Yazdi, P. T. et al. SMC1 is a downstream effector in the ATM/NBS1 branch of the human S-phase checkpoint. Genes Dev. 16, 571–582 (2002)

Kim, S. T., Xu, B. & Kastan, M. B. Involvement of the cohesin protein, Smc1, in Atm-dependent and independent responses to DNA damage. Genes Dev. 16, 560–570 (2002)

Maser, R. S. et al. Mre11 complex and DNA replication: Linkage to E2F and sites of DNA synthesis. Mol. Cell Biol. 21, 6006–6016 (2001)

Ozaki, T. et al. NFBD1/KIAA0170 is a novel nuclear transcriptional transactivator with BRCT domain. DNA Cell Biol. 19, 475–485 (2000)
Acknowledgements
We thank Y. Shiloh for AT complemented cells, T. D. Halazonetis for anti-53BP1 antibodies, J. Petrini for anti-MRE11 and anti-NBS1 antibodies, and M. Kastan and K. K. Khanna for anti-NBS1-S343(P) antibodies. We thank S.P.J. laboratory members for helpful discussions and critical reading of the manuscript, especially J. Bradbury, F. d'Adda di Fagagna, M. Grenon, J. Rouse and V. Smits. We thank S. Elledge for sharing unpublished results. This study was supported by grants from the Association for International Cancer Research, the A-T Medical Research Trust and the Swiss National Foundation. Research in the S.P.J. laboratory is funded by Cancer Research UK.
Ethics declarations
Competing interests
S. Jackson founded KuDOS Pharmaceuticals Ltd and is chief scientific officer of the company. KuDOS is using knowledge of DNA repair pathways to discover and develop new therapies for cancer and other human diseases.
About this article
Cite this article
Goldberg, M., Stucki, M., Falck, J. et al. MDC1 is required for the intra-S-phase DNA damage checkpoint. Nature 421, 952–956 (2003). https://doi.org/10.1038/nature01445
Received:

Accepted:

Issue Date:

DOI: https://doi.org/10.1038/nature01445
Comments
By submitting a comment you agree to abide by our Terms and Community Guidelines. If you find something abusive or that does not comply with our terms or guidelines please flag it as inappropriate.