Abstract
Spectroscopic measurements with increasingly higher time resolution are generally thought to require increasingly shorter laser pulses, as illustrated by the recent monitoring of the decay of core-excited krypton1 using attosecond photon pulses2,3. However, an alternative approach to probing ultrafast dynamic processes might be provided by entanglement, which has improved the precision4,5 of quantum optical measurements. Here we use this approach to observe the motion of a D2+ vibrational wave packet formed during the multiphoton ionization of D2 over several femtoseconds with a precision of about 200 attoseconds and 0.05 ångströms, by exploiting the correlation between the electronic and nuclear wave packets formed during the ionization event. An intense infrared laser field drives the electron wave packet, and electron recollision6,7,8,9,10,11 probes the nuclear motion. Our results show that laser pulse duration need not limit the time resolution of a spectroscopic measurement, provided the process studied involves the formation of correlated wave packets, one of which can be controlled; spatial resolution is likewise not limited to the focal spot size or laser wavelength.
Access options
Subscribe to Journal
Get full journal access for 1 year
$199.00
only $3.90 per issue
All prices are NET prices.
VAT will be added later in the checkout.
Rent or Buy article
Get time limited or full article access on ReadCube.
from$8.99
All prices are NET prices.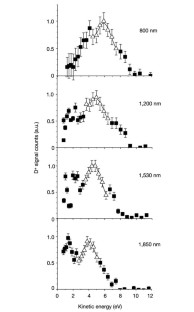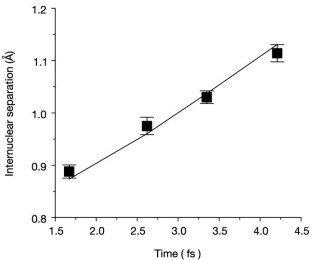 References
1

Drescher, M. et al. Time-resolved atomic inner-shell spectroscopy. Nature 419, 803–807 (2002)

2

Hentschel, M. et al. Attosecond metrology. Nature 414, 509–513 (2001)

3

Paul, P. M. et al. Observation of a train of attosecond pulses from high harmonic generation. Science 292, 1689–1692 (2001)

4

D'Ariano, G. M., Presti, P. L. & Paris, M. G. A. Using entanglement improves the precision of quantum measurements. Phys. Rev. Lett. 87, 27040 (2001)

5

Resch, K. J., Lundeen, J. S. & Steinberg, A. M. Experimental observation of nonclassical effects on single-photon detection rates. Phys. Rev. A 63, 020102 (2000)

6

Niikura, H. et al. Sub-laser-cycle electron pulses for probing molecular dynamics. Nature 417, 917–922 (2002)

7

Corkum, P. B. Plasma perspective on strong field multiphoton ionization. Phys. Rev. Lett. 71, 1994–1997 (1993)

8

Dietrich, P., Burnett, N. H., Ivanov, M. & Corkum, P. B. High harmonic generation and correlated two-electron multiphoton ionization with elliptically polarized light. Phys. Rev. A 50, 3585–3588 (1994)

9

Paulus, G. G., Nicklich, W., Xu, H., Lambropoulos, P. & Walther, H. Plateau in above threshold ionization spectra. Phys. Rev. Lett. 72, 2851–2854 (1994)

10

Weber, Th. et al. Correlated electron emission with multiphoton double ionization. Nature 405, 658–661 (2000)

11

Bhardwaj, V. R., Rayner, D. M., Villeneuve, D. M. & Corkum, P. B. Quantum interference in double ionization and fragmentation of C6H6 in intense laser fields. Phys. Rev. Lett. 87, 253003 (2001)

12

Zewail, A. H. Femtosecond chemistry. Science 242, 1645–1653 (1988)

13

Krause, J. L., Schafer, K. J. & Kulander, K. C. High-order harmonic generation from atoms and ions in the high intensity regime. Phys. Rev. Lett. 68, 3535–3538 (1992)

14

Lewenstein, M., Balcou, Ph., Ivanov, M. Yu., L'Huillier, A. & Corkum, P. B. Theory of high-harmonic generation by low-frequency laser fields. Phys. Rev. A 49, 2117–2132 (1994)

15

Ivanov, M., Corkum, P. B., Zuo, T. & Bandrauk, A. Routes to control of intense-field atomic polarizability. Phys. Rev. Lett. 74, 2933–2936 (1995)

16

Lein, M., Hay, N., Velotta, R., Marangos, J. P. & Knight, P. L. Role of the intramolecular phase in high-harmonic generation. Phys. Rev. Lett. 88, 183903 (2002)

17

Hargittai, I. & Hargittai, M. Stereochemical Applications of Gas-Phase Electron Diffraction (VCH, New York, 1998)

18

Yudin, G. L. & Ivanov, M. Yu. Physics of correlated double ionization of atoms in intense laser fields: Quasistatic tunneling limit. Phys. Rev. A 63, 033404 (2001); erratum 64, 019902 (2001)

19

Peek, J. M. Inelastic scattering of electrons by the hydrogen molecule ion. Phys. Rev. A 134, 877–883 (1964)

20

Schinke, R. Photodissociation Dynamics 114–115 (Cambridge Univ. Press, Cambridge, UK, 1993)

21

Itatani, J. et al. Attosecond streak camera. Phys. Rev. Lett. 88, 173903 (2002)

22

Lambropoulos, P. Mechanisms for multiple ionization of atoms by strong pulsed lasers. Phys. Rev. Lett. 55, 2141–2144 (1985)

23

Zavriyev, A., Bucksbaum, P. H., Muller, H. G. & Schumacher, D. W. Ionization and dissociation of H2 in intense laser fields at 1.064 µm, 532 nm, and 355 nm. Phys. Rev. A 42, R5500–R5513 (1990)

24

Codling, K. & Frasinski, L. J. Dissociative ionization of small molecules in intense laser fields. J. Phys. B 26, 783–809 (1993)

25

Seideman, T., Ivanov, M. Yu. & Corkum, P. B. Role of electron localization in intense-field molecular ionization. Phys. Rev. Lett. 75, 2819–2822 (1995)

26

Zuo, T. & Bandrauk, A. D. Charge-resonance-enhanced ionization of diatomic molecular ions by intense lasers. Phys Rev. A 52, R2511–R2514 (1995)

27

Constant, E., Stapelfeldt, H. & Corkum, P. B. Observation of enhanced ionization of molecular ions in intense laser fields. Phys. Rev. Lett. 76, 4140–4143 (1996)
Acknowledgements
We acknowledge discussions with A. Stolow, A. Sokolov, A. D. Bandrauk, S. Chelkowski and J. Marangos. The authors appreciate financial support from Canada's Natural Science and Engineering Research Council, the Canadian Institute for Photonics Innovation, and Le Fonds Québécois de la Recherche sur la Nature et les Technologies.
Ethics declarations
Competing interests
The authors declare that they have no competing financial interests.
About this article
Cite this article
Niikura, H., Légaré, F., Hasbani, R. et al. Probing molecular dynamics with attosecond resolution using correlated wave packet pairs. Nature 421, 826–829 (2003). https://doi.org/10.1038/nature01430
Received:

Accepted:

Issue Date:
Comments
By submitting a comment you agree to abide by our Terms and Community Guidelines. If you find something abusive or that does not comply with our terms or guidelines please flag it as inappropriate.