Abstract
To understand the physical processes that occur in nature we need to obtain a solid concept about the 'fundamental' forces acting between pairs of elementary particles. It is also necessary to describe the temporal and spatial evolution of many mutually interacting particles under the influence of these forces. This latter step, known as the few-body problem, remains an important unsolved problem in physics. Experiments involving atomic collisions represent a useful testing ground for studying the few-body problem. For the single ionization of a helium atom by charged particle impact, kinematically complete experiments have been performed1,2,3,4,5,6 since 1969 (ref. 7). The theoretical analysis of such experiments was thought to yield a complete picture of the basic features of the collision process, at least for large collision energies8,9,10,11,12,13,14. These conclusions are, however, almost exclusively based on studies of restricted electron-emission geometries1,2,3. Here, we report three-dimensional images of the complete electron emission pattern for the single ionization of helium by the impact of C6+ ions of energy 100 MeV per a.m.u. (a four-body system) and observe features that have not been predicted by any published theoretical model. We propose a higher-order ionization mechanism, involving the interaction between the projectile and the target nucleus, to explain these features.
Access options
Subscribe to this journal
Receive 51 print issues and online access
$199.00 per year
only $3.90 per issue
Rent or buy this article
Get just this article for as long as you need it
$39.95
Prices may be subject to local taxes which are calculated during checkout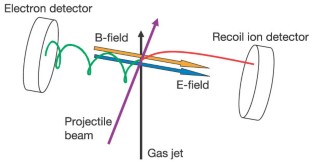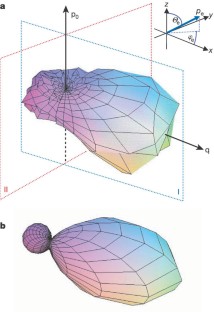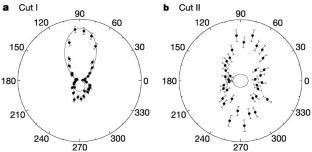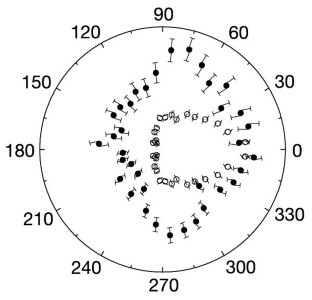 References
Ehrhardt, H., Jung, K., Knoth, G. & Schlemmer, P. Differential cross sections of direct single electron impact ionization. Z. Phys. D 1, 3–32 (1986)

Stefani, G., Avaldi, L. & Camilloni, R. On the relevance of the final ionic state to the (e,2e), TDCS. J. Phys. B 23, L227–L231 (1990)

Lahmam-Bennani, A. Recent developments and new trends in (e,2e) and (e,3e) studies. J. Phys. B 24, 2401–2442 (1991)

Murray, A. J., Woolf, M. B. J. & Read, F. H. Results from symmetric and non-symmetric energy sharing (e,2e) experiments in the perpendicular plane. J. Phys. B 25, 3021–3036 (1992)

Röder, J., Ehrhardt, H., Bray, I., Fursa, D. V. & McCarthy, I. E. Absolute triple differential cross-section for electron-impact ionization of helium at 40 eV. J. Phys. B 29, 2103–2114 (1996)

Schulz, M. et al. Triply differential single ionization cross-sections in coplanar and non-coplanar geometry for fast heavy ion-atom collisions. J. Phys. B 34, L305–L311 (2001)

Ehrhardt, H., Schulz, M., Tekaat, T. & Willmann, K. Ionization of helium: angular correlation of the scattered and ejected electrons. Phys. Rev. Lett. 22, 82–92 (1969)

Bray, I. & Stelbovics, A. T. Explicit demonstration of the convergence of the close-coupling method for a Coulomb three-body problem. Phys. Rev. Lett. 69, 53–56 (1992)

Rescigno, T. N., Baertschy, M., Isaacs, W. A. & McCurdy, C. W. Collisional breakup in a quantum system of three charged particles. Science 286, 2474–2479 (1999)

Belkic, Dz. A quantum theory of ionisation in fast collisions between ions and atomic systems. J. Phys. B 11, 3529–3552 (1978)

Crothers, D. S. F. & McCann, J. F. Ionisation of atoms by ion impact. J. Phys. B 16, 3229–3242 (1983)

Jones, S. & Madison, D. H. Evidence of initial-state two-center effects for (e,2e) reactions. Phys. Rev. Lett. 81, 2886–2889 (1998)

Madison, D., Schulz, M., Jones, S., Foster, M., Moshammer, R. & Ullrich, J. Comparison of theoretical and absolute experimental fully differential cross sections for ion-atom impact ionization. J. Phys. B 15, 3297–3314 (2002)

Crothers, D. S. F. et al. Magnetically quantized continuum distorted waves. Phys. Rev. Lett. 88, 053201–053204 (2002)

Ullrich, J. et al. Recoil-ion, momentum spectroscopy. J. Phys. B 30, 2917–2974 (1997)

Whelan, C. T., Allan, R. J., Walters, H. R. J. & Zhang, X. in (e,2e) and Related Processes (eds Whelan, C. T., Walters, H. R. J., Lahmam-Bennani, A. & Ehrhardt, H.) Vol. 414 of Series C: Mathematical and Physical Sciences 1–32 (Kluwer, Dordrecht, 1993)

Marchalant, P., Whelan, C. T. & Walters, H. R. J. Second-order effects in (e,2e) excitation-ionization of helium to He+ (n = 2). J. Phys. B 31, 1141–1178 (1998)
Acknowledgements
We thank W. Schmitt, R. Mann, R. Dörner, T. Weber, Kh. Khayyat, A. Cassimi, L. Adoui, J. P. Grandin and staff members of the CIRIL for their help performing the experiment at the GANIL; thanks to R. E. Olson and J. Fiol for discussions. The support of the Deutsche Forschungsgemeinschaft within the Leibniz-program, by GSI, the European Union, the NSF and by CIRIL (GANIL at Caen) is acknowledged.
Ethics declarations
Competing interests
The authors declare that they have no competing financial interests.
About this article
Cite this article
Schulz, M., Moshammer, R., Fischer, D. et al. Three-dimensional imaging of atomic four-body processes. Nature 422, 48–50 (2003). https://doi.org/10.1038/nature01415
Received:

Accepted:

Issue Date:

DOI: https://doi.org/10.1038/nature01415
Comments
By submitting a comment you agree to abide by our Terms and Community Guidelines. If you find something abusive or that does not comply with our terms or guidelines please flag it as inappropriate.