Abstract
The circulation of light within dielectric volumes enables storage of optical power near specific resonant frequencies and is important in a wide range of fields including cavity quantum electrodynamics1,2, photonics3,4, biosensing5,6 and nonlinear optics7,8,9. Optical trajectories occur near the interface of the volume with its surroundings, making their performance strongly dependent upon interface quality. With a nearly atomic-scale surface finish, surface-tension-induced microcavities such as liquid droplets or spheres10,11,12,13 are superior to all other dielectric microresonant structures when comparing photon lifetime or, equivalently, cavity Q factor. Despite these advantageous properties, the physical characteristics of such systems are not easily controlled during fabrication. It is known that wafer-based processing14 of resonators can achieve parallel processing and control, as well as integration with other functions. However, such resonators-on-a-chip suffer from Q factors that are many orders of magnitude lower than for surface-tension-induced microcavities, making them unsuitable for ultra-high-Q experiments. Here we demonstrate a process for producing silica toroid-shaped microresonators-on-a-chip with Q factors in excess of 100 million using a combination of lithography, dry etching and a selective reflow process. Such a high Q value was previously attainable only by droplets or microspheres and represents an improvement of nearly four orders of magnitude over previous chip-based resonators.
Relevant articles
Open Access articles citing this article.
Scientific Reports Open Access 29 March 2022
Access options
Subscribe to Journal
Get full journal access for 1 year
$199.00
only $3.90 per issue
All prices are NET prices.
VAT will be added later in the checkout.
Tax calculation will be finalised during checkout.
Buy article
Get time limited or full article access on ReadCube.
$32.00
All prices are NET prices.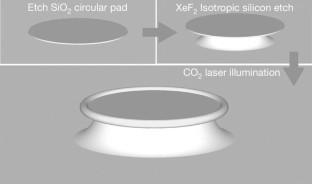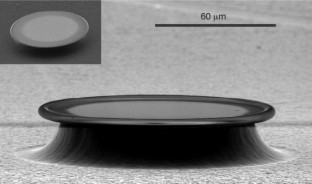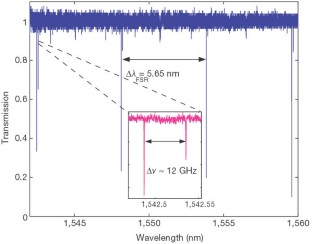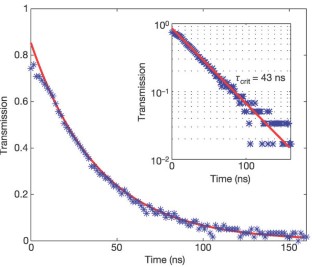 References
Lefevre-Seguin, V. & Haroche, S. Towards cavity-QED experiments with silica microspheres. Mater. Sci. Eng. B 48, 53–58 (1997)

Vernooy, D. W., Furusawa, A., Georgiades, N. P., Ilchenko, V. S. & Kimble, H. J. Cavity QED with high-Q whispering gallery modes. Phys. Rev. A 57, R2293–R2296 (1998)

McCall, S. L., Levi, A. F. J., Slusher, R. E., Pearton, S. J. & Logan, R. A. Whispering-gallery mode microdisk lasers. Appl. Phys. Lett. 60, 289–291 (1992)

Sandoghdar, V. et al. Very low threshold whispering-gallery-mode microsphere laser. Phys. Rev. A 54, R1777–R1780 (1996)

Vollmer, F. et al. Protein detection by optical shift of a resonant microcavity. Appl. Phys. Lett. 80, 4057–4059 (2002)

Serpenguzel, A., Arnold, S. & Griffel, G. Excitation of resonances of microspheres on an optical fiber. Opt. Lett. 20, 654–656 (1995)

Chang, R. K. & Campillo, A. J. (eds) Optical Processes in Microcavities (World Scientific, Singapore, 1996)

Treussart, F. et al. Evidence for intrinsic Kerr bistability of high-Q microsphere resonators in superfluid helium. Eur. Phys. J. D 1, 235–238 (1998)

Spillane, S. M., Kippenberg, T. J. & Vahala, K. J. Ultralow-threshold Raman laser using a spherical dielectric microcavity. Nature 415, 621–623 (2002)

Campillo, A. J., Eversole, J. D. & Lin, H-B. Cavity quantum electrodynamic enhancement of stimulated emission in microdroplets. Phys. Rev. Lett. 67, 437–440 (1991)

Braginsky, V. B., Gorodetsky, M. L. & Ilchenko, V. S. Quality-factor and nonlinear properties of optical whispering-gallery modes. Phys. Lett. A 137, 393–397 (1989)

Collot, L., Lefevre-Seguin, V., Brune, M., Raimond, J. M. & Haroche, S. Very high-Q whispering-gallery mode resonances observed on fused-silica microspheres. Europhys. Lett. 23, 327–334 (1993)

Vernooy, D. W., Ilchenko, V. S., Mabuchi, H., Steed, E. W. & Kimble, H. J. High-Q measurements of fused-silica microspheres in the near infrared. Opt. Lett. 23, 247–249 (1998)

Himeno, A., Kato, K. & Miya, T. Silica-based planar lightwave circuits. IEEE J. Sel. Top. Quant. 4, 913–924 (1998)

Delfino, M. & Reifsteck, T. A. Laser activated flow of phosphosilicate glass in integrated circuit devices. Elect. Device Lett. 3, 116–118 (1982)

McLachlan, A. D. & Meyer, F. P. Temperature dependence of the extinction coefficient of fused silica for CO2 laser wavelengths. Appl. Opt. 26, 1728–1731 (1987)

Sheik-bahae, M. & Kwok, H. S. Controlled CO2 laser melting of silicon. J. Appl. Phys. 63, 518–524 (1988)

Knight, J. C., Cheung, G., Jacques, F. & Birks, T. A. Phase-matched excitation of whispering-gallery-model resonances by a fiber taper. Opt. Lett. 22, 1129–1131 (1997)

Cai, M., Painter, O. & Vahala, K. J. Observation of critical coupling in a fiber taper to a silica-microsphere whispering-gallery mode system. Phys. Rev. Lett. 85, 74–77 (2000)

Michler, P. et al. Laser emission from quantum dots in microdisk structures. Appl. Phys. Lett. 77, 184–186 (2001)

Gayral, B. et al. High-Q wet-etched GaAs microdisks containing InAs quantum boxes. Appl. Phys. Lett. 75, 1908–1910 (1999)

Kippenberg, T. J., Spillane, S. M. & Vahala, K. J. Modal coupling in traveling-wave resonators. Opt. Lett. 27, 1669–1671 (2002)

Hansel, W., Hommelhoff, P., Hansch, T. W. & Reichel, J. Bose–Einstein condensation on a microelectronic chip. Nature 413, 498–501 (2001)
Acknowledgements
This work was supported by DARPA and the Caltech Lee Center.
Ethics declarations
Competing interests
The authors declare that they have no competing financial interests.
About this article
Cite this article
Armani, D., Kippenberg, T., Spillane, S. et al. Ultra-high-Q toroid microcavity on a chip. Nature 421, 925–928 (2003). https://doi.org/10.1038/nature01371
Received:

Accepted:

Issue Date:

DOI: https://doi.org/10.1038/nature01371
Comments
By submitting a comment you agree to abide by our Terms and Community Guidelines. If you find something abusive or that does not comply with our terms or guidelines please flag it as inappropriate.