Abstract
Mutations in ion channels involved in the generation and termination of action potentials constitute a family of molecular defects that underlie fatal cardiac arrhythmias in inherited long-QT syndrome1. We report here that a loss-of-function (E1425G) mutation in ankyrin-B (also known as ankyrin 2), a member of a family of versatile membrane adapters2, causes dominantly inherited type 4 long-QT cardiac arrhythmia in humans. Mice heterozygous for a null mutation in ankyrin-B are haploinsufficient and display arrhythmia similar to humans. Mutation of ankyrin-B results in disruption in the cellular organization of the sodium pump, the sodium/calcium exchanger, and inositol-1,4,5-trisphosphate receptors (all ankyrin-B-binding proteins), which reduces the targeting of these proteins to the transverse tubules as well as reducing overall protein level. Ankyrin-B mutation also leads to altered Ca2+ signalling in adult cardiomyocytes that results in extrasystoles, and provides a rationale for the arrhythmia. Thus, we identify a new mechanism for cardiac arrhythmia due to abnormal coordination of multiple functionally related ion channels and transporters.
This is a preview of subscription content
Access options
Subscribe to Journal
Get full journal access for 1 year
$199.00
only $3.90 per issue
All prices are NET prices.
VAT will be added later in the checkout.
Tax calculation will be finalised during checkout.
Buy article
Get time limited or full article access on ReadCube.
$32.00
All prices are NET prices.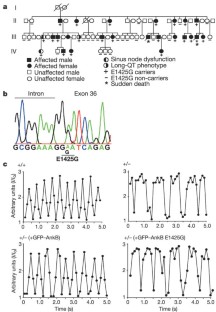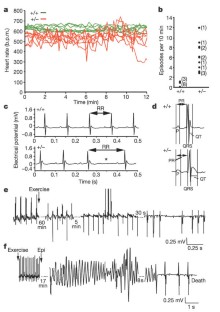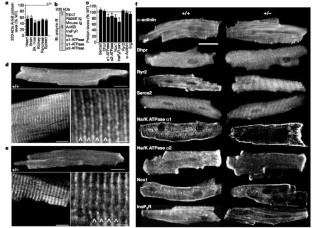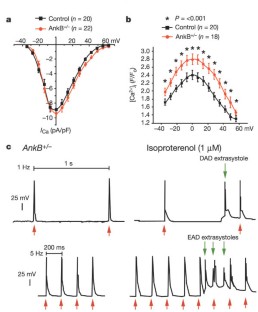 References
Keating, M. T. & Sanguinetti, M. C. Molecular and cellular mechanisms of cardiac arrhythmias. Cell 104, 569–580 (2001)

Mohler, P. J., Gramolini, A. O. & Bennett, V. Ankyrins. J. Cell Sci. 115, 1565–1566 (2002)

Schott, J. J. et al. Mapping of a gene for long QT syndrome to chromosome 4q25-27. Am. J. Hum. Genet. 57, 1114–1122 (1995)

Tuvia, S., Buhusi, M., Davis, L., Reedy, M. & Bennett, V. Ankyrin-B is required for intracellular sorting of structurally diverse Ca2+ homeostasis proteins. J. Cell Biol. 147, 995–1008 (1999)

Mohler, P. J., Gramolini, A. O. & Bennett, V. The Ankyrin-B C-terminal domain determines activity of Ankyrin-B/G chimeras in rescue of abnormal inositol 1,4,5-trisphosphate and ryanodine receptor distribution in ankyrin-B (-/-) neonatal cardiomyocytes. J. Biol. Chem. 277, 10599–10607 (2002)

Towbin, J. A. & Vatta, M. Molecular biology and the prolonged QT syndromes. Am. J. Med. 110, 385–398 (2001)

Casimiro, M. C. et al. Targeted disruption of the Kcnq1 gene produces a mouse model of Jervell and Lange-Nielsen Syndrome. Proc. Natl Acad. Sci. USA 98, 2526–2531 (2001)

Jenkins, S. M. & Bennett, V. Ankyrin-G coordinates assembly of the spectrin-based membrane skeleton, voltage-gated sodium channels, and L1 CAMs at Purkinje neuron initial segments. J. Cell Biol. 155, 739–746 (2001)

Bennett, V. & Baines, A. J. Spectrin and ankyrin-based pathways: metazoan inventions for integrating cells into tissues. Physiol. Rev. 81, 1353–1392 (2001)

Frank, J. S. & Garfinkel, A. in The Myocardium (ed. Langer, G. A.) 1–32 (Academic, San Diego, California, 1997)

Bers, D. M. Excitation-Contraction Coupling and Cardiac Contractile Force (Kluwer, Dordrecht, 2001)

Marks, A. R., Priori, S., Memmi, M., Kontula, K. & Laitinen, P. J. Involvement of the cardiac ryanodine receptor/calcium release channel in catecholaminergic polymorphic ventricular tachycardia. J. Cell Physiol. 190, 1–6 (2002)

Blaustein, M. P. & Lederer, W. J. Sodium/calcium exchange: its physiological implications. Physiol. Rev. 79, 763–854 (1999)

Reuter, H. et al. The Na+-Ca2+ exchanger is essential for the action of cardiac glycosides. Circ. Res. 90, 305–308 (2002)

Philipson, K. D. & Nicoll, D. A. Sodium-calcium exchange: a molecular perspective. Annu. Rev. Physiol. 62, 111–133 (2000)

Santana, L. F., Kranias, E. G. & Lederer, W. J. Calcium sparks and excitation-contraction coupling in phospholamban-deficient mouse ventricular myocytes. J. Physiol. 503, 21–29 (1997)

Santana, L. F., Gomez, A. M. & Lederer, W. J. Ca2+ flux through promiscuous cardiac Na+ channels: slip-mode conductance. Science 279, 1027–1033 (1998)

Gomez, A. M. et al. Defective excitation-contraction coupling in experimental cardiac hypertrophy and heart failure. Science 276, 800–806 (1997)

duBell, W. H., Lederer, W. J. & Rogers, T. B. Dynamic modulation of excitation-contraction coupling by protein phosphatases in rat ventricular myocytes. J. Physiol. 493, 793–800 (1996)
Acknowledgements
We thank the type 4 long-QT family for participation. Research support was provided by the Howard Hughes Medical Institute, NIH, the Muscular Dystrophy Association, Canadian Institutes of Health, the Institut National de la Santé et de la Recherche Médicale (INSERM), and the programme Hospitalier de Recherche Clinique. We also thank C. Kontos and B. Knollman for discussions.
Ethics declarations
Competing interests
The authors declare that they have no competing financial interests.
Supplementary information
About this article
Cite this article
Mohler, P., Schott, JJ., Gramolini, A. et al. Ankyrin-B mutation causes type 4 long-QT cardiac arrhythmia and sudden cardiac death. Nature 421, 634–639 (2003). https://doi.org/10.1038/nature01335
Received:

Accepted:

Issue Date:

DOI: https://doi.org/10.1038/nature01335
Comments
By submitting a comment you agree to abide by our Terms and Community Guidelines. If you find something abusive or that does not comply with our terms or guidelines please flag it as inappropriate.