Abstract
Mixed-valent manganites are noted for their unusual magnetic, electronic and structural phase transitions. For example, the La1-xCaxMnO3 phase diagram1 shows that below transition temperatures in the range 100–260 K, compounds with 0.2 < x < 0.5 are ferromagnetic and metallic, whereas those with 0.5 < x < 0.9 are antiferromagnetic and charge ordered. In a narrow region around x = 0.5, these totally dissimilar ground states are thought to coexist2,3. It has been shown4 that charge order and charge disorder can coexist in the related compound, La0.25Pr0.375Ca0.375MnO3. Here we present electron microscopy data for La0.5Ca0.5MnO3 that shed light on the distribution of these coexisting phases, and uncover an additional, unexpected phase. Using electron holography and Fresnel imaging, we find micrometre-sized ferromagnetic regions spanning several grains coexisting with similar-sized regions with no local magnetization. Holography shows that the ferromagnetic regions have a local magnetization of 3.4 ± 0.2 Bohr magnetons per Mn atom (the spin-aligned value is 3.5 µB per Mn). We use electron diffraction and dark-field imaging to show that charge order exists in regions with no net magnetization and, surprisingly, can also occur in ferromagnetic regions.
Your institute does not have access to this article
Relevant articles
Open Access articles citing this article.
Jiarui Li

,

Jonathan Pelliciari

…

Riccardo Comin

Nature Communications Open Access 15 October 2019

Nikolaos Panopoulos

,

Michael Pissas

…

Georgios Papavassiliou

npj Quantum Materials Open Access 11 April 2018

Yinyan Zhu

,

Kai Du

…

Jian Shen

Nature Communications Open Access 07 April 2016
Access options
Subscribe to Journal
Get full journal access for 1 year
$199.00
only $3.90 per issue
All prices are NET prices.
VAT will be added later in the checkout.
Tax calculation will be finalised during checkout.
Buy article
Get time limited or full article access on ReadCube.
$32.00
All prices are NET prices.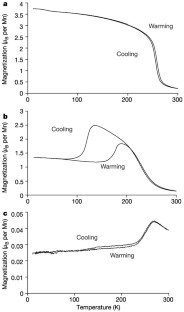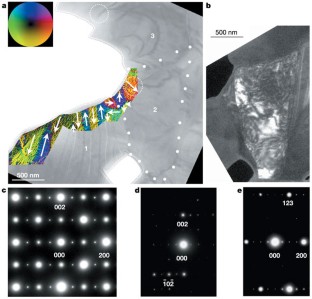 References
Cheong, S.-W. & Hwang, H. Y. Colossal Magnetoresistive Oxides Monographs in Condensed Matter Science, Ch. 7 (ed. Tokura, Y.) (Gordon & Breach, Reading, UK, 2000)

Moreo, A., Yunoki, S. & Dagotto, E. Phase separation scenario for manganese oxides and related materials. Science 283, 2034–2040 (1999)

Mathur, N. D. & Littlewood, P. B. The self-organised phases of manganites. Solid State Commun. 119, 271–280 (2001)

Uehara, M., Mori, S., Chen, C. H. & Cheong, S.-W. Percolative phase separation underlies colossal magnetoresistance in mixed valent manganites. Nature 399, 560–563 (1999)

Levy, P. et al. Controlled phase separation in La0.5Ca0.5MnO3 . Phys. Rev. B 62, 6437–6441 (2000)

Radaelli, P. G., Cox, D. E., Capogna, L., Cheong, S.-W. & Marezio, M. Wigner-crystal and bi-stripe models for the magnetic and crystallographic superstructures of La0.333Ca0.667MnO3 . Phys. Rev. B 59, 14440–14450 (1999)

Roy, M., Mitchell, J. F., Ramirez, A. P. & Schiffer, P. Doping-induced transition from double exchange to charge order in La1-xCaxMnO3 near x = 0.5. Phys. Rev. B 58, 5185–5188 (1998)

Goodenough, J. B. Theory of the role of covalence in the perovskite type manganites [La,M(II)]MnO3 . Phys. Rev. 100, 564–573 (1955)

De Gennes, P.-G. Effects of double exchange in magnetic crystals. Phys. Rev. 118, 141–154 (1960)

Zener, C. Interaction between the d shells in the transition metals. II. Ferromagnetic compounds of manganese with perovskite structure. Phys. Rev. 82, 403–405 (1951)

Radaelli, P. G., Cox, D., Marezio, M. & Cheong, S.-W. Charge, orbital and magnetic ordering in La0.5Ca0.5MnO3 . Phys. Rev B 55, 3015–3023 (1997)

Mori, S., Chen, C. H. & Cheong, S.-W. Pairing of charge-ordered stripes in (La,Ca)MnO3 . Nature 392, 473–476 (1998)

Chen, C. H., Cheong, S.-W. & Hwang, H. Y. Charge-ordered stripes in La1-xCaxMnO3 with x > 0.5. J. Appl. Phys. 81, 4326–4330 (1997)

Hirsh, P., Howie, A., Nicholson, R., Pashley, D. W. & Whelan, M. J. Electron Microscopy of Thin Crystals, 2nd edn (Krieger, Malabar, Florida, 1977)

Lloyd, S. J., Mathur, N. D., Loudon, J. C. & Midgley, P. A. Magnetic domain wall width in La0.7Ca0.3MnO3 thin films using Fresnel imaging. Phys. Rev. B 64, 172407 (2001)

Dunin-Borkowski, R. E., McCartney, M. R, Smith, D. J. & Parkin, S. S. P. Towards quantitative electron holography of magnetic thin films using in-situ magnetization reversal. Ultramicroscopy 74, 61–73 (1998)

Rez, D., Rez, P. & Grant, I. Dirac-Fock calculations of x-ray scattering factors and contributions to the mean inner potential for electron scattering. Acta Crystallogr. A 50, 481–497 (1994)

Suzuki, Y. et al. Magnetic anisotropy of doped manganite thin films and crystals. J. Appl. Phys. 83, 7064–7066 (1998)

Mori, S., Asaka, T. & Matsui, Y. Observation of magnetic domain structure in phase-separated manganites by Lorentz electron microscopy. J. Electron Microsc. 51, 225–229 (2002)

Yunoki, S., Hotta, T. & Dagotto, E. Ferromagnetic A-type, and charge-ordered CE-type states in doped manganites using Jahn-Teller phonons. Phys. Rev. Lett. 84, 3714–3717 (2000)

Zuo, J. M. & Tao, J. Nanometer-sized regions of charge ordering and charge melting in La2/3Ca1/3MnO3 revealed by electron microdiffraction. Phys. Rev. B 63, 060407 (2001)
Acknowledgements
We thank R. Dunin-Borkowski for help with electron holography, D. Vowles for help in using the scanning electron microscope, A. Williams and J. P. Attfield for discussions, and A. J. Millis and P. B. Littlewood for information on the nature of charge order. This work was funded by the UK EPSRC and by the Royal Society.
Ethics declarations
Competing interests
The authors declare that they have no competing financial interests.
Supplementary information
About this article
Cite this article
Loudon, J., Mathur, N. & Midgley, P. Charge-ordered ferromagnetic phase in La0.5Ca0.5MnO3. Nature 420, 797–800 (2002). https://doi.org/10.1038/nature01299
Received:

Accepted:

Issue Date:

DOI: https://doi.org/10.1038/nature01299
Comments
By submitting a comment you agree to abide by our Terms and Community Guidelines. If you find something abusive or that does not comply with our terms or guidelines please flag it as inappropriate.