Abstract
The atmosphere of Jupiter's satellite Io is extremely tenuous, time variable and spatially heterogeneous. Only a few molecules—SO2, SO and S2—have previously been identified as constituents of this atmosphere, and possible sources1,2,3,4 include frost sublimation, surface sputtering and active volcanism. Io has been known5,6 for almost 30 years to be surrounded by a cloud of Na, which requires an as yet unidentified atmospheric source of sodium. Sodium chloride has been recently proposed as an important atmospheric constituent, based on the detection of chlorine in Io's plasma torus7,8 and models of Io's volcanic gases9 . Here we report the detection of NaCl in Io's atmosphere; it constitutes only ∼0.3% when averaged over the entire disk, but is probably restricted to smaller regions than SO2 because of its rapid photolysis and surface condensation10. Although the inferred abundance of NaCl in volcanic gases is lower than predicted9, those volcanic emissions provide an important source of Na and Cl in Io's neutral clouds and plasma torus.
Access options
Subscribe to Journal
Get full journal access for 1 year
$199.00
only $3.90 per issue
All prices are NET prices.
VAT will be added later in the checkout.
Rent or Buy article
Get time limited or full article access on ReadCube.
from$8.99
All prices are NET prices.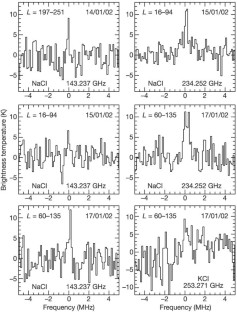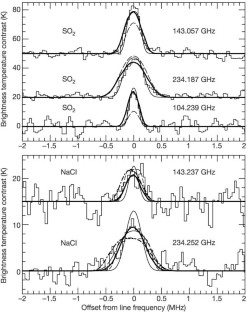 References
1

Spencer, J. R. & Schneider, N. M. Io on the eve of the Galileo mission. Annu. Rev. Earth Planet Sci. 24, 125–190 (1996)

2

Lellouch, E. Io's atmosphere: not yet understood. Icarus 124, 1–21 (1996)

3

McGrath, M. A., Belton, M. J. S., Spencer, J. R. & Sartoretti, P. Spatially resolve spectroscopy of Io's Pele plume and SO2 atmosphere. Icarus 146, 476–493 (2000)

4

Spencer, J. R. et al. Discovery of gaseous S2 in Io's Pele plume. Science 288, 1208–1210 (2000)

5

Brown, R. A. in Exploration of the Solar System (eds Woszczyk, A. & Iwaniszewska, C.) 531–537 (Reider, Hingham, MA, 1974)

6

Trafton, L., Parkinson, T. & Macy, W. The spatial extent of sodium emission around Io. Astrophys. J. 190, L85–L89 (1974)

7

Kueppers, M. & Schneider, N. M. Discovery of chlorine in the Io torus. Geophys. Res. Lett. 27, 513–516 (2000)

8

Feldman, P. D. et al. Detection of chlorine ions in the Far Ultraviolet Spectrum Explorer spectrum of the Io plasma torus. Astrophys. J. 554, L123–L126 (2001)

9

Fegley, B. Jr & Zolotov, M. Yu. Jr Chemistry of sodium, potassium, and chlorine in volcanic gases on Io. Icarus 148, 139–210 (2000)

10

Moses, J. I., Zolotov, M. Yu. & Fegley, B. Jr Alkali and chlorine photochemistry in a volcanically driven atmosphere on Io. Icarus 156, 107–135 (2000)

11

Lellouch, E. et al. The structure, stability, and global distribution of Io's atmosphere. Icarus 98, 271–295 (1992)

12

Lellouch, E. et al. Detection of sulfur monoxide in Io's atmosphere. Astrophys. J. 459, L107–L110 (1996)

13

Pickett, H. M. et al. Submillimeter, millimeter, and microwave spectral line catalog. J. Quant. Spectrosc. Rad. Transfer 60, 883–890 (1998)

14

Ewing, C. T. & Stern, K. H. Equilibrium vaporization rates and vapor pressures of solid and liquid sodium chloride, potassium chloride, potassium bromide, cesium iodide, and lithium fluoride. J. Phys. Chem. 78, 1998–2005 (1974)

15

Lanzerotti, L. J. et al. Laboratory studies of charged particle erosion of SO2 ice and applications to the frosts of Io. Astrophys. J. 259, 920–929 (1982)

16

Moses, J. I., Zolotov, M. Yu. & Fegley, B. Jr Photochemistry of a volcanically driven atmosphere on Io: sulfur and oxygen species from a Pele-type eruption. Icarus 156, 76–106 (2000)

17

Ingersoll, A. P., Summers, M. E. & Schlipf, S. G. Supersonic meteorology of Io: sublimation driven flow of SO2 . Icarus 64, 375–390 (1985)

18

Summers, M. E. & Strobel, D. F. Photochemistry and vertical transport in Io's atmosphere and ionosphere. Icarus 120, 290–316 (1996)

19

Strobel, D. F. & Wolven, B. C. The atmosphere of Io: abundances and sources of sulfur dioxide and atomic hydrogen. Astrophys. Space Sci. 277, 271–287 (2000)

20

Kuskov, O. & Kronrod, V. A. Core sizes and internal structure of Earth's and Jupiter's satellites. Icarus 151, 204–227 (2001)

21

Thomas, N. Optical observations of Io's neutral clouds and plasma torus. Surv. Geophys. 13, 91–164 (1992)

22

Schneider, N. M. et al. Molecular origin for Io's fast sodium. Science 253, 1394–1397 (1991)

23

Wilson, J. K. & Schneider, N. M. Io's fast sodium: implications for molecular and atomic atmospheric escape. Icarus 111, 31–44 (1994)

24

Johnson, R. E. Formation of Na-containing molecular ions at Io. Icarus 111, 65–72 (1994)

25

Schneider, N. M., Park, A. H. & Kueppers, M. Spectroscopic studies of the Io torus during Galileo encounters: remote plasma diagnostics and the detection of Cl++. Bull. Am. Astron. Soc. 32, 35.03 (2000)

26

Bagenal, F. & Sullivan, J. D. Direct plasma measurements in the Io torus and inner magnetosphere of Jupiter. J. Geophys. Res. 86, 8447–8466 (1981)

27

Altenhoff, W. J. et al. First radio astronomical estimate of the temperature of Pluto. Astron. Astrophys. 190, L15–L17 (1988)

28

Brown, M. E. Potassium in Europa's atmosphere. Icarus 151, 190–195 (2001)
Acknowledgements
We thank W. Thuillot for providing us with the topocentric velocities of Io necessary for the data reduction.
Ethics declarations
Competing interests
The authors declare that they have no competing financial interests.
About this article
Cite this article
Lellouch, E., Paubert, G., Moses, J. et al. Volcanically emitted sodium chloride as a source for Io's neutral clouds and plasma torus. Nature 421, 45–47 (2003). https://doi.org/10.1038/nature01292
Received:

Accepted:

Issue Date:
Comments
By submitting a comment you agree to abide by our Terms and Community Guidelines. If you find something abusive or that does not comply with our terms or guidelines please flag it as inappropriate.