Abstract
Cocaine addiction is thought to involve persistent neurobiological changes that facilitate relapse to drug use despite efforts to abstain. But the propensity for relapse may be reduced by extinction training—a form of inhibitory learning that progressively reduces cocaine-seeking behaviour in the absence of cocaine reward1. Here we show that extinction training during withdrawal from chronic cocaine self-administration induces experience-dependent increases in the GluR1 and GluR2/3 subunits of AMPA (α-amino-3-hydroxy-5-methyl-4-isoxazole propionate) glutamate receptors in the nucleus accumbens shell, a brain region that is critically involved in cocaine reward2,3,4,5. Increases in the GluR1 subunit are positively associated with the level of extinction achieved during training, suggesting that GluR1 may promote extinction of cocaine seeking. Indeed, viral-mediated overexpression of both GluR1 and GluR2 in nucleus accumbens shell neurons facilitates extinction of cocaine- but not sucrose-seeking responses. A single extinction training session, when conducted during GluR subunit overexpression, attenuates stress-induced relapse to cocaine seeking even after GluR overexpression declines. Our findings indicate that extinction-induced plasticity in AMPA receptors may facilitate control over cocaine seeking by restoring glutamatergic tone in the nucleus accumbens, and may reduce the propensity for relapse under stressful situations in prolonged abstinence.
Access options
Subscribe to Journal
Get full journal access for 1 year
$199.00
only $3.90 per issue
All prices are NET prices.
VAT will be added later in the checkout.
Tax calculation will be finalised during checkout.
Rent or Buy article
Get time limited or full article access on ReadCube.
from$8.99
All prices are NET prices.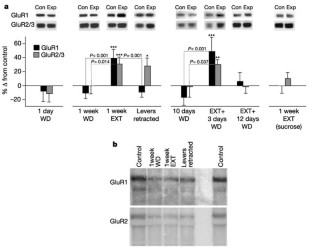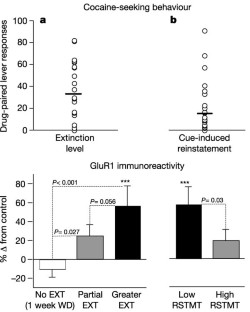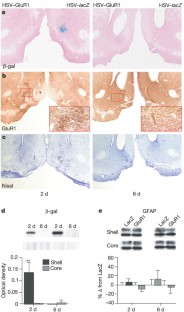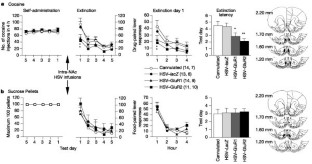 References
1

Bouton, M. E. & Schwartzberg, D. Sources of relapse after extinction in pavlovian and instrumental learning. Clin. Psych. Rev. 11, 123–140 (1991)

2

Roberts, D. C. S. & Koob, G. F. Extinction and recovery of cocaine self-administration following 6-hydroxydopamine lesions of the nucleus accumbens. Pharmacol. Biochem. Behav. 12, 781–787 (1980)

3

Pettit, H. O., Ettenberg, A., Bloom, F. E. & Koob, G. F. Destruction of dopamine in the nucleus accumbens selectively attenuates cocaine but not heroin self-administration in rats. Psychopharmacol. 84, 167–173 (1984)

4

Zito, K. A., Vickers, G. & Roberts, D. C. S. Disruption of cocaine and heroin self-administration following kainic acid lesions of the nucleus accumbens. Pharmacol. Biochem. Behav. 23, 1029–1036 (1985)

5

Carlezon, W. A. Jr, Devine, D. P. & Wise, R. A. Habit-forming actions of nomifensine in nucleus accumbens. Psychopharmacol. 122, 194–197 (1995)

6

Neve, R. L., Howe, J. R., Hong, S. & Kalb, R. G. Introduction of the glutamate receptor subunit 1 into motor neurons in vitro and in vivo using a recombinant herpes simplex virus. Neuroscience 79, 435–447 (1997)

7

Kelz, M. B. et al. Expression of the transcription factor ΔFosB in the brain controls sensitivity to cocaine. Nature 401, 272–276 (1999)

8

Cornish, J. L., Duffy, P. & Kalivas, P. W. A role for nucleus accumbens glutamate transmission in the relapse to cocaine-seeking behavior. Neuroscience 93, 1359–1367 (1999)

9

Cornish, J. & Kalivas, P. Glutamate transmission in the nucleus accumbens mediates relapse in cocaine addiction. J. Neurosci. 20, RC89 (2000)

10

Jaffe, J. H., Cascella, N. G., Kumor, K. M. & Sherer, M. A. Cocaine-induced cocaine craving. Psychopharmacology 97, 59–64 (1989)

11

Robbins, S. J., Ehrman, R. N., Childress, A. R. & O'Brien, C. P. Relationships among physiological and self-report responses produced by cocaine-related cues. Addict. Behav. 22, 157–167 (1997)

12

Sinha, R., Catapano, D. & O'Malley, S. Stress induced craving and stress response in cocaine dependent individuals. Psychopharmacology 142, 343–351 (1999)

13

White, F. J., Hu, X. T., Zhang, X. F. & Wolf, M. E. Repeated administration of cocaine or amphetamine alters neuronal responses to glutamate in the mesoaccumbens dopamine system. J. Pharmacol. Exp. Ther. 273, 445–454 (1995)

14

Thomas, M., Beurrier, C., Bonci, A. & Malenka, R. Long-term depression in the nucleus accumbens: a neural correlate of behavioral sensitization to cocaine. Nature Neurosci. 4, 1217–1223 (2001)

15

Lu, W., Chen, H., Xue, C. J. & Wolf, M. E. Repeated amphetamine administration alters the expression of mRNA for AMPA receptor subunits in rat nucleus accumbens and prefrontal cortex. Synapse 26, 269–280 (1997)

16

Lu, W. & Wolf, M. E. Repeated amphetamine administration alters AMPA receptor subunit expression in rat nucleus accumbens and medial prefrontal cortex. Synapse 32, 119–131 (1999)

17

Churchill, L., Swanson, C. J., Urbina, M. & Kalivas, P. W. Repeated cocaine alters glutamate receptor subunit levels in the nucleus accumbens and ventral tegmental area of rats that develop behavioral sensitization. J. Neurochem. 72, 2397–2403 (1999)

18

Quinlan, E. M., Philpot, B. D., Huganir, R. L. & Bear, M. F. Rapid, experience-dependent expression of synaptic NMDA receptors in visual cortex in vivo. Nature Neurosci. 2, 352–357 (1999)

19

Heynen, A. J., Quinlan, E. M., Bae, D. C. & Bear, M. F. Bidirectional, activity-dependent regulation of glutamate receptors in the adult hippocampus in vivo. Neuron 28, 527–536 (2000)

20

Fabbricatore, A., Uzwiak, A., West, M. & Peoples, L. Comparisons of firing rates of rat nucleus accumbens neurons during cocaine self-administration and extinction. Soc. Neurosci. Abstr. 24, 1736 (1998)

21

Hayashi, Y. et al. Driving AMPA receptors into synapses by LTP and CaMKII: requirement for GluR1 and PDZ domain interaction. Science 287, 2262–2267 (2000)

22

Shi, S. -H., Hayashi, Y., Esteban, J. A. & Malinow, R. Subunit-specific rules governing AMPA receptor trafficking to synapses in hippocampal pyramidal neurons. Cell 105, 331–343 (2001)

23

Keys, A. S., Mark, G. P., Emre, N. & Meshul, C. K. Reduced glutamate immunolabeling in the nucleus accumbens following extended withdrawal from self-administered cocaine. Synapse 30, 393–401 (1998)

24

Bell, K., Duffy, P. & Kalivas, P. W. Context-specific enhancement of glutamate transmission by cocaine. Neuropsychopharmacology 23, 335–344 (2000)

25

McLennan, H. The effect of decortication on the excitatory amino acid sensitivity of striatal neurones. Neurosci. Lett. 18, 313–316 (1980)

26

Volkow, N. D. et al. Long-term frontal brain metabolic changes in cocaine abusers. Synapse 11, 184–190 (1992)

27

London, E. D., Bonson, K. R., Ernst, M. & Grant, S. Brain imaging studies of cocaine abuse: implications for medication development. Crit. Rev. Neurobiol. 13, 227–242 (1999)

28

Volkow, N. D. & Fowler, J. S. Addiction, a disease of compulsion and drive: involvement of the orbitofrontal cortex. Cereb. Cortex 10, 318–325 (2000)

29

Schmidt, E. F. et al. Extinction training regulates tyrosine hydroxylase during withdrawal from cocaine self-administration. J. Neurosci. 21, RC137 (2001)

30

Guitart, X. et al. Regulation of ionotropic glutamate receptor subunits in different rat brain areas by a preferential σ1 receptor ligand and potential atypical antipsychotic. Neuropsychopharmacol. 23, 539–546 (2000)
Acknowledgements
This work was supported by US Public Health Service grants (NIDA), a postdoctoral National Research Service Award (to C.A.S.) and the Lydia Bryant Test Professorship.
Ethics declarations
Competing interests
The authors declare that they have no competing financial interests.
About this article
Cite this article
Sutton, M., Schmidt, E., Choi, KH. et al. Extinction-induced upregulation in AMPA receptors reduces cocaine-seeking behaviour. Nature 421, 70–75 (2003). https://doi.org/10.1038/nature01249
Received:

Accepted:

Issue Date:
Comments
By submitting a comment you agree to abide by our Terms and Community Guidelines. If you find something abusive or that does not comply with our terms or guidelines please flag it as inappropriate.