Abstract
Mechanosensory transduction in touch receptor neurons is believed to be mediated by DEG/ENaC (degenerin/epithelial Na+ channel) proteins in nematodes and mammals1. In the nematode Caenorhabditis elegans, gain-of-function mutations in the degenerin genes mec-4 and mec-10 (denoted mec-4(d) and mec-10(d), respectively) cause degeneration of the touch cells2,3. This phenotype is completely suppressed by mutation in a third gene, mec-6 (refs 3, 4), that is needed for touch sensitivity. This last gene is also required for the function of other degenerins4,5,6,7,8. Here we show that mec-6 encodes a single-pass membrane-spanning protein with limited similarity to paraoxonases, which are implicated in human coronary heart disease9. This gene is expressed in muscle cells and in many neurons, including the six touch receptor neurons. MEC-6 increases amiloride-sensitive Na+ currents produced by MEC-4(d)/MEC-10(d) by ∼30-fold, and functions synergistically with MEC-2 (a stomatin-like protein10 that regulates MEC-4(d)/MEC-10(d) channel activity11) to increase the currents by 200-fold. MEC-6 physically interacts with all three channel proteins. In vivo, MEC-6 co-localizes with MEC-4, and is required for punctate MEC-4 expression along touch-neuron processes. We propose that MEC-6 is a part of the degenerin channel complex that may mediate mechanotransduction in touch cells.
Relevant articles
Open Access articles citing this article.
Pflügers Archiv - European Journal of Physiology Open Access 23 July 2014

Ayman Samir Farid

&

Yoichiro Horii

Lipids in Health and Disease Open Access 23 July 2012
Access options
Subscribe to Journal
Get full journal access for 1 year
$199.00
only $3.90 per issue
All prices are NET prices.
VAT will be added later in the checkout.
Tax calculation will be finalised during checkout.
Buy article
Get time limited or full article access on ReadCube.
$32.00
All prices are NET prices.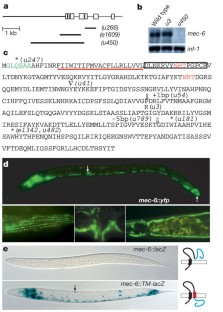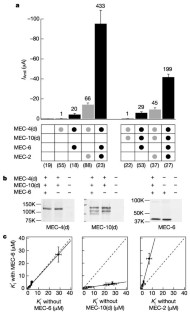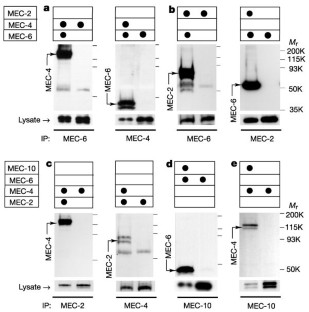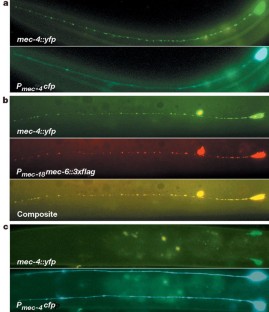 References
Ernstrom, G. G. & Chalfie, M. Genetics of sensory mechanotransduction. Annu. Rev. Genet. (in the press)

Driscoll, M. & Chalfie, M. The mec-4 gene is a member of a family of Caenorhabditis elegans genes that can mutate to induce neuronal degeneration. Nature 349, 588–593 (1991)

Huang, M. & Chalfie, M. Gene interactions affecting mechanosensory transduction in Caenorhabditis elegans. Nature 367, 467–470 (1994)

Chalfie, M. & Wolinsky, E. The identification and suppression of inherited neurodegeneration in Caenorhabditis elegans. Nature 345, 410–416 (1990)

Shreffler, W., Magardino, T., Shekdar, K. & Wolinsky, E. The unc-8 and sup-40 genes regulate ion channel function in Caenorhabditis elegans motorneurons. Genetics 139, 1261–1272 (1995)

García-Añoveros, J., Ma, C. & Chalfie, M. Regulation of Caenorhabditis elegans degenerin proteins by a putative extracellular domain. Curr. Biol. 5, 441–448 (1995)

Liu, J., Schrank, B. & Waterston, R. H. Interaction between a putative mechanosensory membrane channel and a collagen. Science 273, 361–364 (1996)

Tavernarakis, N., Shreffler, W., Wang, S. & Driscoll, M. unc-8, a DEG/ENaC family member, encodes a subunit of a candidate mechanically gated channel that modulates C. elegans locomotion. Neuron 18, 107–119 (1997)

Durrington, P. N., Mackness, B. & Mackness, M. I. Paraoxonase and atherosclerosis. Arterioscler. Thromb. Vasc. Biol. 21, 473–480 (2001)

Huang, M., Gu, G., Ferguson, E. L. & Chalfie, M. A stomatin-like protein necessary for mechanotransduction in C. elegans. Nature 378, 292–295 (1995)

Goodman, M. B. et al. MEC-2 regulates C. elegans DEG/ENaC channels needed for mechanosensation. Nature 415, 1039–1042 (2002)

Primo-Parmo, S. L., Sorenson, R. C., Teiber, J. & La Du, B. N. The human serum paraoxonase/arylesterase gene (PON1) is one member of a multigene family. Genomics 33, 498–507 (1996)

Draganov, D. I., Stetson, P. L., Watson, C. E., Billecke, S. S. & La Du, B. N. Rabbit serum paraoxonase 3 (PON3) is a high density lipoprotein-associated lactonase and protects low density lipoprotein against oxidation. J. Biol. Chem. 275, 33435–33442 (2000)

Ng, C. J. et al. Paraoxonase-2 is an ubiquitously expressed protein with antioxidant properties, and is capable of preventing cell-mediated oxidative modification of low-density lipoprotein. J. Biol. Chem. 28, 44444–44449 (2001)

Harbinder, S. et al. Genetically targeted cell disruption in Caenorhabditis elegans. Proc. Natl Acad. Sci. USA 94, 13128–13133 (1997)

The C. elegans Sequencing Consortium. Genome sequence of the nematode C. elegans: a platform for investigating biology. Science 282, 2012–2018 (1998)

Lai, C. C., Hong, K., Kinnell, M., Chalfie, M. & Driscoll, M. Sequence and transmembrane topology of MEC-4, an ion channel subunit required for mechanotransduction in Caenorhabditis elegans. J. Cell. Biol. 133, 1071–1081 (1996)

Canessa, C. M. et al. Amiloride-sensitive epithelial Na+ channel is made of three homologous subunits. Nature 367, 463–467 (1994)

Gu, G., Caldwell, G. A. & Chalfie, M. Genetic interactions affecting touch sensitivity in Caenorhabditis elegans. Proc. Natl Acad. Sci. USA 93, 6577–6582 (1996)

Galbiati, F., Razani, B. & Lisanti, M. P. Emerging themes in lipid rafts and caveolae. Cell 106, 403–411 (2001)

Hill, W. G., An, B. & Johnson, A. P. Endogenously expressed epithelial sodium channel is present in lipid rafts in A6 cells. J. Biol. Chem. 277, 33541–33544 (2002)

Price, M. P. et al. The mammalian sodium channel BNC1 is required for normal touch sensation. Nature 407, 1007–1011 (2000)

García-Añoveros, J., Samad, T. A., Zuvela-Jelaska, L., Woolf, C. J. & Corey, D. P. Transport and localization of the DEG/ENaC ion channel BNaC1α to peripheral mechanosensory terminals of dorsal root ganglia neurons. J. Neurosci. 21, 2678–2686 (2001)

Okkema, P. G. & Fire, A. The Caenorhabditis elegans NK-2 class homeoprotein CEH-22 is involved in combinatorial activation of gene expression in pharyngeal muscle. Development 120, 2175–2186 (1994)

Fire, A., Harrison, S. W. & Dixon, D. A modular set of lacZ fusion vectors for studying gene expression in Caenorhabditis elegans. Gene 93, 189–198 (1990)

Miller, D. M. III et al. Two-colour GFP expression system for C. elegans. Biotechniques 26, 914–921 (1999)
Acknowledgements
We thank J. Kong for technical assistance in isolating mec-6 cDNAs. This work was supported by the National Institutes of Health (M.C.), a Human Frontiers Science Program postdoctoral fellowship (D.S.C.), and a postdoctoral fellowship from the National Institute of Deafness and other Communication Disorders (M.B.G.).
Ethics declarations
Competing interests
The authors declare that they have no competing financial interests.
About this article
Cite this article
Chelur, D., Ernstrom, G., Goodman, M. et al. The mechanosensory protein MEC-6 is a subunit of the C. elegans touch-cell degenerin channel. Nature 420, 669–673 (2002). https://doi.org/10.1038/nature01205
Received:

Accepted:

Issue Date:

DOI: https://doi.org/10.1038/nature01205
Comments
By submitting a comment you agree to abide by our Terms and Community Guidelines. If you find something abusive or that does not comply with our terms or guidelines please flag it as inappropriate.