Abstract
During translation, the first encounter of nascent polypeptides is with the ribosome-associated chaperones that assist the folding process—a principle that seems to be conserved in evolution1,2,3. In Escherichia coli, the ribosome-bound Trigger Factor chaperones the folding of cytosolic proteins by interacting with nascent polypeptides4,5. Here we identify a ribosome-binding motif in the amino-terminal domain of Trigger Factor. We also show the formation of crosslinked products between Trigger Factor and two adjacent ribosomal proteins, L23 and L29, which are located at the exit of the peptide tunnel in the ribosome. L23 is essential for the growth of E. coli and the association of Trigger Factor with the ribosome, whereas L29 is dispensable in both processes. Mutation of an exposed glutamate in L23 prevents Trigger Factor from interacting with ribosomes and nascent chains, and causes protein aggregation and conditional lethality in cells that lack the protein repair function of the DnaK chaperone. Purified L23 also interacts specifically with Trigger Factor in vitro. We conclude that essential L23 provides a chaperone docking site on ribosomes that directly links protein biosynthesis with chaperone-assisted protein folding.
Relevant articles
Open Access articles citing this article.
Elias Amselem

,

Bo Broadwater

…

Johan Elf

Nature Communications Open Access 11 March 2023

Zikun Zhu

,

Shuai Wang

&

Shu-ou Shan

Nature Communications Open Access 13 June 2022

Klemens Wild

,

Milan Aleksić

…

Irmgard Sinning

Nature Communications Open Access 07 February 2020
Access options
Subscribe to this journal
Receive 51 print issues and online access
$199.00 per year
only $3.90 per issue
Rent or buy this article
Prices vary by article type
from$1.95
to$39.95
Prices may be subject to local taxes which are calculated during checkout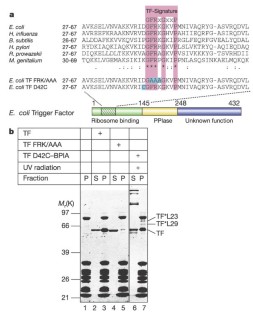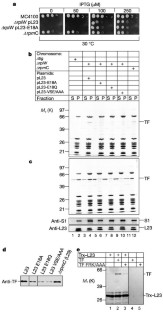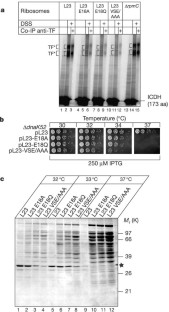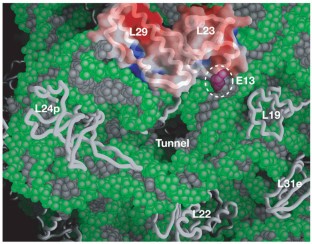 References
Hartl, F. U. & Hayer-Hartl, M. Molecular chaperones in the cytosol: from nascent chain to folded protein. Science 295, 1852–1858 (2002)

Bukau, B., Deuerling, E., Pfund, C. & Craig, E. A. Getting newly synthesized proteins into shape. Cell 101, 119–122 (2000)

Frydman, J. Folding of newly translated proteins in vivo: the role of molecular chaperones. Annu. Rev. Biochem. 70, 603–647 (2001)

Deuerling, E., Schulze-Specking, A., Tomoyasu, T., Mogk, A. & Bukau, B. Trigger factor and DnaK cooperate in folding of newly synthesized proteins. Nature 400, 693–696 (1999)

Teter, S. A. et al. Polypeptide flux through bacterial Hsp70: DnaK cooperates with Trigger Factor in chaperoning nascent chains. Cell 97, 755–765 (1999)

Hesterkamp, T., Deuerling, E. & Bukau, B. The amino-terminal 118 amino acids of Escherichia coli trigger factor constitute a domain that is necessary and sufficient for binding to ribosomes. J. Biol. Chem. 272, 21865–21871 (1997)

Ban, N., Nissen, P., Hansen, J., Moore, P. B. & Steitz, T. A. The complete atomic structure of the large ribosomal subunit at 2.4 Å resolution. Science 289, 905–920 (2000)

Nissen, P., Hansen, J., Ban, N., Moore, P. B. & Steitz, T. A. The structural basis of ribosome activity in peptide bond synthesis. Science 289, 920–930 (2000)

Datsenko, K. A. & Wanner, B. L. One-step inactivation of chromosomal genes in Escherichia coli K-12 using PCR products. Proc. Natl Acad. Sci. USA 97, 6640–6645 (2000)

Hesterkamp, T., Hauser, S., Lütcke, H. & Bukau, B. Escherichia coli trigger factor is a prolyl isomerase that associates with nascent polypeptide chains. Proc. Natl Acad. Sci. USA 93, 4437–4441 (1996)

Schaffitzel, E., Rüdiger, S., Bukau, B. & Deuerling, E. Functional dissection of Trigger Factor and DnaK: Interactions with nascent polypeptides and thermally denatured proteins. J. Biol. Chem. 382, 1235–1243 (2001)

Patzelt, H. et al. Binding specificity of Escherichia coli trigger factor. Proc. Natl Acad. Sci. USA 98, 14244–14249 (2001)

Miller, J. H. Experiments in Molecular Genetics (Cold Spring Harbor Laboratory Press, Cold Spring Harbor, 1972)

Amann, E., Ochs, B. & Abel, K. J. Tightly regulated tac promoter vectors useful for the expression of unfused and fused proteins in Escherichia coli. Gene 69, 301–315 (1988)

Laufen, T. et al. Mechanism of regulation of Hsp70 chaperones by DnaJ co-chaperones. Proc. Natl Acad. Sci. USA 96, 5452–5457 (1999)

Shevchenko, A., Wilm, M., Vorm, O. & Mann, M. Mass spectrometric sequencing of proteins silver-stained polyacrylamide gels. Anal. Chem. 68, 850–858 (1996)

Wilm, M. et al. Femtomole sequencing of proteins from polyacrylamide gels by nano-electrospray mass spectrometry. Nature 379, 466–469 (1996)

Thompson, J. D., Higgins, D. G. & Gibson, T. J. CLUSTAL W: improving the sensitivity of progressive multiple sequence alignment through sequence weighting, position-specific gap penalties and weight matrix choice. Nucleic Acids Res. 22, 4673–4680 (1994)

Tomoyasu, T., Mogk, A., Langen, H., Goloubinoff, P. & Bukau, B. Genetic dissection of the roles of chaperones and proteases in protein folding and degradation in the Escherichia coli cytosol. Mol. Microbiol. 40, 397–413 (2001)

Nicholls, A., Sharp, K. A. & Honig, B. J. Protein folding and association: insights from the interfacial and thermodynamic properties of hydrocarbons. Proteins Struct. Funct. Genet. 11, 281–296 (1991)
Acknowledgements
We thank the members of the Bukau lab for discussions; T. Hesterkamp for suggesting the TF FRK/AAA mutation; K. Turgay for suggesting the S-tag experiment; and D. Dougan for comments on the manuscript. This work was supported by grants of the Deutsche Forschungsgemeinschaft to B.B. and E.D, the Human Frontier Science Program to E.D. and N.B., the Swiss National Science Foundation to N.B., and fellowships of the Boehringer Ingelheim Fonds to T.R. and the Fonds der Chemischen Industrie (Kékulé scholarship) to W.R.
About this article
Cite this article
Kramer, G., Rauch, T., Rist, W. et al. L23 protein functions as a chaperone docking site on the ribosome. Nature 419, 171–174 (2002). https://doi.org/10.1038/nature01047
Received:

Accepted:

Issue Date:

DOI: https://doi.org/10.1038/nature01047
Comments
By submitting a comment you agree to abide by our Terms and Community Guidelines. If you find something abusive or that does not comply with our terms or guidelines please flag it as inappropriate.