Abstract
Previous studies suggest that neuronal activity may guide the development of synaptic connections in the central nervous system through mechanisms involving glutamate receptors and GTPase-dependent modulation of the actin cytoskeleton1,2,3,4,5,6,7. Here we demonstrate by in vivo time-lapse imaging of optic tectal cells in Xenopus laevis tadpoles that enhanced visual activity driven by a light stimulus promotes dendritic arbor growth. The stimulus-induced dendritic arbor growth requires glutamate-receptor-mediated synaptic transmission, decreased RhoA activity and increased Rac and Cdc42 activity. The results delineate a role for Rho GTPases in the structural plasticity driven by visual stimulation in vivo.
Relevant articles
Open Access articles citing this article.
Di Wu

,

Ying Jin

…

Veronica J. Tom

Nature Communications Open Access 30 November 2020

Federico Marcello Tenedini

,

Maria Sáez González

…

Peter Soba

Nature Communications Open Access 05 August 2019

Shingo Nakazawa

,

Hidenobu Mizuno

&

Takuji Iwasato

Nature Communications Open Access 06 August 2018
Access options
Subscribe to Journal
Get full journal access for 1 year
$199.00
only $3.90 per issue
All prices are NET prices.
VAT will be added later in the checkout.
Tax calculation will be finalised during checkout.
Buy article
Get time limited or full article access on ReadCube.
$32.00
All prices are NET prices.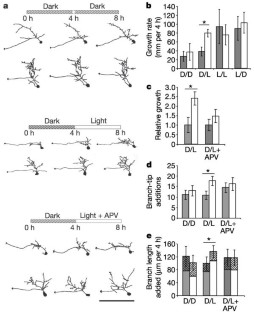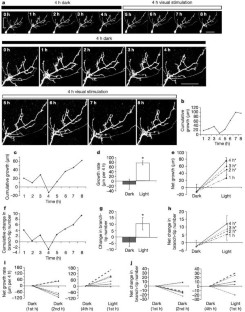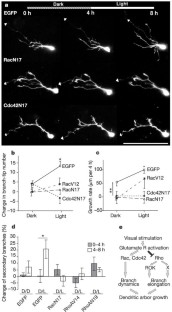 References
Builluart, P. et al. Oligophrenin-1 encodes a rhoGAP protein involved in X-linked mental retardation. Nature 392, 823–826 (1998)

Engert, F. & Bonhoeffer, T. Dendritic spine changes associated with hippocampal long-term synaptic plasticity. Nature 399, 66–70 (1999)

Li, Z., Aizenman, C. D. & Cline, H. T. Regulation of Rho GTPases by crosstalk and neuronal activity in vivo. Neuron 33, 741–750 (2002)

Li, Z., Van Aelst, L. & Cline, H. T. Rho GTPases regulate distinct aspects of dendritic arbor growth in Xenopus central neurons in vivo. Nature Neurosci. 3, 217–225 (2000)

Maletic-Savatic, M., Malinow, R. & Svoboda, K. Rapid dendritic morphogenesis in CA1 hippocampal dendrites induced by synaptic activity. Science 283, 1923–1927 (1999)

Fischer, M., Kaech, S., Wagner, U., Brinkhaus, H. & Matus, A. Glutamate receptors regulate actin-based plasticity in dendritic spines. Nature Neurosci. 3, 887–894 (2000)

Wong, W. T., Faulkner-Jones, B. E., Sanes, J. R. & Wong, R. O. Rapid dendritic remodeling in the developing retina: dependence on neurotransmission and reciprocal regulation by Rac and Rho. J. Neurosci. 20, 5024–5036 (2000)

Wu, G.-Y., Zou, D. J., Rajan, I. & Cline, H. T. Dendritic dynamics in vivo change during neuronal maturation. J. Neurosci. 19, 4472–4483 (1999)

Rajan, I. & Cline, H. T. Glutamate receptor activity is required for normal development of tectal cell dendrites in vivo. J. Neurosci. 18, 7836–7846 (1998)

Van Aelst, L. & D'Souza-Schorey, C. Rho GTPases and signaling networks. Genes Dev. 11, 2295–2322 (1997)

Luo, L. Rho GTPases in neuronal morphogenesis. Nature Rev. Neurosci. 1, 173–180 (2000)

Penzes, P. et al. The neuronal Rho-GEF Kalirin-7 interacts with PDZ domain-containing proteins and regulates dendritic morphogenesis. Neuron 29, 229–242 (2001)

Kim, J. H., Liao, D., Lau, L.-F. & Huganir, R. L. SynGAP: a synaptic RasGAP that associates with the PSD-95/SAP90 protein family. Neuron 20, 683–691 (1998)

Zhang, W., Vazquez, L., Apperson, M. & Kennedy, M. B. Citron binds to PSD-95 at glutamatergic synapses on inhibitory neurons in the hippocampus. J. Neurosci. 19, 96–108 (1999)

Furuyashiki, T. et al. Citron, a Rho-target, interacts with PSD-95/SAP-90 at glutamatergic synapses in the thalamus. J. Neurosci. 19, 109–118 (1999)

Chen, H. J., Rojas, S. M., Oguni, A. & Kennedy, M. B. A synaptic Ras-GTPase activating protein (p135 SynGAP) inhibited by CaM kinase II. Neuron 20, 895–904 (1998)

Lawler, S. Regulation of actin dynamics: the LIM kinase connection. Curr. Biol. 9, R800–R802 (1999)

Aspenstrom, P. Effectors for the Rho GTPases. Curr. Opin. Cell Biol. 11, 95–102 (1999)

Albertinazzi, C., Gilardelli, D., Paris, S., Longhi, R. & de Curtis, I. Overexpression of a neural-specific rho family GTPase, cRac1B, selectively induces enhanced neuritogenesis and neurite branching in primary neurons. J. Cell Biol. 142, 815–825 (1998)

Acebes, A. & Ferrus, A. Cellular and molecular features of axon collaterals and dendrites. Trends Neurosci. 23, 557–565 (2000)

Debant, A. et al. The multidomain protein Trio binds the LAR transmembrane tyrosine phosphatase, contains a protein kinase domain, and has separate rac-specific and rho-specific guanine nucleotide exchange factor domains. Proc. Natl Acad. Sci. USA 93, 5466–5471 (1996)

Wilk-Blaszczak, M. et al. The monomeric G-proteins Rac1 and/or Cdc42 are required for the inhibition of voltage-dependent calcium current by bradykinin. J. Neurosci. 17, 4094–4100 (1997)

Djouder, N., Prepens, U., Aktories, K. & Cavalie, A. Inhibition of calcium release-activated calcium current by Rac/Cdc42-inactivating clostridial cytotoxins in RBL cells. J. Biol. Chem. 275, 18732–18738 (2000)

Wu, G.-Y. & Cline, H. T. Stabilization of dendritic arbor structure in vivo by CaMKII. Science 279, 222–226 (1998)

Kjoller, L. & Hall, A. Signaling to Rho GTPases. Exp. Cell Res. 253, 166–179 (1999)

Lendvai, B., Stern, E. A., Chen, B. & Svoboda, K. Experience-dependent plasticity of dendritic spines in the developing rat barrel cortex in vivo. Nature 404, 876–881 (2000)

Haas, K., Sin, W.-C., Javaherian, A., Li, Z. & Cline, H. T. Single-cell electroporation for in vivo neuronal gene expression. Neuron 29, 1–9 (2001)

Zhang, L. I., Tao, H. W. & Poo, M. Visual input induces long-term potentiation of developing retinotectal synapses. Nature Neurosci. 3, 708–715 (2000)

Ruthazer, E. S. & Cline, H. T. Multiphoton imaging of neurons in living tissue: acquisition and analysis of time-lapse morphological data. J. Real-Time Imag. 8, 175–188 (2002)

Leung, T., Chen, X. Q., Manser, E. & Lim, L. The p160 RhoA-binding kinase ROK alpha is a member of a kinase family and is involved in the reorganization of the cytoskeleton. Mol. Cell. Biol. 16, 5313–5327 (1996)
Acknowledgements
We thank K. Svoboda, P. O'Brien and B. Burbach for help constructing the two-photon microscope and P. O'Brien for constructing the electronic circuit for visual stimulation. We also thank K. Bronson for technical assistance, J. Duffy for assistance with the figures, and T. Leung and J. Dong for cDNA. We are grateful to L. Van Aelst for discussions, and R. Malinow, J. Dubnau and members of the Cline laboratory for comments on the manuscript. This work was supported by the NIH (H.T.C., K.H., E.S.R) and an endowment from the Charles Robertson Foundation to H.T.C.
Ethics declarations
Competing interests
The authors declare that they have no competing financial interests.
About this article
Cite this article
Sin, W., Haas, K., Ruthazer, E. et al. Dendrite growth increased by visual activity requires NMDA receptor and Rho GTPases. Nature 419, 475–480 (2002). https://doi.org/10.1038/nature00987
Received:

Accepted:

Issue Date:

DOI: https://doi.org/10.1038/nature00987
Comments
By submitting a comment you agree to abide by our Terms and Community Guidelines. If you find something abusive or that does not comply with our terms or guidelines please flag it as inappropriate.