Abstract
Large-conductance (BK type) Ca2+-dependent K+ channels are essential for modulating muscle contraction and neuronal activities such as synaptic transmission and hearing1,2,3,4,5. BK channels are activated by membrane depolarization and intracellular Ca2+ and Mg2+ (refs 6–10). The energy provided by voltage, Ca2+ and Mg2+ binding are additive in activating the channel, suggesting that these signals open the activation gate through independent pathways9,11. Here we report a molecular investigation of a Mg2+-dependent activation mechanism. Using a combined site-directed mutagenesis and structural analysis, we demonstrate that a structurally new Mg2+-binding site in the RCK/Rossman fold domain—an intracellular structural motif that immediately follows the activation gate S6 helix12,13,14,15—is responsible for Mg2+-dependent activation. Mutations that impair or abolish Mg2+ sensitivity do not affect Ca2+ sensitivity, and vice versa. These results indicate distinct structural pathways for Mg2+- and Ca2+-dependent activation and suggest a possible mechanism for the coupling between Mg2+ binding and channel opening.
Relevant articles
Open Access articles citing this article.
Qin Li

,

Yingxin Li

…

Jiusheng Yan

Scientific Reports Open Access 11 January 2018

Xin Guan

,

Qin Li

&

Jiusheng Yan

Scientific Reports Open Access 06 February 2017

Agata Wawrzkiewicz

,

Krzysztof Pawelek

…

Zbigniew J. Grzywna

European Biophysics Journal Open Access 07 April 2012
Access options
Subscribe to Journal
Get full journal access for 1 year
$199.00
only $3.90 per issue
All prices are NET prices.
VAT will be added later in the checkout.
Tax calculation will be finalised during checkout.
Buy article
Get time limited or full article access on ReadCube.
$32.00
All prices are NET prices.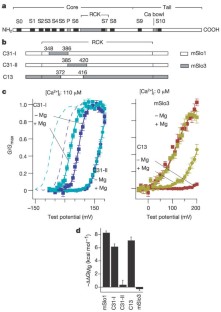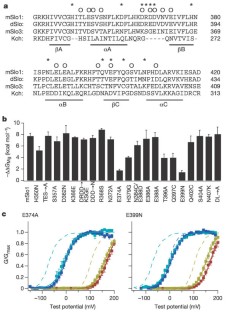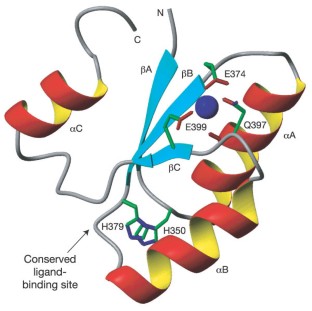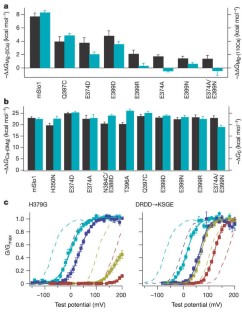 References
Brenner, R. et al. Vasoregulation by the β1 subunit of the calcium-activated potassium channel. Nature 407, 870–876 (2000)

Robitaille, R., Garcia, M. L., Kaczorowski, G. J. & Charlton, M. P. Functional colocalization of calcium and calcium-gated potassium channels in control of transmitter release. Neuron 11, 645–655 (1993)

Isaacson, J. S. & Murphy, G. J. Glutamate-mediated extrasynaptic inhibition: direct coupling of NMDA receptors to Ca(2 + )-activated K+ channels. Neuron 31, 1027–1034 (2001)

Fettiplace, R. & Fuchs, P. A. Mechanisms of hair cell tuning. Annu. Rev. Physiol. 61, 809–834 (1999)

Rosenblatt, K. P., Sun, Z. P., Heller, S. & Hudspeth, A. J. Distribution of Ca2+-activated K+ channel isoforms along the tonotopic gradient of the chicken's cochlea. Neuron 19, 1061–1075 (1997)

Pallotta, B. S., Magleby, K. L. & Barrett, J. N. Single channel recordings of Ca2+-activated K+ currents in rat muscle cell culture. Nature 293, 471–474 (1981)

Marty, A. Ca-dependent K channels with large unitary conductance in chromaffin cell membranes. Nature 291, 497–500 (1981)

Cui, J., Cox, D. H. & Aldrich, R. W. Intrinsic voltage dependence and Ca2+ regulation of mslo large conductance Ca-activated K+ channels. J. Gen. Physiol. 109, 647–673 (1997)

Shi, J. & Cui, J. Intracellular Mg(2 + ) enhances the function of BK-type Ca(2 + )-activated K(+ ) channels. J. Gen. Physiol. 118, 589–606 (2001)

Zhang, X., Solaro, C. R. & Lingle, C. J. Allosteric regulation of BK channel gating by Ca(2 + ) and Mg(2 + ) through a nonselective, low affinity divalent cation site. J. Gen. Physiol. 118, 607–636 (2001)

Cui, J. & Aldrich, R. W. Allosteric linkage between voltage and Ca(2 + )-dependent activation of BK-type mslo1 K(+ ) channels. Biochemistry 39, 15612–15619 (2000)

Jiang, Y., Pico, A., Cadene, M., Chait, B. T. & MacKinnon, R. Structure of the RCK domain from the E. coli K+ channel and demonstration of its presence in the human BK channel. Neuron 29, 593–601 (2001)

Yellen, G. The moving parts of voltage-gated ion channels. Q. Rev. Biophys. 31, 239–295 (1998)

Perozo, E., Cortes, D. M. & Cuello, L. G. Structural rearrangements underlying K+-channel activation gating. Science 285, 73–78 (1999)

Johnson, J. P. Jr & Zagotta, W. N. Rotational movement during cyclic nucleotide-gated channel opening. Nature 412, 917–921 (2001)

Butler, A., Tsunoda, S., McCobb, D. P., Wei, A. & Salkoff, L. mSlo, a complex mouse gene encoding 'maxi' calcium-activated potassium channels. Science 261, 221–224 (1993)

Wei, A., Solaro, C., Lingle, C. & Salkoff, L. Calcium sensitivity of BK-type KCa channels determined by a separable domain. Neuron 13, 671–681 (1994)

Schreiber, M., Yuan, A. & Salkoff, L. Transplantable sites confer calcium sensitivity to BK channels. Nature Neurosci. 2, 416–421 (1999)

Bian, S., Favre, I. & Moczydlowski, E. Ca2+-binding activity of a COOH-terminal fragment of the Drosophila BK channel involved in Ca2+-dependent activation. Proc. Natl Acad. Sci. USA 98, 4776–4781 (2001)

Schreiber, M. et al. Slo3, a novel pH-sensitive K+ channel from mammalian spermatocytes. J. Biol. Chem. 273, 3509–3516 (1998)

Adelman, J. P. et al. Calcium-activated potassium channels expressed from cloned complementary DNAs. Neuron 9, 209–216 (1992)

Milkman, R. An Escherichia coli homologue of eukaryotic potassium channel proteins. Proc. Natl Acad. Sci. USA 91, 3510–3514 (1994)

Stock, J. B., Surette, M. G., McCleary, W. R. & Stock, A. M. Signal transduction in bacterial chemotaxis. J. Biol. Chem. 267, 19753–19756 (1992)

Lee, J. O., Rieu, P., Arnaout, M. A. & Liddington, R. Crystal structure of the A domain from the alpha subunit of integrin CR3 (CD11b/CD18). Cell 80, 631–638 (1995)

Brandeen, C. I. Relation between structure and function of alpha/beta-proteins. Q. Rev. Biophys. 13, 317–338 (1980)

Needham, J. V., Chen, T. Y. & Falke, J. J. Novel ion specificity of a carboxylate cluster Mg(II) binding site: strong charge selectivity and weak size selectivity. Biochemistry 32, 3363–3367 (1993)

Flatman, P. W. Mechanisms of magnesium transport. Annu. Rev. Physiol. 53, 259–271 (1991)

Horovitz, A. & Fersht, A. R. Strategy for analysing the co-operativity of intramolecular interactions in peptides and proteins. J. Mol. Biol. 214, 613–617 (1990)

Koradi, R., Billeter, M. & Wuthrich, K. MOLMOL: a program for display and analysis of macromolecular structures. J. Mol. Graph. 14, 51–55 (1996)
Acknowledgements
The mSlo1 and mSlo3 clones were provided by L. Salkoff. We thank S. Chen, S. W. Jones and R. Aldrich for comments on the manuscript. This work was supported by grants from the NIH (to J.Q. and J.C.), the American Heart Association and the Whitaker Foundation (to J.C.).
Ethics declarations
Competing interests
The authors declare that they have no competing financial interests.
Supplementary information
About this article
Cite this article
Shi, J., Krishnamoorthy, G., Yang, Y. et al. Mechanism of magnesium activation of calcium-activated potassium channels. Nature 418, 876–880 (2002). https://doi.org/10.1038/nature00941
Received:

Accepted:

Issue Date:

DOI: https://doi.org/10.1038/nature00941
Comments
By submitting a comment you agree to abide by our Terms and Community Guidelines. If you find something abusive or that does not comply with our terms or guidelines please flag it as inappropriate.