Abstract
Intermolecular separation determines the extent of orbital overlap and thus the rate of electron transfer between neighbouring molecules in an organic crystal. If such a crystal is compressed, the resistivity decreases owing to a diminishing intermolecular distance1. Metal–insulator transitions have been observed by applying hydrostatic pressure to, for example, Langmuir films of metal nanoparticles2,3. But previous attempts to observe a clear transition point in organic crystals, such as anthracene and tetracene, were not successful owing to difficulties with electrically insulating the high-pressure cell4. Here we report a different approach by using a sample that is photoconductive and forms an organized film. A cylindrical tip (∼100 μm in diameter) was used to compress the sample instead of a piston/cylinder structure, entirely eliminating the problem of electrical insulation. Furthermore, by illuminating the sample with a laser, the conductivity of the sample is increased by several orders of magnitude. By monitoring the photocurrent with sensitivity at the 10-13 A level, changes in resistivity at very low pressure could be monitored. We observe a sharp increase in current that could indicate a transition from hopping to delocalized conduction.
Access options
Subscribe to this journal
Receive 51 print issues and online access
$199.00 per year
only $3.90 per issue
Rent or buy this article
Get just this article for as long as you need it
$39.95
Prices may be subject to local taxes which are calculated during checkout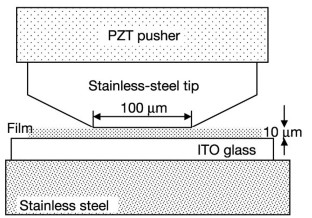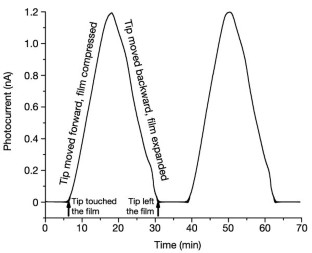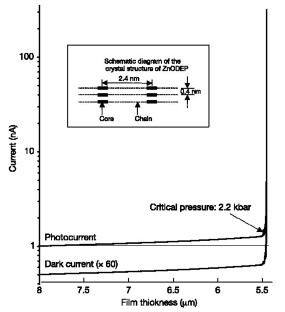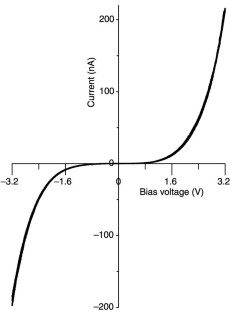 References
Drickamer, H. G. & Frank, C. W. Electronic structure, electronic transitions, and the high pressure chemistry and physics of solids. Annu. Rev. Phys. Chem. 23, 39–64 (1972)

Collier, C. P., Saykally, R. J., Shiang, J. J., Henrichs, S. E. & Heath, J. R. Reversible tuning of silver quantum dot monolayers through the metal-insulator transition. Science 277, 1978–1981 (1997)

Henrichs, S., Collier, C. P., Saykally, R. J., Shen, Y. R. & Heath, J. R. The dielectric function of silver nanoparticle Langmuir monolayers compressed through the metal insulator transition. J. Am. Chem. Soc. 122, 4077–4083 (2000)

Samara, G. A. & Drickamer, H. G. Effect of pressure on the resistance of fused-ring aromatic compounds. J. Chem. Phys. 37, 474–479 (1962)

Liu, C.-Y., Pan, H.-L., Tang, H., Fox, M. A. & Bard, A. J. Effect of structural order on the dark and photocurrents in zinc octakis (β-decoxyethyl)porphyrin thin-layer cells. J. Phys. Chem. 99, 7632–7636 (1995)

Schouten, P. G., Warman, J. M., de Haaas, M. P., Fox, M. A. & Pan, H-L. Charge migration in supramolecular stacks of peripherally substituted porphyrins. Nature 353, 736–737 (1991)

Liu, C.-Y. & Bard, A. J. Optoelectronic properties and memories based on organic single-crystal thin films. Acc. Chem. Res. 32, 235–245 (1999)

Liu, C.-Y. & Bard, A. J. in Conjugated Oligomers, Polymers, and Dendrimers: From Polyacetylene to DNA (ed. Brédas, J.-L.) 85–116 (De Boeck Université, Paris, 1999)

Gregg, B. A., Fox, M. A. & Bard, A. J. Photovoltaic effect in symmetrical cells of a liquid crystal porphyrin. J. Phys. Chem. 94, 1586–1598 (1990)

Liu, C.-Y. & Bard, A. J. Optoelectric charge trapping/detrapping in thin solid films of organic azo dyes: Application of scanning tunneling microscopic tip contact to photoconductive films for data storage. Chem. Mater. 10, 840–846 (1998)

Liu, C.-Y., Pan, H.-L., Fox, M. A. & Bard, A. J. Reversible charge trapping/detrapping in a photoconductive insulator of liquid crystal zinc porphyrin. Chem. Mater. 9, 1422–1429 (1997)

Aust, R. B., Bentley, W. H. & Drickamer, H. G. Behavior of fused-ring aromatic hydrocarbons at very high pressure. J. Chem. Phys. 41, 1856 (1964)
Acknowledgements
We thank F.-R.F. Fan for discussions. This work was supported by the National Science Foundation and the Robert A. Welch Foundation.
Ethics declarations
Competing interests
The authors declare that they have no competing financial interests.
About this article
Cite this article
Liu, Cy., Bard, A. Pressure-induced insulator–conductor transition in a photoconducting organic liquid-crystal film. Nature 418, 162–164 (2002). https://doi.org/10.1038/nature00875
Received:

Accepted:

Issue Date:

DOI: https://doi.org/10.1038/nature00875
This article is cited by
Gokhan Yilmaz
Aysegul Cosgun
Aysegul Tascioglu

Journal of Materials Science: Materials in Electronics (2021)

S K ASIF IKBAL
SANFAORI BRAHMA
SANKAR PRASAD RATH

Journal of Chemical Sciences (2014)
Comments
By submitting a comment you agree to abide by our Terms and Community Guidelines. If you find something abusive or that does not comply with our terms or guidelines please flag it as inappropriate.