Abstract
High mobility group 1 (HMGB1) protein is both a nuclear factor and a secreted protein. In the cell nucleus it acts as an architectural chromatin-binding factor that bends DNA and promotes protein assembly on specific DNA targets1,2. Outside the cell, it binds with high affinity to RAGE (the receptor for advanced glycation end products)3 and is a potent mediator of inflammation4,5,6. HMGB1 is secreted by activated monocytes and macrophages4, and is passively released by necrotic or damaged cells7,8,9. Here we report that Hmgb1-/- necrotic cells have a greatly reduced ability to promote inflammation, which proves that the release of HMGB1 can signal the demise of a cell to its neighbours. Apoptotic cells do not release HMGB1 even after undergoing secondary necrosis and partial autolysis, and thus fail to promote inflammation even if not cleared promptly by phagocytic cells. In apoptotic cells, HMGB1 is bound firmly to chromatin because of generalized underacetylation of histone and is released in the extracellular medium (promoting inflammation) if chromatin deacetylation is prevented. Thus, cells undergoing apoptosis are programmed to withhold the signal that is broadcast by cells that have been damaged or killed by trauma.
Relevant articles
Open Access articles citing this article.
Lei Xia

,

Xiaoqing Xu

…

Fang Cao

BMC Complementary Medicine and Therapies Open Access 27 October 2023

Wenxuan Ren

,

Lei Zhao

…

Xiaoguang Shi

Molecular Medicine Open Access 04 September 2023

Bilon Khambu

,

Genxiang Cai

…

Xiao-Ming Yin

Cell Death Discovery Open Access 28 July 2023
Access options
Subscribe to this journal
Receive 51 print issues and online access
$199.00 per year
only $3.90 per issue
Rent or buy this article
Prices vary by article type
from$1.95
to$39.95
Prices may be subject to local taxes which are calculated during checkout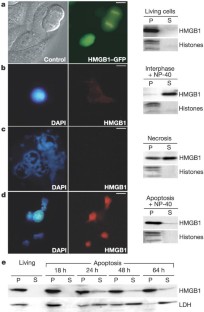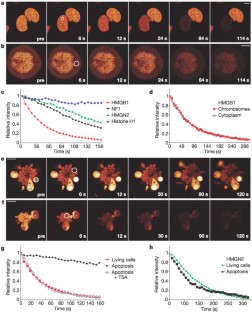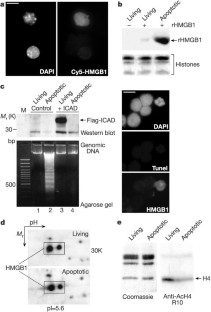 References
Bustin, M. Regulation of DNA-dependent activities by the functional motifs of the high-mobility-group chromosomal proteins. Mol. Cell. Biol. 19, 5237–5246 (1999)

Bianchi, M. E. & Beltrame, M. Upwardly mobile proteins. The role of HMG proteins in chromatin structure, gene expression and neoplasia. EMBO Rep. 1, 109–114 (2000)

Hori, O. et al. The receptor for advanced glycation end products (RAGE) is a cellular binding site for amphoterin. J. Biol. Chem. 270, 25752–25761 (1995)

Wang, H. et al. HMG-1 as a late mediator of endotoxin lethality in mice. Science 285, 248–251 (1999)

Abraham, E., Arcaroli, J., Carmody, A., Wang, H. & Tracey, K. J. HMG-1 as a mediator of acute lung inflammation. J. Immunol. 165, 2950–2954 (2000)

Andersson, U. et al. High Mobility Group 1 protein (HMG-1) stimulates proinflammatory cytokine synthesis in human monocytes. J. Exp. Med. 192, 565–570 (2000)

Degryse, B. et al. The high mobility group (HMG) boxes of the nuclear protein HMG1 induce chemotaxis and cytoskeleton reorganization in rat smooth muscle cells. J. Cell Biol. 152, 1197–2006 (2001)

Müller, S. et al. The double life of HMGB1 chromatin protein: architectural factor and extracellular signal. EMBO J. 16, 4337–4340 (2001)

Falciola, L. et al. High mobility group 1 (HMG1) protein is not stably associated with the chromosomes of somatic cells. J. Cell Biol. 137, 19–26 (1997)

Zappavigna, V., Falciola, L., Helmer Citterich, M., Mavilio, F. & Bianchi, M. E. HMG1 cooperates with HOX proteins in DNA binding and transcriptional activation. EMBO J. 15, 4981–4991 (1996)

Phair, R. D. & Misteli, T. High mobility of proteins in the mammalian cell nucleus. Nature 404, 604–609 (2000)

Misteli, T., Gunjan, A., Hock, R., Bustin, M. & Brown, D. T. Dynamic binding of histone H1 to chromatin in living cells. Nature 408, 877–881 (2000)

Calogero, S. et al. The lack of chromosomal protein HMG1 does not disrupt cell growth, but causes lethal hypoglycaemia in newborn mice. Nature Genet. 22, 276–280 (1999)

Ura, K., Nightingale, K. & Wolffe, A. P. Differential association of HMG1 and linker histones B4 and H1 with dinucleosomal DNA: structural transitions and transcriptional repression. EMBO J. 15, 4959–4969 (1996)

Nightingale, K., Dimitrov, S., Reeves, R. & Wolffe, A. P. Evidence for a shared structural role for HMG1 and linker histones B4 and H1 in organizing chromatin. EMBO J. 15, 548–561 (1996)

Enari, M. et al. A caspase-activated DNase that degrades DNA during apoptosis, and its inhibitor ICAD. Nature 391, 43–50 (1998)

Fadok, V. A., Bratton, D. L., Guthrie, L. & Henson, P. M. Differential effects of apoptotic versus lysed cells on macrophage production of cytokines: role of proteases. J. Immunol. 166, 6847–6854 (2001)

Thomas, S. H. L. Paracetamol (acetaminophen) poisoning. Pharmacol. Ther. 60, 91–120 (1993)

Lawson, J. A., Farhood, A., Hopper, R. D., Bajt, M. L. & Jaeschke, H. The hepatic inflammatory response after acetaminophen overdose: role of neutrophils. Toxicol. Sci. 54, 509–516 (2000)

Ren, Y. & Savill, J. Apoptosis: the importance of being eaten. Cell Death Differ. 5, 563–568 (1998)

Scott, R. S. et al. Phagocytosis and clearance of apoptotic cells is mediated by MER. Nature 211, 201–211 (2001)

Herrmann, M. et al. Impaired phagocytosis of apoptotic cell material by monocyte-derived macrophages from patients with systemic lupus erythematosus. Arthritis Rheum. 41, 1241–1250 (1998)

Bustin, M. Revised nomenclature for high mobility group (HMG) chromosomal proteins. Trends Biochem. Sci. 26, 152–153 (2001)

Kato, A., Yoshidome, H., Edwards, M. J. & Lentsch, A. B. Regulation of liver inflammatory injury by signal transducer and activator of transcription-6. Am. J. Pathol. 157, 297–302 (2000)
Acknowledgements
We thank I. Benzoni and L. Ronfani for help with mouse experiments; T. Bonaldi, A. Gunjan, N. Bhattacharyya, R. Hock, M. Bustin, S. Nagata, F. Curnis, A. Corti and B. M. Turner for reagents; V. Caiolfa for help with preparing Cy5–HMGB1 and statistical analysis; S. Müller for instruction in preparing mouse bone marrow; and D. Donato for personal and technical support. A. Vecchi and A. Mantovani contributed unpublished results; and P. Dellabona, A. Manfredi, R. Pardi and several members of our group provided invaluable suggestions. This work was supported by the Italian Association for Cancer Research and by the Ministry for Education, University and Research.
Ethics declarations
Competing interests
A patient application has been filed on HMGB1 as a signalling molecule.
About this article
Cite this article
Scaffidi, P., Misteli, T. & Bianchi, M. Release of chromatin protein HMGB1 by necrotic cells triggers inflammation. Nature 418, 191–195 (2002). https://doi.org/10.1038/nature00858
Received:

Accepted:

Issue Date:

DOI: https://doi.org/10.1038/nature00858
Comments
By submitting a comment you agree to abide by our Terms and Community Guidelines. If you find something abusive or that does not comply with our terms or guidelines please flag it as inappropriate.