Abstract
In the central nervous system, dendritic arborizations of neurons undergo dynamic structural remodelling during development. Processes are elaborated, maintained or eliminated to attain the adult pattern of synaptic connections1,2,3. Although neuronal activity influences this remodelling4,5,6, it is not known how activity exerts its effects. Here we show that neurotransmission-evoked calcium (Ca2+) release from intracellular stores stabilizes dendrites during the period of synapse formation. Using a ballistic labelling method to load cells with Ca2+ indicator dyes7, we simultaneously monitored dendritic activity and structure in the intact retina. Two distinct patterns of spontaneous Ca2+ increases occurred in developing retinal ganglion cells—global increases throughout the arborization, and local 'flashes' of activity restricted to small dendritic segments. Blockade of local, but not global, activity caused rapid retraction of dendrites. This retraction was prevented locally by focal uncaging of caged Ca2+ that triggered Ca2+ release from internal stores. Thus, local Ca2+ release is a mechanism by which afferent activity can selectively and differentially regulate dendritic structure across the developing arborization.
Relevant articles
Open Access articles citing this article.
Chengyu Sheng

,

Uzma Javed

…

Quan Yuan

Nature Communications Open Access 22 August 2018

Robert E. Johnson

,

Nai-Wen Tien

…

Daniel Kerschensteiner

Nature Communications Open Access 31 October 2017

Vanessa Lanoue

,

Michael Langford

…

Helen M. Cooper

Scientific Reports Open Access 20 July 2017
Access options
Subscribe to this journal
Receive 51 print issues and online access
$199.00 per year
only $3.90 per issue
Rent or buy this article
Get just this article for as long as you need it
$39.95
Prices may be subject to local taxes which are calculated during checkout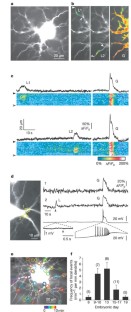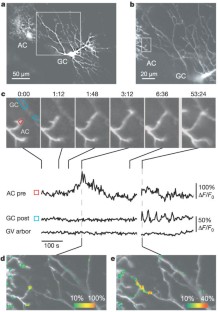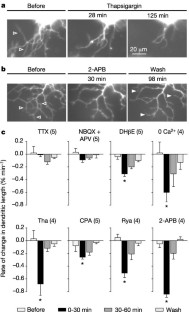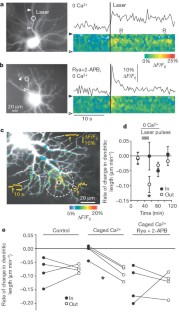 References
Yuste, R. & Tank, D. W. Dendritic integration in mammalian neurons, a century after Cajal. Neuron 16, 701–703 (1996)

Cline, H. T. Dendritic arbor development and synaptogenesis. Curr. Opin. Neurobiol. 11, 118–126 (2001)

Wong, W. T. & Wong, R. O. L. Rapid dendritic movements during synapse formation and rearrangement. Curr. Opin. Neurobiol. 10, 118–124 (2000)

Li, Z., Van Aelst, L. & Cline, H. T. Rho GTPases regulate distinct aspects of dendritic arbor growth in Xenopus central neurons in vivo. Nature Neurosci. 3, 217–225 (2000)

Wong, W. T., Faulkner-Jones, B. E., Sanes, J. R. & Wong, R. O. L. Rapid dendritic remodeling in the developing retina: dependence on neurotransmission and reciprocal regulation by Rac and Rho. J. Neurosci. 20, 5024–5036 (2000)

Wong, W. T. & Wong, R. O. L. Changing specificity of neurotransmitter regulation of rapid dendritic remodeling during synaptogenesis. Nature Neurosci. 4, 351–352 (2001)

Kettunen, P. et al. Rapid loading of calcium indicators by particle mediated ballistic delivery. J. Neurosci. Methods, in the press

Catsicas, M., Bonness, V., Becker, D. & Mobbs, P. Spontaneous Ca2+ transients and their transmission in the developing chick retina. Curr. Biol. 8, 283–286 (1998)

Sernagor, E., Eglen, S. J. & O'Donovan, M. J. Differential effects of acetylcholine and glutamate blockade on the spatiotemporal dynamics of retinal waves. J. Neurosci. 20, RC56 (2000)

Wong, W. T., Sanes, J. R. & Wong, R. O. L. Developmentally regulated spontaneous activity in the embryonic chick retina. J. Neurosci. 18, 8839–8852 (1998)

Hughes, W. F. & LaVelle, A. On the synaptogenic sequence in the chick retina. Anat. Rec. 179, 297–302 (1974)

Hering, H. & Kröger, S. Formation of synaptic specializations in the inner plexiform layer of the developing chick retina. J. Comp. Neurol. 375, 393–405 (1996)

Millar, T. J. et al. Cholinergic amacrine cells of the chicken retina: a light and electron microscope immunocytochemical study. Neuroscience 21, 725–743 (1987)

Wong, R. O. L., Herrmann, K. & Shatz, C. J. Remodeling of retinal ganglion cell dendrites in the absence of action potential activity. J. Neurobiol. 22, 685–697 (1991)

Berridge, M. J. Neuronal calcium signalling. Neuron 21, 13–26 (1998)

Spitzer, N. C., Lautermilch, N. J., Smith, R. D. & Gomez, T. M. Coding of neuronal differentiation by calcium transients. Bioessays 22, 811–817 (2000)

Chang, K. T. & Berg, D. K. Voltage-gated channels block nicotinic regulation of CREB phosphorylation and gene expression in neurons. Neuron 32, 855–865 (2001)

Koizumi, S. et al. Characterization of elementary Ca2+ release signals in NGF-differentiated PC12 cells and hippocampal neurons. Neuron 22, 125–137 (1999)

Korkotian, E. & Segal, M. Release of calcium from stores alters the morphology of dendritic spines in cultured hippocampal neurons. Proc. Natl Acad. Sci. USA 96, 12068–12072 (1999)

Svoboda, K. & Mainen, Z. F. Synaptic [Ca2+]: intracellular stores spill their guts. Neuron 22, 427–430 (1999)

Rose, C. R. & Konnerth, A. Stores not just for storage. Intracellular calcium release and synaptic plasticity. Neuron 31, 519–522 (2001)

Yuste, R., Majewska, A. & Holthoff, K. From form to function: calcium compartmentalization in dendritic spines. Nature Neurosci. 3, 653–659 (2000)

Eilers, J., Augustine, G. J. & Konnerth, A. Subthreshold synaptic Ca2+ signalling in fine dendrites and spines of cerebellar Purkinje neurons. Nature 373, 155–158 (1995)

Nishiyama, M., Hong, K., Mikoshiba, K., Poo, M. M. & Kato, K. Calcium stores regulate the polarity and input specificity of synaptic modification. Nature 408, 584–588 (2000)

Vaughn, J. E. Fine structure of synaptogenesis in the vertebrate central nervous system. Synapse 3, 255–285 (1989)

McAllister, A. K. Cellular and molecular mechanisms of dendrite growth. Cereb. Cortex 10, 963–973 (2000)

Gan, W. B., Grutzendler, J., Wong, W. T., Wong, R. O. L. & Lichtman, J. W. Multicolor "DiOlistic" labeling of the nervous system using lipophilic dye combinations. Neuron 27, 219–225 (2000)

Myhr, K. L., Lukasiewicz, P. D. & Wong, R. O. L. Mechanisms underlying developmental changes in the firing patterns of ON and OFF retinal ganglion cells during refinement of their central projections. J. Neurosci. 21, 8664–8671 (2001)
Acknowledgements
We thank J. Sanes, J. Lichtman, A. M. Craig and S. Eglen for comments on the manuscript, and J. Demas for assistance with ballistic loading of calcium indicators. This work was supported by NIH, NSF, DFG and the Plum foundation.
Ethics declarations
Competing interests
The authors declare that they have no competing financial interests.
Supplementary information
About this article
Cite this article
Lohmann, C., Myhr, K. & Wong, R. Transmitter-evoked local calcium release stabilizes developing dendrites. Nature 418, 177–181 (2002). https://doi.org/10.1038/nature00850
Received:

Accepted:

Issue Date:

DOI: https://doi.org/10.1038/nature00850
Comments
By submitting a comment you agree to abide by our Terms and Community Guidelines. If you find something abusive or that does not comply with our terms or guidelines please flag it as inappropriate.