One agency has linked the widely used herbicide to cancer.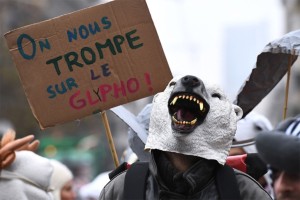 In a long-awaited decision, the European Union has voted to allow for another five years the sale and use of the controversial herbicide glyphosate. The resolution comes amid arguments over whether the widely used weedkiller poses a cancer risk to people: one scientific body says it does, but others disagree.
The binding vote, taken on 27 November, came just before the product's current licence expires on 15 December, and ends two years of fierce divisions among the 28 EU nations.
International regulatory agencies, including the European Food Safety Authority (EFSA) and the European Chemicals Agency, have concluded that there is little evidence that the chemical causes cancer in people. But in March 2015, the International Agency for Research on Cancer (IARC), which is part of the World Health Organization, said that the substance was "probably carcinogenic" to humans, and that there was "convincing evidence" that glyphosate can cause cancer in laboratory animals.
On 25 October, the European Commission proposed a ten-year extension for the substance, which is used in broad-spectrum herbicides and was launched in 1974 by US agrochemical giant Monsanto as the active ingredient in Roundup. But France and other countries rejected the idea because of safety concerns. Eighteen countries eventually voted in favour of a five-year extension, nine voted against and one abstained.
The compromise seems to have left both sides disappointed. "European governments failed European citizens and future generations today," said Génon Jensen, executive director of the Health and Environment Alliance, a non-governmental organization in Brussels that had campaigned for a ban on glyphosate. French President Emmanuel Macron responded to the vote by tweeting that glyphosate will be banned in France as soon as alternatives can be found, and within three years at the latest. A European Citizens' Initiative petition to stop the use of glyphosate in Europe had gathered more than 1.3 million signatures by 27 November.
Meanwhile, the Glyphosate Task Force, which is based in Darmstadt, Germany, and represents 22 glyphosate manufacturers in the EU, complained that the vote "categorically ignored scientific advice (and was) mainly influenced by public opinion and driven by politics".
Scientific conclusions on both sides have been criticized. Reuters reported in June that IARC members had not considered a large study showing no link between glyphosate and cancer in humans, because at the time, it had not yet been published. That study, which tracked the health of tens of thousands of farmers, agricultural workers and their families in Iowa and North Carolina starting in the 1990s, was published earlier this month1.
What's needed now is a "completely unbiased review of the evidence against glyphosate", Christopher Connolly, a neurobiologist at the University of Dundee, UK, said in a statement. "We must make the next five years count."
References
Andreotti, G. et al. J. Natl Cancer Inst. 110, djx233 (2018).
Related links
Related links
Related links in Nature Research
About this article
Cite this article
Casassus, B. European Union nations vote to keep using controversial weedkiller glyphosate. Nature (2017). https://doi.org/10.1038/nature.2017.23044
Published:

DOI: https://doi.org/10.1038/nature.2017.23044