Researchers who worked with Florian Jaeger have filed a complaint with the US government after the university cleared his name.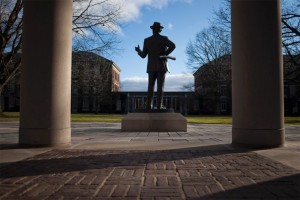 A sexual-harassment case in the sciences is rocking the University of Rochester in New York, prompting campus protests over the university's handling of allegations against linguist Florian Jaeger.
Seven current and former faculty members of the brain and cognitive sciences department, along with a former graduate student, have filed complaints against the university with the US government. They allege that Jaeger, a full professor in the department, sexually harassed graduate students and postdocs and created a hostile work environment. They also allege that the university, which last year investigated the matter and twice cleared Jaeger of wrongdoing, retaliated against the faculty members who lodged the complaint.
The reports involve at least 11 women who interacted with Jaeger at various points since he arrived in Rochester in 2007. Among other things, the complaints allege sexual encounters with graduate students, parties with students involving illegal drugs, and remarks Jaeger made about the sexual attractiveness of students in front of other faculty members. Jaeger is also accused of pressuring a female student into sharing a house with him and professionally isolating students who would not sleep with him.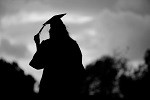 Since the details became public in an 8 September news article in Mother Jones, University of Rochester administrators have faced protests from students and others on campus. In response, its president, Joel Seligman, has said the university would hire an independent investigator to review claims of retaliation and new allegations in the complaints that were not reviewed earlier by the university. The university will also ask an independent evaluator to review its procedures for dealing with claims of harassment and discrimination, and set up a commission to explore issues of women and gender in academia.
Jaeger will remain off-campus for the rest of the current semester. He declined an interview request from Nature.
"This is a very extraordinary case," says Ann Olivarius, a senior partner at the McAllister Olivarius law firm in London who is licensed to practice law in multiple US states and is co-leading the legal case against the university. (Olivarius was one of the plaintiffs in the US lawsuit that established in 1980 that sexual harassment at a university constituted illegal discrimination.) "It's the first time in all the decades that I've worked in this area," she says, "that senior faculty combined with junior faculty to make a stand and say, 'This behaviour is unacceptable and we need to do something about it'."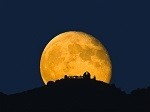 The group filed its eight identical complaints — one per complainant — with the US Equal Employment Opportunity Commission (EEOC) beginning on 30 August. The commission is responsible for enforcing federal laws that make it illegal to discriminate against an employee because of their gender, among other factors.
Richard Aslin, a developmental psychologist and member of the US National Academy of Sciences, resigned from the university in December in protest over its handling of the Jaeger investigation. He had worked at the university for more than three decades, including stints as a dean and as a vice-provost. Six of the seven other co-authors of the complaint have also left, or plan to leave, the university — most for reasons directly related to the incident.
In a 10 September statement, Seligman wrote that the core allegations "were investigated, appealed and found to be unsubstantiated". And in an e-mail to department members on 9 September, department chair Greg DeAngelis wrote, "I want to assure you that [department] faculty and staff care deeply about the safety, security, and well-being of our students and the importance of a welcoming and safe workplace." (DeAngelis did not respond to Nature's request for comment on the matter.)
But the university response did not go over well with many students, some of whom set up a Facebook page to protest the administration's handling of the case. On 12 September hundreds of them met for a heated three-hour town hall with Seligman; the following day, hundreds more turned out to protest in front of the university library. The protesters had been planning to turn out at Jaeger's undergraduate linguistics class, but another instructor has taken over that class for the rest of the semester.
In a 12 September e-mail to students in that class, Jaeger wrote: "I am incredibly sorry for the emotional turmoil you must be experiencing....I will likely respond in more in depth to the allegations against me," but "it will take time to reply in a way that does not unwittingly cause harm to witnesses."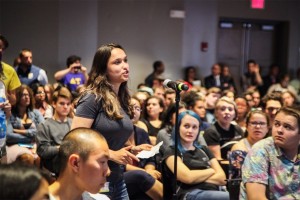 Jaeger works on developing computational frameworks for language production and understanding, including how noise affects communication. He has won a number of prestigious fellowships and this summer co-directed a summer institute in cognitive neuroscience in Santa Barbara, California, that was sponsored by the Kavli Foundation of Los Angeles, California, and the US government.
On 9 September, Jaeger had been scheduled to give the closing keynote address at the Architectures and Mechanisms of Language Processing conference at Lancaster University, UK. After the Mother Jones story appeared on 8 September, he and the conference organisers mutually agreed to cancel the talk, according to a university spokeswoman.
Jaeger's behaviour came under scrutiny in early 2016, when he allegedly said at several faculty meetings that he saw no problem with faculty members dating students. Aslin and other faculty members began discussing the subject and discovered what they say is a string of sexual predations by Jaeger over the years. "We had all these concrete examples of something that we knew was wrong," says Jessica Cantlon, an associate professor in the department.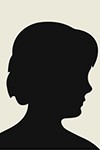 She and Aslin led the formal complaint to the university on behalf of students, arguing that Jaeger had violated its policy against discrimination and harassment. The university investigated and concluded — initially, and then again after an appeal — that Jaeger had not violated any university policies. That included its policy on intimate relationships, which forbids such relationships between faculty members and any member of the university community over whom they exercise academic authority. While the university's investigation was underway, Jaeger was granted a full professorship.
The complainants say that the investigation did not gather enough information to accurately assess whether Jaeger violated university policies or not. "They must have a really peculiar definition of what sexual misconduct is, and one that doesn't align with the rest of the world," Cantlon says. The 11 women from whom the group gathered witness statements describe Jaeger — among other things — allegedly sending photographs of his genitalia, describing how a student should walk in front of him while reading manuscripts to him as he sat on a couch, and having loud sex with students within earshot of other students.
"The problem isn't being sexual — the problem is doing that across boundaries that involve power and authority over people," says Elissa Newport, a cognitive psychologist at Georgetown University in Washington DC. As head of the University of Rochester brain and cognitive sciences department from 1998 to 2010, she hired Jaeger there; she is now among the complainants. "It's important for faculty members to understand that these are students in your charge, and you don't take advantage of that."
After the initial investigation found that Jaeger had not violated any university policies, one of the complainants filed a separate complaint alleging that Jaeger had engaged in retaliatory behaviour against her. The university commissioned an external investigator, who found no evidence of retaliation.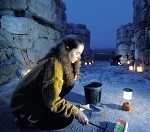 In the EEOC filings, the wider group of eight complainants now also alleges additional instances of retaliation. In one instance the department chair allegedly disparaged them in front of the entire department faculty; in another, provost Robert Clark sent a memo to the department's faculty criticizing what he called "rumors" and "misinformation" about the investigation. "The University considers the matter closed," he wrote. "I affirm that Dr. Jaeger is a valued member of our faculty."
The university will now look into these new allegations of retaliation. "I think it shows that the original investigation was flawed," Cantlon says. "Like the students said in the town hall, the university's claims and actions don't pass the smell test." (Sara Miller, a spokeswoman for the university, says that "we do not believe the original investigation was flawed".)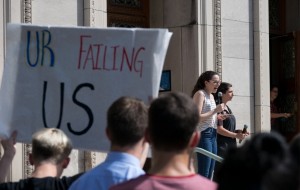 The complainants allege that Rochester administrators searched their university e-mails without their knowledge, a step that Cantlon says was the last straw for her. Like the other complainants who are still on the department's faculty, she is looking for a new job. "I was on a particular trajectory in my career that's been disrupted," she says. "Now I'll move my whole laboratory, and go and try to start somewhere else."
Erika Marín-Spiotta, a biogeochemist at the University of Wisconsin–Madison, says that sexual harassment can derail or even end the careers of many scientists. She is leading a US$1.1-million initiative funded by the US National Science Foundation to develop strategies to help scientists respond to and prevent sexual harassment on campus and in the field. "We so often hear that people don't know how to respond in these instances," Marín-Spiotta says. She hopes her group can roll out tools in the next few years to help faculty members better intervene in incidents of sexual harassment involving graduate students in their departments. The Rochester case, she notes, is rare in having so many faculty members unite and come forward on behalf of their younger colleagues.
The EEOC will now investigate the complaint — including a response yet to be filed by university administrators — and determine whether discrimination occurred. If the commission does find evidence of discrimination, it could attempt to broker a settlement with the university or pursue a legal remedy. In the meantime, Rochester is left to deal with a department in turmoil.
Newport says that she and the other complainants see larger principles at stake. "The main reason we decided to go public is because we wanted the university's processes to be reformed," she says. "It wasn't meant to be about Florian — it's meant to be about harassment and retaliation."
Related links
Related links
Related links in Nature Research
Related external links
About this article
Cite this article
Witze, A. Scientists' sexual-harassment case sparks protests at University of Rochester. Nature 549, 315–316 (2017). https://doi.org/10.1038/nature.2017.22620
Published:

Issue Date:

DOI: https://doi.org/10.1038/nature.2017.22620