UK government document fails to extinguish concerns over funding and migration.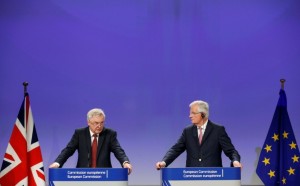 More than one year after UK citizens voted to leave the European Union, and close to three months into 'Brexit' negotiations, the British government has finally laid out how it would like to handle scientific relationships with the EU after it leaves the bloc in 2019. Many scientists are less than impressed.
In a policy document published on 6 September, the UK government pledges to "seek an ambitious science and innovation agreement" in Brexit negotiations with the EU. But it simply sets out areas in which agreement will be sought, rather than making any specific proposals.
John Womersley, director-general of the European Spallation Source, a research facility in Lund, Sweden, says that although the aspirations in the document were welcome, the lack of detail means it will probably disappoint the scientific community more than reassure it. "I downloaded the document and I thought, hoped, expected, it would be too big for me to digest in ten minutes. It was trivially easy to digest in ten minutes," he says.
Mike Galsworthy, of the Scientists for EU pressure group, says that the document makes "generally warm and happy noises" but contains nothing really new. "My anxiety is specifically we could have told you all of this two years ago," he says of its contents. "We have now wasted a quarter of the negotiation time and the government hasn't really put forward anything that really addresses the hard challenges."
In January, the government listed science as one of its 12 priorities for Brexit negotiations, but it has said little about what this would mean in practice. UK institutions currently receive around €1 billion in funding every year from EU programmes, mainly from the huge Horizon 2020 funding programme, the latest of the EU's research-funding 'Framework Programmes'. Freedom-of-movement rules have allowed academic staff from EU countries other than the United Kingdom — currently more than 30,000 — to move to UK universities and live and work without visas.
Today's document — one of a series outlining the government's position in continuing negotiations with the EU — confirms that the United Kingdom would like to remain a member of Horizon 2020, and of any successor schemes. It would "welcome discussions" about continued UK participation in these, as well as in space, nuclear and defence research-and-development programmes.
But it warns that any payments that the United Kingdom would have to make to remain part of such projects would be weighed "against other spending priorities". It also says that, although EU citizens will lose the automatic right to come and work in the United Kingdom, the country "will continue to welcome the brightest and best".
In a statement, David Davis, the minister in charge of the Department for Exiting the European Union, said: "This paper sends a clear message to the research and innovation community that we value their work and we feel it is crucial that we maintain collaboration with our European partners after we exit."
Ministers have previously declined to say whether they would seek to keep the United Kingdom in EU schemes such as Horizon 2020. Reports circulating in the media this week indicated that Britain would be willing to pay €1.3 billion a year to stay in. However, this figure doesn't appear in the document, and no other specific financial contribution is mooted.
How much Britain might have to pay if it were to join a successor to Horizon 2020 would have to be negotiated. Several non-EU countries have joined the Framework Programme as 'associated countries'. That allows their researchers to apply for grants, but it also involves the nations paying a proportion of the programme's budget. How much countries pay is based on a ratio of their gross domestic product to the EU's. On the basis of those rules, the UK might expect to pay between £1.8 billion and £2 billion to rejoin the scheme.
Kurt Deketelaere, secretary-general of the League of European Research Universities in Leuven, Belgium, says it is "an absolute necessity" that the United Kingdom joins the planned successor to Horizon 2020, which begins in 2021. However, this could require some changes to current rules, which allow membership to categories of countries that the United Kingdom is unlikely to fall into, he says. Changes to the Framework Programme to make it more open internationally could be one solution to this, he notes.
A key concern for some is the gap between the UK leaving the EU in 2019, and potentially joining the Horizon 2020 successor scheme in 2021. Britain has already promised to fund grants that are awarded under the current scheme before it leaves the EU. But whether it will continue to pay into Horizon 2020 after it leaves the EU is part of the negotiations — the EU argues that Britain has a legal commitment to do so.
Deketelaere agrees that Horizon 2020 should not present a problem. But Edward Whiting, director of policy at the Wellcome Trust, says "we are concerned about the continuing uncertainty for UK researchers" about the gap regarding participation between 2019 and 2021.
Whiting praises the plans for addressing the ability of researchers to move to the United Kingdom, but he says it will be important for the government to think beyond researchers with established careers when they look for the "brightest and best". Younger researchers and support staff are also crucial to science, he points out, and these scientists may fall foul of immigration controls, such as the need to earn above a certain salary.
The government's science plan was not the only document attracting attention from policy watchers today. The Guardian newspaper released a leaked draft of what might be the United Kingdom's post-Brexit immigration policy, which included a rapid end to freedom of movement for EU citizens, and visas of three to five years for highly skilled workers. It also included suggestions for salary caps and restrictions on the ability to bring family members to Britain. Deketelaere thinks the document will make researchers think twice about moving to the country.
To attract the "brightest and best", Britain is touting a new £100-million 'Rutherford Fund', which will provide fellowships for researchers to move to the country. But James Wilsdon, who studies research policy at the University of Sheffield, notes that the current EU system allows, for example, an Italian scientist with a grant from the prestigious European Research Council to move to the Britain with her grant, her partner and her children. Allowing a researcher to come to the United Kingdom is not enough, he says, if that person's family would have to be left behind.
"The upside of the European system in mobility terms is clearly that it's very flexible in terms of movement of you and your partner and your kids," says Wilsdon. "Scientists are not these people who only sit there doing science. This is real life."
Related links
Related links
Related links in Nature Research
Related external links
About this article
Cite this article
Cressey, D. Researchers riled by lack of detail in Brexit science plans. Nature 549, 140–141 (2017). https://doi.org/10.1038/nature.2017.22566
Published:

Issue Date:

DOI: https://doi.org/10.1038/nature.2017.22566