Energy researcher Daniel Kammen faults US president's positions on climate change and energy and his failure to condemn white supremacists.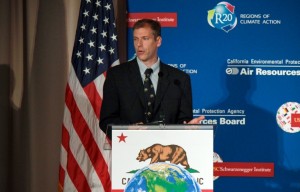 An energy researcher at the University of California, Berkeley, resigned his post as a science envoy for the US Department of State on 21 August, citing US President Donald Trump's "attacks on the core values of the United States".
In a resignation letter addressed to Trump, Daniel Kammen joined political leaders from both major parties who have criticized the president's equivocal response to violent demonstrations by white supremacists in Charlottesville, Virginia, on 12 August. Kammen also condemned the Trump administration's "destructive" policies on energy and the environment, which he said have affected his work as a science envoy. Such policies include the president's decision to pull the United States out of the 2015 Paris climate pact.
"Your presence in the White House harms the United States domestically and abroad and threatens life on this planet," wrote Kammen, whose term as an envoy was set to end next month. The first letter of each paragraph in his message forms an acrostic that spells out the word "impeach".
Former president Barack Obama created the science envoy programme in 2010 to boost outreach and partnerships with predominantly Muslim countries. The effort, which is run by the state department, has since expanded to cover more countries. Kammen is one of 18 scientists who have taken part in the envoy programme; his work in Africa and the Middle East has focused on national security, jobs and sustainable energy.
The White House did not immediately respond to requests for comment. A state department official confirmed that Kammen was one of three active science envoys and said the department is in the process of appointing more. The official declined to comment on Kammen's resignation letter.
Andrew Rosenberg, who heads the Center for Science and Democracy at the Union of Concerned Scientists in Cambridge, Massachusetts, says that Kammen's letter illustrates the moral and ethical quandaries that Trump's policies have created for scientists who serve the US government.
"For the science envoys like Dan, where you are going and representing the United States, it's particularly difficult," Rosenberg says. "It's a personal struggle that everyone has to go through."
Another science envoy, ecologist Thomas Lovejoy of George Mason University in Fairfax, Virginia, says that he understands and respects Kammen's decision to resign. Nonetheless, Lovejoy has elected to continue in his work on biodiversity and sustainability with Amazon rainforest nations, including Peru, Columbia and Brazil. That includes working to advance an agreement between the United States and Peru to address a spike in illegal gold mining in the western Amazon.
"I've seen how catalytic this kind of thing can be," Lovejoy says of his envoy efforts. "I'm just personally going ahead and doing what I think needs to be done."
About this article
Cite this article
Tollefson, J. US science envoy resigns in protest at Trump policies. Nature 548, 509 (2017). https://doi.org/10.1038/nature.2017.22510
Published:

Issue Date:

DOI: https://doi.org/10.1038/nature.2017.22510