Efforts to relocate artefacts to sites of origin could stall after gold robbery at national park.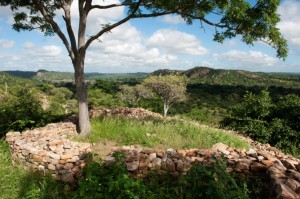 When thieves stole some centuries-old golden artefacts from a South African park in December, they did more than just spirit away archaeological treasures. The robbery has triggered an outcry among academics, who have only just heard of the theft, and raised questions about growing efforts to return culturally important materials to the region where they were found.
Archaeologists and curators from major museums worry that smaller, local facilities sometimes fall short on security and cannot preserve artefacts properly, leaving them at risk. "There is always a trade-off of security versus local relevance and tourism benefits at remote regional museums," says Kevin MacDonald, an archaeologist at University College London. "If I were custodian of such materials, I would think twice before putting them into vulnerable situations."
The stolen artefacts include a necklace, bracelets and beads excavated from two graves at the Thulamela archaeological site, which was inhabited between the thirteenth and seventeenth centuries. This site is located within Kruger National Park, and the artefacts were on loan to the park when they were stolen from a small museum there. The theft was first publicly reported this June in an Afrikaans-language newspaper, Die Beeld.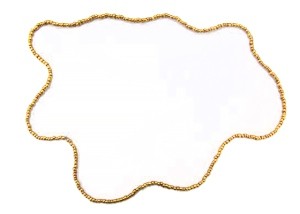 In South Africa, heritage legislation encourages that artefacts be stored in their province of origin. However, only universities and museums have the accreditation to store them permanently. The Thulamela relics are usually housed at the Ditsong National Museum of Cultural History in Pretoria.
The robbery leaves a gap in the history of the gold trade in southern Africa, says Sian Tiley-Nel, who manages the museums at the University of Pretoria. Tiley-Nel oversees a group of artefacts discovered at what was once the kingdom of Mapungubwe in the north of South Africa. Mapungubwe, a 13th and 14th century trading centre, was excavated from the 1930s; Thulamela in the 1990s. The two sites were the most significant archaeological gold discoveries in southern Africa, Tiley-Nel says. "Gold artefacts are an extreme rarity and that is why the Thulamela theft is a travesty."
Researchers say that it is a blow to lose the Thulamela materials because new techniques are providing more information than ever about the composition and provenance of ancient metals. Samples such as those from Thulamela could help researchers to trace the origins of Africa's pre-colonial gold trade, says MacDonald.
The theft is also hampering discussions about moving other artefacts to locations under the authority of South African National Parks, or SANParks, a government-supported conservation body.
Researchers at other institutions say that SANParks has been seeking to become an official repository for about a decade, and it has a number of artefacts on loan from both the Thulamela and Mapungubwe collections. But Tiley-Nel says that the University of Pretoria has serious concerns about the state of the Mapungubwe collection on loan to SANParks.
"Site inspections have revealed deteriorating conditions, poor curation and improper collections management practices at the Mapungubwe Interpretation Centre, which was not originally designed to house original museum material," she says.
A SANParks spokesperson disputed Tiley-Nel's criticisms of the conditions in its facilities. "SANParks has a duty to tell the full story about its parks and where it necessitates exhibiting artefacts, steps are taken to put such on display," the spokesperson added, saying that the criticisms were meant to undermine the work done by the authority to upgrade its museums and keep artefacts where they historically belong.
Tiley-Nel says the University of Pretoria has raised its concerns several times with SANParks, but has received no response. And the University of Pretoria and other curators say that they are considering withdrawing their artefacts from SANParks and halting talks about future loans.
Researchers are also concerned that SANParks has yet to officially inform the Ditsong museum about the theft of the Thulamela pieces. The museum found out only through the archaeological grapevine this April, says Frank Teichert, an archaeologist there, and has received an email confirmation but no comprehensive list of what has been stolen. A SANParks spokesperson says that the museum had informed police and was not aware it had to let anyone else know about the theft.
The loss of the Thulamela materials could have a broader impact, says Chris Wingfield, an archaeologist at the Museum of Archaeology and Anthropology in Cambridge, UK. "The international significance may partly relate to repatriation debates, since these sometimes hinge around the security of repatriated artefacts," he says.
About this article
Cite this article
Wild, S. Theft of South African relics riles researchers. Nature 548, 383 (2017). https://doi.org/10.1038/nature.2017.22479
Published:

Issue Date:

DOI: https://doi.org/10.1038/nature.2017.22479