Europe's highest court will rule on Poland's policy that encourages tree-felling in biodiversity hotspot.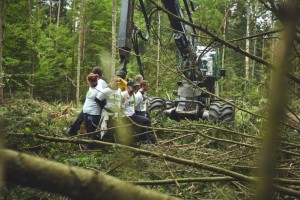 A campaign by scientists and environmental activists to prevent a surge in logging in Europe's ancient Białowieża Forest is headed to the courts.
The European Commission announced on 13 July that it is referring Poland to Europe's highest court after the Polish government declined to roll back controversial new rules that permit more tree-felling in Białowieża — a biodiversity hotspot and the largest remaining patch of a primeval forest that once covered the European Plain. The court case could take years, but the commission has also asked for an immediate ban on logging in the forest to prevent further environmental damage.
That's a rare request, says Agata Szafraniuk, a Warsaw-based legal expert with environmental-lawyer group ClientEarth, which is campaigning to protect the forest. The Court of Justice of the European Union (ECJ) has been asked only four times before to impose interim bans on activities that might result in environmental harm — and in all cases, it ordered a halt within days or weeks. (Those instances concerned the illegal hunting of wild birds in Malta in 2008, and in Italy in 2006 and 2009; and, in 2007, the construction of a highway through protected wetlands in northeast Poland).
The battle over management of Białowieża — a woodland area that covers roughly 1,500 square kilometres straddling Poland's border with Belarus, and a United Nations World Heritage Site — has been raging for over a year. The forest's ancient trees provide habitats for a rich diversity of fungi, insects, birds and mammals, including the largest population of European bison (Bison bonasus), and are also a valuable research resource, ecologists say. Scientists have conducted numerous studies there, most recently into the activity patterns of two bat species (Nyctalus noctula and Nyctalus leisleri)1 and the Eurasian lynx (Lynx lynx)2.
In March 2016, Poland's environment minister, Jan Szyszko, who is also a forester and entomologist, amended forest management rules to permit a three-fold increase in timber harvesting from Białowieża (save for a central region designated a national park, where logging is forbidden). His ministry argues that dead wood needs to be removed to combat an infestation of the European spruce bark beetle (Ips typographus) in the forest's Norway spruce (Picea abies).
But scientists argued against those plans. "Beetle pests are natural processes from which a forest can regenerate without intervention," says Rafał Kowalczyk, director of the Polish Academy of Sciences' Mammal Research Institute in the village of Białowieża. "The current outbreak is severe, but absolutely not dangerous."
On 29 April, the 150 participants of an international forest conference in Neuschönau, Germany, wrote a letter to Szyszko, arguing that natural disturbances such as wildfires and insect outbreaks are an inherent part of forest ecosystems. "Białowieża is a unique ecosystem in Europe that can well do without any so-called salvage logging," says Wolfgang Weisser, an ecologist at the Technical University of Munich in Germany who organized the letter. Meanwhile, environmental protesters have taken more extreme action — including chaining themselves to logging machines in protest.
Weisser and Kowalczyk say — as do other opponents of the logging policy — that they suspect that the amended forest-management plan is a concession to commercial interests, although the environment ministry says there are no commercial incentives at play. Extracted timber is a valuable resource, used to make charcoal and other wood products — and char dubbed 'Białowieża' turns up for sale in Polish supermarkets, Weisser says.
In June 2016, the European Commission sent a formal notification to Poland's government that the logging amendments risked infringing EU laws protecting birds and habitats, and urging it to comply. In April this year, it sent a final warning.
Poland replied, in a letter that has not been made public. But Kowalczyk thinks it is likely that the country re-stated its oft-repeated stance that active forest management is necessary to combat the beetle pest, and that the long-term impact of increased logging on forest health and biodiversity would be closely monitored. Whatever it said, the reply did not satisfy the commission.
It's now up to the ECJ to rule on the matter. The court is the final arbiter on EU legal matters, and its decisions cannot be contested. No country has ever failed to comply in cases when the ECJ has ordered interim bans to prevent immediate harm, Szafraniuk says: if a ban were ordered and Poland did not obey, the commission could impose severe daily fines — perhaps as large as hundreds of thousands of euros — or withdraw EU funds.
"We hope that the Court of Justice will impose the ban on logging, as a matter of urgency, before its summer break on 21 July," says Szafraniuk. If it does not, any decision on an interim ban will have to wait until September, when the ECJ resumes its work.
References
Ruczyński, I., Zahorowicz, P., Borowik, T. & Hałat, Z. Mamm. Res. 62, 65-73 (2017).

Schmidt, K., Davoli, F., Kowalczyk, R. & Randi, E. Integr. Zoology 11, 334-349 (2016).
About this article
Cite this article
Schiermeier, Q. European Commission urges logging ban in ancient Białowieża Forest. Nature 547, 267–268 (2017). https://doi.org/10.1038/nature.2017.22309
Published:

Issue Date:

DOI: https://doi.org/10.1038/nature.2017.22309
This article is cited by
Tomáš Hlásny
Louis König
Rupert Seidl

Current Forestry Reports (2021)

Dorota Czeszczewik
Agnieszka Ginter
Wiesław Walankiewicz

Biodiversity and Conservation (2019)

Jörg Müller
Hassan Barimani Varandi
Sebastian Seibold

Journal of Insect Conservation (2018)