Diego Gómez had faced up to eight years in jail in closely watched copyright case whose verdict has been appealed.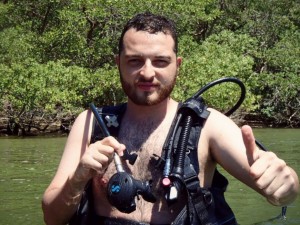 A Colombian biologist who faced a criminal trial for posting another scientist's thesis online has been cleared of copyright violation — an offence that, under Colombian law, might have brought him a jail sentence.
Diego Gómez Hoyos was handed down his 'not guilty' verdict on 24 May by a judge in Bogotá, although the prosecutor in the case has appealed the decision.
"I have been cleared. I am innocent," a delighted Gómez said after the verdict. "When I received the news, after four years with so much uncertainty, which is an obstacle in personal and professional life, that was a great happiness. However, knowing that the prosecutor appealed brings uncertainty back."
In 2011, Gómez, then at the University of Quindío in Armenia, Colombia, uploaded a scientist's 2006 thesis on amphibian taxonomy on the document-sharing network Scribd, hoping to help fellow students with their fieldwork. But two years later, he was notified that the author of the thesis was suing him.Gómez says that he removed the document immediately, but he was still accused of violating copyright. And according to Colombia's laws, these charges were criminal in nature and punishable by up to eight years in jail. (The country's law was reformed in 2006 to meet the stringent copyright protection requirements of a free-trade agreement signed with the United States. Yet, although the United States has few criminal penalties for copyright infringement, Colombia allows for only a few exceptions.)
The Karisma Foundation, a Colombian human-rights organization, took up Gómez's case, and launched the campaign 'Sharing is not a crime' in support of him. And Gómez's lawyer tried — unsuccessfully — to settle the case as the trial dragged on. The whole case seemed "out of proportion in a rather grotesque way", says Barend Mons, a molecular biologist at the Leiden University Medical Center in the Netherlands who is involved with the European Open Science Cloud, a data-sharing initiative.
Gómez has always refused to reveal the name of the person suing him — saying that he does not want to put pressure on his accuser. But it is widely known that the thesis was authored by Andrés Rymel Acosta Galvis, a biodiversity researcher, who in 2011 reported to the Colombian authorities that his work was being shared without his permission.
The results in the thesis would have been valid only after peer review and needed further treatment, says Acosta, and he didn't want the preliminary results to be published. He adds that he has since produced four peer-reviewed publications from the work.Acosta says that he did not ask Gómez directly to remove the thesis because he was afraid of contacting an unknown person in Columbia for security reasons. Gómez says that he attempted to settle the situation with him first through lawyers in late 2013, and then through an apology letter that he sent directly to Acosta in the summer of 2014. But Acosta says that the story became public before he received Gómez's letter, and that he had received death threats by telephone and on social media. That, he says, spurred him to pursue the case to defend his rights.
With Gómez cleared of the charge, "finally justice has been done", says Michael Carroll, who directs the Program on Information Justice and Intellectual Property at the American University in Washington DC. "This should have never been treated as a criminal matter. It's still evidence of a broken system when a situation like this has been treated as a criminal case and has gone on so long," he says.
Carolina Botero, a lawyer at the Karisma Foundation, thinks the problem lies with the lack of clarity of Colombia's copyright law. Lawmakers have failed to make clear, she says, that commercial profit has to be involved to turn a breach of copyright case into a criminal matter. The key to the not-guilty verdict, says Botero, was the judge's finding that it was not proven that Gómez shared the thesis for economic gain, or with an intention to damage its original author.
Gómez, who is 29 years old, is now based in Costa Rica, but is still affiliated with the University of Quindío and with the Colombian non-profit conservation organization ProCAT. "This is a very important precedent at the national level. It's a precedent for the fact that sharing for academic purposes, without making profit out of it, is a common practice," he says.
About this article
Cite this article
Catanzaro, M. Colombian biologist cleared of criminal charges for posting another scientist's thesis online. Nature (2017). https://doi.org/10.1038/nature.2017.22057
Published:

DOI: https://doi.org/10.1038/nature.2017.22057