Nature reported from marches in cities including Sydney, Washington DC and Paris, as people took to the streets in support of science.
Tens of thousands of people gathered on Saturday in Washington DC, and at least 600 other cities around the world, in what may have been one of the largest-ever demonstrations in support of scientific research and evidence-based policymaking.
More than 100 scientific societies and advocacy organizations have endorsed the march, but it has also proved controversial. Critics charge that march organizers have diluted the event's message by focusing on challenges that the scientific community faces, such as the inclusion of racial minorities, rather than advocating for science itself. Many are also concerned that the protest casts science as a partisan issue, although event organizers and supporters have pushed back, insisting that the marches aren't political.
Nature reported from science marches around the world.
Mexico City

Boston, Massachusetts

Washington DC

Denver, Colorado

London

Paris

Munich, Germany

Sydney, Australia
Under a dazzling sun on Paseo de la Reforma, one of Mexico City's widest avenues, PhD student Adhemar Liquitaya grabs his megaphone to cheer up the crowd of thousands marching towards the city's main square, the Zócalo. "Alert! Alert! The fight for science in Latin America is passing through!"
For Liquitaya, the fight is personal. In January 2017, the National Council of Science and Technology (Conacyt), the government agency in charge of implementing scientific and technological policies, reduced the amount of money offered to graduate students like him. "If I struggled before with paying my rent and buying groceries, now I'm being forced to tighten my belt even more," said Liquitaya, who studies biochemistry at the National Autonomous University of Mexico (UNAM) in Mexico City.
Patricia Ramírez Romero, a hydrobiologist from the Metropolitan Autonomous University in Mexico City, also worries about the toll recent funding policies are taking on Mexican science and technology. As the coordinator of a graduate programme in energy and the environment, she sees that the youngest scientists are the most affected. "It truly is a shame that Conacyt has cut off all scholarships for those who wish to pursue a master's degree abroad," she said. "The situation just keeps getting worse. We need a change."
Others were worried about scientific collaborations between Mexico and the United States. Ariel Rivers, an American entomologist at the International Maize and Wheat Improvement Center near Mexico City, held a sign decorated with monarch butterflies that read: 'These migrants need science, not a wall'. The monarch represents cooperation between our two countries, she said, but that connection may now be in jeopardy. "A lot of projects that I work on receive funding from the Mexican government but also the American government," Rivers said. "I'm worried about the long-term stability of that funding."
"Donald Trump's anti-science attitudes have been very damaging for both our countries," said Antonio Lazcano, an evolutionary biologist at UNAM. But still, he sees some hope. "Mexico and the United States won't be torn apart, not even by the continental drift. We're neighbours for good."
Hundreds of scientists across Boston started their morning by rallying on campuses including Harvard University, the Massachusetts Institute of Technology and Boston University, before heading downtown towards the main science march on Boston Common.
The rally at Harvard Medical School began with event organizers and speakers leading marchers in a protest song, accompanied by an accordion. But many in the crowd only hesitantly chimed in. The researchers and medical staff from Harvard and the surrounding research hospitals were clearly unaccustomed to belting out protest songs.
"This is a new activity for me," said Thomas Michel, a biochemist, physician and amateur musician at Brigham and Women's Hospital and Harvard Medical School who wrote the song and played the accordion. He hasn't been politically active since he was as a teenager in the 1970s. "That's probably true of many scientists," he said. "We haven't done it in a long time, if ever."
But he felt compelled to take action after an Iranian scientist was not able to start his postdoc in Michel's lab after he had his US visa suspended in January, just weeks before he was set to fly to Boston. "Although my passion is for science and medicine, I have a responsibility as a citizen of this country to speak out when I see injustice and help communicate the importance of science," Michel said.
"Science is the best way of overcoming our prejudices and learning new things," said Dany Adams, a developmental biologist at Tufts University in Medford, Massachusetts. "We have to show politicians that science is what is keeping us healthy and is an important engine for the economy."
Clifford Woolf, a neurobiologist at Boston Children's Hospital, led a group of dozens of fellow neuroscientists at the Harvard rally, all wearing blue bandanas around their heads. "Our science impacts the world and the world impacts us, and we can't ignore it," Woolf said. "We have to get involved and stand up for what we do."
Although rain drenched the crowd at the start of the march in Washington DC, the weather didn't dampen the spirits of the enthusiastic attendees. People dressed as dinosaurs, superheroes and other colourful figures roamed the National Mall while others held up signs of support for scientific issues, including research reproducibility and the White House's Office of Science and Technology Policy (OSTP). 'The OSTP website is still blank. SAD!' read one sign.
The movement's flagship march also boasted well-known speakers such as climate scientist Michael Mann, from Pennsylvania State University in University Park, and Christiana Figueres, executive secretary of the UN Framework Convention on Climate Change.
Scientists flocked from around the United States to march in the nation's capital. Karen Schroeder, a chemist at a printing company called Kustom Group, travelled from Walton, Kentucky, where she says she got "a lot of crap" from conservative co-workers about marching for science. "It's been difficult living there and dealing with the pro-Trump and anti-science vitriol I hear a lot of," she says. "But the fact that all this funding is getting cut affects everybody."
Janine Schroeder, Karen's sister, attended with friends from her Christian church in Arlington, Virginia, and had a different motivation. "I really do believe God made all of this," she says, referring to the planet. "It's our job to take care of this Earth. If you don't fund these programmes to take care of it, then we're not doing our job as stewards."
Casey Acklin, a neuroscientist from Jackson Laboratory in Bar Harbor, Maine, carried a sign encouraging people to "wear uncertainty like a badge of honor". Politicians tend to jump to conclusions in an effort to give answers to their voters, he says, even if the science is still in question. "I would love to see a world where people are a little more comfortable being uncertain," he says.
Siblings Eli and Gwenden Dueker came to the march dressed as the Wonder Twins — characters from the animated 1970s TV show Super Friends — sporting purple jumpsuits and yellow capes. Eli, an environmental microbiologist at Bard College in Annandale-On-Hudson, New York, says he feels a duty to engage with the public and policies. "I feel like as a scientist, I don't get the luxury of stepping away [from] being a citizen myself," he says. "Pretending like science is divorced from people is probably one of the reasons we're in this mess to begin with."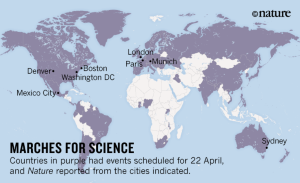 Science is crucial for understanding and protecting the planet, said local television meteorologist Mike Nelson. And "scientists need to be rock stars", he told a cheering crowd gathered in Civic Center Park in the mile-high city of Denver, Colorado. A mix of science and environmental advocates and professional scientists had collected under the gold-plated dome of the state capitol as a cold and drizzly morning gave way to sunnier skies for the city's march for science.
"Science is not perfect but it is the best tool we have to face the challenges of the future," Colorado governor John Hickenlooper, a former geologist, told the crowd. He spoke over the chants of anti-fracking activists; Hickenlooper supports the practice of fracking. "Climate change cannot be reversed by silencing scientists."
"I'm here because we can't have science being defunded," said R. A. Varney, a palaeoecologist with the PaleoResearch Institute in Golden, Colorado. Varney, sporting a bowtie, was staffing the institute's mobile archaeological analytical laboratory in an educational area of the park. "We called them yesterday to get a slot here. We gotta do something," he said.
"We wouldn't be anywhere without science," said Shannon Harris, a senior at Metropolitan State University of Denver who is studying biology. It was her first time marching for any cause, and she carried a handmade sign decorated with viruses, bacteria and other microorganisms she had studied in her classes.
"I really believe in vaccination," she said, pointing at a carefully rendered syringe on her poster. "I want people to recognize how important science is."
"We should be thinking about the march as a way to reach out beyond ourselves," said Marith Reheis, a geomorphologist and palaeoclimatologist who is retired from the US Geological Survey. She spoke about the importance of government funding for the sciences while staffing a table for the Colorado Scientific Society, headquartered in Lakewood, of which she is president.
"We need to think about our grandchildren," she said. "I have several."
Clouds, a light shower and bursts of sunshine greeted an estimated 12,000 people who packed the streets of west London in the city's march for science today. "What do we want? Science! When do we want it? After peer review!" was a popular chant, as the crowd wound its way towards Westminster.
Science funding was very much on the mind of Curtis Moon, who is working on his master's degree in biosystematics at the Natural History Museum, not far from where the march began. He, like many of today's participants, is worried about UK science funding once the country leaves the European Union. His homemade sign read 'WTF?! Where's the funding?!'
Tracy Underwood is a medical physicist at University College London (UCL), who is funded through a Marie Curie fellowship, an EU programme that supports graduate students and early-career scientists. She sported a sign that read 'Girls just want to have funding', and hopes the march will make the public more aware of the need to maintain access to such programmes after Brexit.
Overt party politics was mostly absent from the march, even though UK Prime Minister Theresa May had announced a snap general election just a few days before the march. But Peter Brooks, an accountant with a PhD in chemistry, came to support the Liberal Democrat party under a banner of balloons. "Brexit is going to vastly damage our ability to collaborate internationally," he said.
But many more marchers were more concerned with the devaluation of a science-based worldview in the United States and the United Kingdom. "The political situation is against evidence, fact, peer review and against the truth," said Matthias Pfeifer, a molecular biologist at Imperial College London. "If this turns into a world where we can't say what is true, it will be difficult for us."
Antibiotic resistance was the cause that motivated Lucy Young, a cancer biologist at UCL who came dressed as Dolly the sheep and carried a sign that read: 'You are the result of 3.8 billion years of science. Act like it'.
About 5,000 people of all ages marched for science under grey skies in Paris today, carrying as many if not more banners in English than in French.  
'Sticking your head in the sand is not a solution to global warming. Your ass will still get very hot', proclaimed the sign held aloft by Frédéric Bayer, a nutrition engineer who now works for a scientific communications agency Protéines in Paris. 'Peer reviewed, not politician skewed', declared another sign carried by Sarah Arnaud, manager of the European Infravec 2 project at the Pasteur Institute, also in Paris.
The police estimated that between 4,700 to 5,200 people participated in the march. It kicked off with a brass band rendition of 'Sweet George Brown' and continued with a string of speeches and impassioned declarations before the procession set off to Place Saint-Michel in the heart of the Latin Quarter. The march stopped off at the Jussieu campus of the Pierre and Marie Curie University and the Collège de France on the way.
More than 150 French scientific and other bodies officially supported the marches in 23 towns and cities around France, which come the day before the first of two rounds of voting in the presidential election. The run-off is on 7 May. "For the first time, all players in the scientific world in France will march to promote the message that 'science is a pillar of democracy'," the organizers told the press on Tuesday.
The idea is to raise awareness among the general public and garner their support for science. "We must explain to citizens that science is much, much more fragile than is believed," said Alain Fuchs, president of the National Centre for Scientific Research, the main French public basic research agency. The spread of belief over truth, he says, "is extremely serious, even in France". 
Fuchs marched today because science is under threat in the United States, and "we fear we might go the same way, if hints from politicians are anything to go by", he told Nature.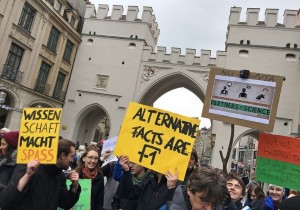 Scientists in Germany, where research funding is generous and stable and respect for the environment is strong, have little to complain about. But according to estimates, about 3,000 people gathered at one of the ancient gates to Munich's historic city centre to participate in the march today. The Munich event was one of 19 planned for towns and cities throughout the country.
Attendees came to show solidarity with researchers elsewhere, and because of fears that the world trend towards populism might start to sideline science in their country too.
Moritz Hertel from the Max Planck Institute for Ornithology in Seewiesen, who studies brain plasticity, carried an umbrella decorated with dangling pictures of brains. "The line between pseudoscience and science isn't always clearly delineated in our society," he said. "Science needs to play a stronger role in policy-making — this is particularly important during this election year in Germany."
High-school student Kim Luu, who wishes to study physics at university, said she was concerned that even in Germany some people don't take the problem of climate change seriously enough.
Non-scientists were also out in force, enjoying the good-humoured atmosphere, the rap artists and the drummers. Software developer Jason Reed turned up in a T-shirt that declared 'There is no alternative to facts'. "Science has to make a stand," he said, his three children dancing around him, "and we do so as a family." Another marcher who laughed that she knew little about science held her large and solemn greyhound in her arms. He sported a grey rain jacket bearing the slogan: 'I [heart] scientists'.
Cognitive scientist Robin Litt had been planning to attend Sydney's March for Science anyway. But when the visiting American postdoc heard that US vice-president Mike Pence would also be in the city on 22 April, she was even more determined to march in solidarity with researchers in her home country. "Knowing Pence was going to be here, I wanted to feel like I was taking part in something," says Litt, of Macquarie University in Sydney.
The city's march was one of 10 events held in Australia on Saturday. Organizers estimate more than 10,000 people took part across the country.
Direct political interference in US science isn't new, said public-health researcher Simon Chapman, speaking to a crowd of about 3,000 in Sydney's central business district. But President Trump's plans to cut the budgets of major science programs is unprecedented, said the retired University of Sydney professor. "Many researchers here today have colleagues living in Trump's America who fear for their careers and their future."
"It's important for scientists to get more involved in what's going on in the world," said Nadia Santini, a plant ecologist at the University of New South Wales in Sydney. She decided to march because she felt it was important for researchers to speak out against misinformation and to promote the vital role science plays in society.
Santini attended the march with her husband, Tim Mercer, a geneticist at the Garvan Institute of Medical Research in Sydney, and their young daughter, Estela. "It's important for her to be here, and see that we want to have a voice," she said. "She wants to be a scientist when she's older," said Mercer.
Fear for future generations compelled schoolteacher Peter Macinnis and his wife Christine, a retired schoolteacher, to participate in Saturday's event. "We decided to march today because we want a future for our grandchildren," Macinnis said. He hopes the global events will convince politicians that the public values science. "Also, it's my birthday today and I can think of no better way than to come out and riot on the streets," he said.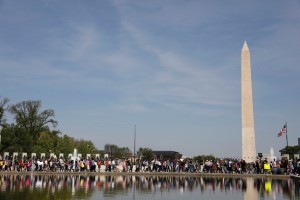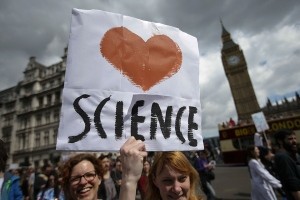 Related links
Related links
Related links in Nature Research
Related external links
About this article
Cite this article
Reardon, S., Phillips, N., Abbott, A. et al. What happened at March for Science events around the world. Nature 544, 404–405 (2017). https://doi.org/10.1038/nature.2017.21853
Published:

Issue Date:

DOI: https://doi.org/10.1038/nature.2017.21853
This article is cited by
Tobias Würschum
Willmar L. Leiser
Volker Hahn

Theoretical and Applied Genetics (2019)