Coalition of scientists and research agencies argue for a one-stop shop server.
Life scientists keen to share their findings online before peer review are spoilt for choice. Whereas physicists gravitate to one repository — the 'preprint' server arXiv — life sciences has a fast-growing roster of venues for preprints. There's the biology-focused bioRxiv, and a biology section on arXiv too. But other sites have sprouted up in the past year, or soon will do, and these too provide opportunities for life sciences: ChemRxiv for chemistry, psyArXiv for psychology; even AgriXiv for agricultural sciences and paleorXiv for palaeontology.
Now, a coalition of biomedical funders and scientists is throwing its weight behind a 'one-stop shop' for all life-sciences preprints — a move that its backers argue should clarify any confusion and make it easier to mine the preprint literature for insights. On 13 February, ASAPbio, a grassroots group of biologists that advocates for preprints, issued a funding call to build a central preprint site; the US National Institutes of Health (NIH), the Wellcome Trust and several other leading funders announced their support for the concept. 
"The landscape could become fragmented very quickly," says Robert Kiley, head of digital services at the London-based Wellcome Trust. "We want to find a way of ensuring that, although this content is distributed far and wide, there's a central place that brings it all together".
The details of the service are inchoate: its scope will depend on specific scientific fields and their funders, says Jessica Polka, the director of ASAPbio. But as well as aggregating content from other biology-focused preprint sites, ASAPbio wants the site to mesh with arXiv and with ChemRxiv, which the American Chemical Society in Washington DC plans to launch soon. 
Proponents hope that a central site will lure biologists to embrace the practice as wholeheartedly as physical scientists have. Physics manuscripts routinely appear at arXiv.org months before publication in peer-reviewed journals, as researchers race to release their findings online before their rivals. And preprints are now accepted currency in determining priority for a discovery, as well as in winning grants and jobs. ArXiv handles more than 100,000 manuscripts each year in physics, mathematics and computer science. (The largest life-sciences preprint server, bioRxiv, posted around 5,000 manuscripts in 2016.)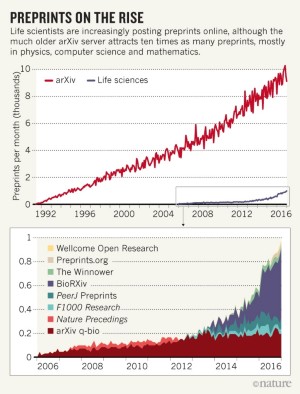 "One of the lessons of arXiv is that users prefer 'one-stop shopping'," says Paul Ginsparg, a theoretical physicist at Cornell University in Ithaca, New York, who founded the site in 1991. He could see a preprint aggregation site for life sciences working just as well, so long as disparate sites can agree on uniform technical standards.
A central preprint service could also help scientists to use automated software to mine the literature for insights, says Ron Vale, a cell biologist at the University of California, San Francisco, and a founder of ASAPbio. At the moment, researchers who want to mine peer-reviewed papers face myriad hurdles, from publisher copyrights to disparate websites that make bulk-downloading difficult. "We're trying to think of preprints as data," says Vale. It would be both technically and legally straightforward for computers to crawl the collection of preprints on the central site, where they would appear under an open-access licence.
Polka would not say how much ASAPbio expects the site to cost, but arXiv funding totals about US$925,000 a year, paid for by a global collective of more than 200 research institutions and funders; a large donation has come from the Simons Foundation, a private organization based in New York City. Ginsparg says expenses for the life-sciences site should be around $5 a manuscript, once it is publishing tens of thousands of manuscripts each year. Funders who support the site have not yet committed to paying for it, but Kiley expects that funders will do so once details are hashed out.
Other funders that have come out in support of the central service include the UK Medical Research Council, the Howard Hughes Medical Institute (HHMI), the Canadian Institutes of Health Research and the European Research Council. "That's going to send a strong message to the science community that this kind of communication is encouraged," says Vale. Last month, the HHMI announced that it would consider preprints in deciding whether or not to renew the prestigious five-year grants it gives to investigators.
Jason Hoyt, chief executive of the journal PeerJ (which also operates a preprint service), says he supports a central preprint site and that his company might bid to help create it. But such a site will succeed only if it can induce a large proportion of life scientists to view preprints as the dominant currency for career progression, he says. "The challenge is to overturn the thinking in biology."
ASAPbio and the funders supporting a central preprint service emphasize that it's no replacement for peer-reviewed journals. They note that the vast majority (over 80% in some fields) of arXiv posts wind up in journals. "We really see this as a complement to the journal system, rather than anything that could be threatening," says Polka, who adds that a central service will not attempt to organize peer review.
That would be a missed opportunity, says Rebecca Lawrence, managing director of London-based F1000Research, which posts papers before they are peer reviewed at the journal (but does not consider these preprints). She would like to see peer review occur through a central preprint service, thereby reducing the influence that traditional journals have on scientists' careers. "It's a great shift in the right direction," Lawrence says, "but I think we need to go a lot further."
Ginsparg ultimately envisions a "federated repository" that spans scientific disciplines and aggregates preprints from arXiv and other fields, including the life sciences. "Twenty-five years ago, I thought we'd be much closer to that point by now, but I still think it's inevitable," he says.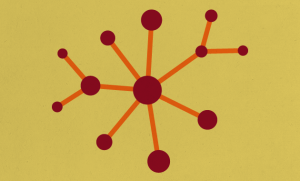 Related links
Related links
Related links in Nature Research
Related external links
About this article
Cite this article
Callaway, E. Heavyweight funders back central site for life-sciences preprints. Nature 542, 283–284 (2017). https://doi.org/10.1038/nature.2017.21466
Published:

Issue Date:

DOI: https://doi.org/10.1038/nature.2017.21466
This article is cited by
Virginie Migeot
Jérémy Guihenneuc
Sylvie Rabouan

Environmental Health (2022)

Lauren A. Maggio
Anthony R. Artino Jr
Erik W. Driessen

Perspectives on Medical Education (2018)