The US president reiterated his promise to roll back climate regulations on his first day in office.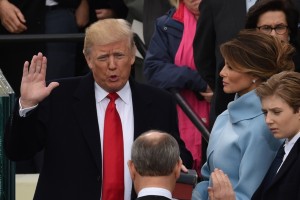 US President Donald Trump took office on 20 January, pledging to "unlock the mysteries of space, to free the Earth from the miseries of disease, and to harness the energies, industries and technologies of tomorrow".
His early actions included publishing an energy plan that reiterates his campaign promise to repeal federal climate-change regulations, and freezing new or pending regulations on any topic until they can be reviewed by Trump administration officials. Among the policies that could be affected is the 'Common Rule' on human-subjects research; a revised version of the rule was finalized on 18 January, but has not yet taken effect. Also ensnared is the Fish and Wildlife Service's plan to put the rusty patched bumblebee (Bombus affinis) on the endangered species list, and several energy-efficiency regulations from the Department of Energy.
Trump's inaugural speech, delivered from a platform overlooking Washington DC's monument-filled National Mall, described a country in decline. The president's pledge to reverse "American carnage" took a markedly different tone from the hopeful address of Barack Obama in 2009, when Obama delighted many scientists by pledging to "restore science to its rightful place".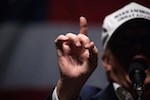 "The switch of focus to national borders, local concerns and short-term problems should give scientists cause for concern," says Jack Stilgoe, a science-policy expert at University College London, who is on sabbatical at the University of Colorado Boulder. "If 'America first' translates into techno-nationalism, then the world and its science will be worse off."
Others are still in wait-and-see mode. "In the science community there have been alarm bells, reports that the president has already launched a war on science," says Tobin Smith, vice-president for policy at the Association for American Universities in Washington DC. "I think it's way too premature to draw that conclusion."
Minutes after Trump took the oath of office, the White House website displayed the new president's 'America First' energy plan. "For too long, we've been held back by burdensome regulations on our energy industry," the document says. "President Trump is committed to eliminating harmful and unnecessary policies such as the Climate Action Plan and the Waters of the U.S. rule."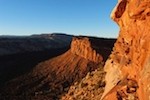 The Trump energy plan pledges to "refocus the EPA on its essential mission of protecting our air and water". The EPA, or Environmental Protection Agency, regulates heat-trapping emissions from power plants, vehicles and other sources. It has been the key actor in Obama's climate plan.
Trump's strategy emphasizes fossil fuels, calling for greater development of US shale, oil and natural-gas reserves, and says the administration is "committed to clean coal technology". But it does not mention renewable energy sources. 
"Omitting renewable energy from the plan is churlish," says Robert Socolow, a climate scientist at Princeton University in New Jersey. "It reads like score-settling." Socolow adds that he was surprised that the plan also omits any mention of nuclear energy.
The focus on fossil fuels carries enormous risks for Trump, says Sam Adams, US director for the World Resources Institute, an environmental think tank in Washington DC. The president has promised to create jobs, but ignoring clean energy — one of the fastest-growing sectors in the US economy — could drive jobs overseas, Adams says, while worsening global warming.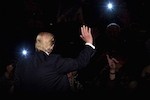 "There lies, somewhere ahead in the path that they have taken, a political trip wire," Adams says. "The political accountability will rest with them, for failing to act."
Taking Trump's temperature
For biomedical researchers, it is still unclear what the Trump administration will bring, despite the president's inaugural pledge to fight disease.
"I could see a world in which it was equally likely we could wake up tomorrow and find that the president has proposed that the NIH budget be doubled or that the president has proposed that the NIH be eliminated," says Benjamin Corb, director of public affairs at the American Society for Biochemistry and Molecular Biology in Rockville, Maryland. "It's really unknown right now and I think that's a challenge we're trying to deal with."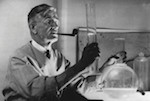 Still, Trump has said nothing serious about the agency or biomedical research in general. "We're watching all our crystal balls, but they appear to be foggy," Corb says.
Related links
Related links
Related links in Nature Research
Related external links
About this article
Cite this article
Morello, L., Reardon, S., Tollefson, J. et al. Trump's next move? Scientists struggle with foggy future. Nature 541, 443–444 (2017). https://doi.org/10.1038/nature.2017.21339