Cash to include fund modelled on DARPA, the US defence department's research arm — but how much will go to basic research is unclear.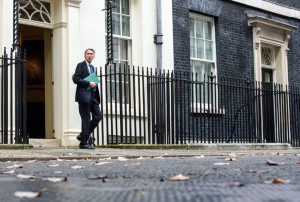 British scientists are not used to hearing about large increases in national research spending. So when Prime Minister Theresa May promised on 21 November that her government would invest an extra £2 billion (US$2.5 billion) per year in research and development (R&D) by 2020, scientists gave the speech a cautious welcome.
But the funding hike seems to be no financial sleight of hand, according to UK Treasury documents released on 23 November after Chancellor of the Exchequer Philip Hammond gave an address on the nation's finances. The government is expecting to spend an extra £4.7 billion on R&D between now and 2020–21, it says, and the final year's £2-billion boost will represent a rise of around 20% in total government R&D spending.
"It seems that this is genuinely new money, which is fantastic news," says James Wilsdon, who studies research policy at the University of Sheffield, UK.
Still, it remains unclear how the cash will be allocated, and how much will make its way to funding basic, blue-skies research.
"It is a real boost to see UK strength in science being championed by the prime minister and backed with what is the most significant investment in R&D I can remember," says Sarah Main, director of the London-based Campaign for Science and Engineering.
Some of the money will go directly to applied R&D through a new Industrial Strategy Challenge Fund, modelled on the US Defense Advanced Research Projects Agency (DARPA), the Pentagon's high-risk research arm. That fund will be aimed at supporting cross-disciplinary "collaborations between business and the UK's science base", according to Treasury documents, and will "set identifiable challenges for UK researchers to tackle".
It will be managed by Innovate UK, a government body that funds R&D primarily through businesses, and by the seven UK research councils, agencies that mainly fund university research. The money will be allocated according to an "evidence-based process", the Treasury says.
Other cash will go towards "innovation, applied science and research". Although the Treasury was vague on what exactly this entailed, it said that the extra funding would be used "to increase research capacity and business innovation, to further support the UK's world-leading research base and to unlock its full potential".
UK Research and Innovation (UKRI) — an agency that has not yet been created, but is expected to unite the research councils and Innovate UK — will award the funding on the basis of "national excellence", with grant funding through Innovate UK getting a "substantial increase", said the Treasury.
The documents make no clear reference to spending any of the new cash on basic research, but Main says she would be surprised if it was excluded. "I think it will be really important that this funding goes to both blue-skies and challenge-driven research. It is clear from the document that there is money there just to increase the UK's research capacity, and that this money is going to be channelled through UKRI. It will be important for UKRI to consider the balance of how that money is distributed," she says.
Funding will begin to ramp up next year, when the government plans to spend an extra £425 million compared with 2016–17, followed by an additional £820 million in 2018–19, £1.5 billion in 2019–20 and £2 billion in 2020–21. The government said that it also plans to review the nation's R&D tax-credit system; a Treasury spokesperson confirmed that any changes, which could provide tax breaks for companies carrying out R&D, would not count towards the extra funding.
Scientists had been eagerly awaiting the speech, known as the Autumn Statement, hoping that it would signal the new government's approach to science. The budget was dominated by forecasts of the country's slowed economic growth as a result of Brexit, its forthcoming exit from the European Union. But research and innovation also took top billing, with Hammond beginning the announcement of a string of new investments by reiterating the £2-billion pledge.
"We do not invest enough in research, development and innovation," he said. "As the pace of technology advances and competition from the rest of the world increases, we must build on our strengths in science and tech innovation to ensure the next generation of discoveries is made, developed and produced in Britain."
Scientists were also pleased with an infrastructure announcement: a new direct rail link between Oxford and Cambridge, which researchers shuttling between universities in the two cities have been wanting for decades. Hammond called it a "transformational tech-corridor drawing on the world-class strengths of our two best-known universities".
But what was "sorely missing" from the statement was any reference to the impact on science from Brexit, says Stephen Curry, a structural biologist at Imperial College London and a member of the advisory board for the campaign group Science is Vital. "I'd like to know how the loss of EU funding will impact decisions on allocation of the new investments announced today."
Hammond's opposition counterpart, Labour Party shadow chancellor John McDonnell, responded to his speech by saying that the rise in R&D funding was not enough: it would lift the proportion of UK gross domestic product spent on R&D from 1.7% to only 1.8%, whereas the Organisation for Economic Co-operation and Development recommends that developed countries should be spending 3%.
Related links
Related links
Related links in Nature Research
Related external links
About this article
Cite this article
Gibney, E. UK scientists excited by surprise £2-billion government windfall. Nature 540, 16–17 (2016). https://doi.org/10.1038/nature.2016.21038
Published:

Issue Date:

DOI: https://doi.org/10.1038/nature.2016.21038
This article is cited by
John Annaloro
Tim K Mackey

Nature Biotechnology (2017)