New research centre at national science agency CSIRO adds 40 jobs, amid hundreds of redundancies.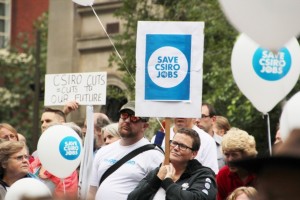 After controversially ditching hundreds of jobs in climate research, Australia's national science agency has announced that it will launch a new climate-science centre ― but researchers say the move won't make up for the damage the cuts will cause.
The Commonwealth Scientific and Industrial Research Organisation (CSIRO) said on 26 April that the centre ― to be located in Hobart, Tasmania ― would employ 40 full-time research staff working on climate modelling, projections and adaptation, and that its funding and staffing levels would be guaranteed for a decade.
But the CSIRO also confirmed details of the job cuts it had announced in February, which have sparked protests in support of Australia's climate scientists. The agency said that 275 jobs would be lost (revising its earlier estimate of 350 redundancies), with about 145 of them in CSIRO's Oceans and Atmosphere, and Land and Water divisions.
"Noting the importance of the climate-science field and following consultation with staff and stakeholders, we determined to maintain a higher level of staffing in this field than [was] flagged earlier in the year," a CSIRO spokesperson told Nature.
The new climate centre is "a good news story in terms of what otherwise might have been", says Andy Pitman, director of the Australian Research Council's Centre of Excellence for Climate System Science in Sydney. "But we don't want to lose sight of the fact that the total scale of capability in CSIRO is being very significantly reduced," he added. 
Other scientists were harsher in their judgement. "While the retention of some of CSIRO's climate science capabilities is welcome, the level announced is analogous to trying to put a sticking plaster over a gaping wound," said Dave Griggs, a sustainability researcher at Monash University in Melbourne, in a statement released through the Australian Science Media Centre.
"This new climate science centre will be clearly flagging to the international community that CSIRO is committed to a long-term climate science research capability," Australia's chief scientist, Alan Finkel, told Nature. Finkel, who has helped to broker discussions between the CSIRO and climate scientists, acknowledged that there had been "questions raised about CSIRO's reputation" by the cuts.
Opposition to CSIRO's cuts ― the result of a strategic shift away from basic climate science ― has been strong. Almost 3,000 scientists have signed an open letter to CSIRO and to Australia's government, raising concerns over the effects of the move on the nation's climate research capacity. Rallies have been held in major Australian cities, and CSIRO management has been questioned by the Australian senate about its decision, as part of an ongoing inquiry scrutinizing government budget cuts.
But much damage has already been done. One senior scientist from CSIRO who did not want to be named told Nature that senior staff were already finding new jobs or looking for work elsewhere, and that the organisation would find it difficult to keep climate scientists after demonstrating that it does not value their work.
Another researcher — John Church, a specialist in sea-level rise who has worked for the CSIRO for 38 years — says that the new centre is a positive step, but that the overall job losses are "still an incredible cut" to the organization's capability. "You can't hope to cover the range of activities that we did previously when we [CSIRO's Oceans and Atmosphere unit] had more than 100 staff, with only 40," he says.
Church told Nature that he expects to be among the scientists made redundant later this year. The reputational damage to the CSIRO is "not going to disappear overnight", he says.
Related links
Related links
Related links in Nature Research
Related external links
About this article
Cite this article
Gough, M. Australia softens blow of climate job cuts. Nature 533, 16–17 (2016). https://doi.org/10.1038/nature.2016.19831
Published:

Issue Date:

DOI: https://doi.org/10.1038/nature.2016.19831