Paolo Macchiarini says that he does not accept disciplinary-board findings.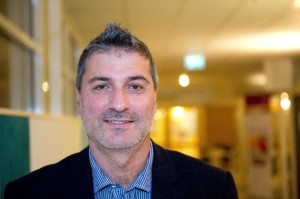 The prestigious Karolinska Institute (KI) in Stockholm has ended its contract with the controversial surgeon Paolo Macchiarini after a series of allegations about his clinical and research practices.
Now, the Staff Disciplinary Board at the institute says that he has been dismissed. Macchiarini "engaged in conduct and research that is incompatible with a position of employment", alleged the board in a statement released on 23 March. "It's impossible for KI to have any kind of collaboration with Paolo Macchiarini any longer," said KI human-resources manager Mats Engelbrektson in the same statement.
Following the announcement, Macchiarini told Nature: "I do not accept any of the findings of the Disciplinary Board. I have instructed lawyers and will be taking immediate steps to restore my reputation."
Macchiarini carried out three artificial trachea operations, in which the synthetic tracheas were seeded with the patients' own stem cells, at the Karolinska University Hospital between 2011 and 2012. Two of those patients have since died, and one remains in hospital. In 2013, the KI said that it would not extend his contract as a surgeon, but kept him on as a basic researcher in regenerative medicine and approved his 'extra-mural occupation' as a surgeon at the Kuban State Medical University in Krasnodar, Russia.
A television documentary about Macchiarini's work, aired in January, brought fresh, public attention to his work. The programme suggested that in an operation in Russia, Macchiarini implanted one of his plastic tracheas into a woman who was not in a life-threatening condition. Previously, the surgeon had said he attempted the risky procedures only on people who were life-threateningly ill.
After the documentary, leading Karolinska figures resigned, including the vice-chancellor, the dean of research and the secretary-general of the Nobel Assembly. The KI has also commissioned an ongoing, external investigation into its hiring of Macchiarini and the handling of its previous investigations into his work.
In its latest statement, the Karolinska Staff Disciplinary Board says that it found that Macchiarini's activities in Krasnodar "are in breach of the KI's fundamental values and have damaged KI's reputation" and that he had failed to "truthfully and fully" report his activities there. It also says that Macchiarini "supplied false or misleading information in the CV he submitted to KI", and had "demonstrated scientific negligence".
Engelbrektson added: "He has acted in a way that has had very tragic consequences for the people affected and their families. His conduct has seriously damaged confidence in Karolinska Institute and for research in general."
Related links
Related links
Related links in Nature Research
Related external links
About this article
Cite this article
Abbott, A. Prestigious Karolinska Institute dismisses controversial trachea surgeon. Nature (2016). https://doi.org/10.1038/nature.2016.19629
Published:

DOI: https://doi.org/10.1038/nature.2016.19629